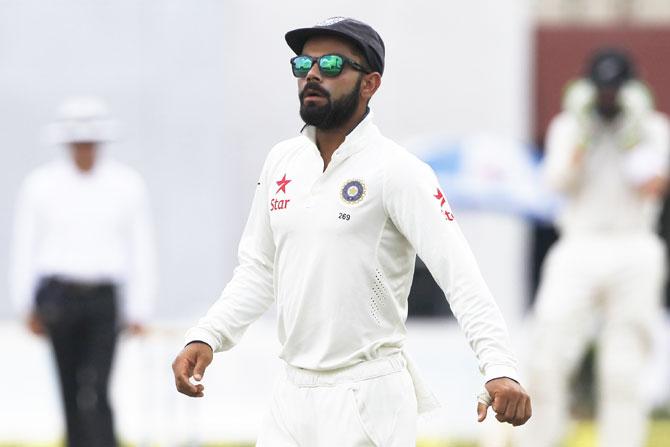 IMAGE: India Test captain Virat Kohli. Photograph: BCCI
Still on a learning curve as India's Test skipper, Virat Kohli has divulged crucial captaincy lessons learnt in his tenure so far.
"One thing that stands out in the learning process is how to control a session which is not going your way. How to stop the runs and keep the pressure (on the opposition) when you are not taking wickets? That's very important, and something which I have experienced as captain," Kohli said on Friday, the eve of the third and final Test against New Zealand in Indore.
"It's a very important time in a Test match, not to go too negative while (at the same time) controlling the runs (of the opposition). It's a thin line, and it's important not to go one-dimensional when things are not going your way."
Asked about the mantra for the team's successful run, Kohli said it had committed less number of mistakes.
"We have made less number of mistakes and that's why we have been winning matches. The weaknesses are discussed in-house and it's not fair to make them public. But we keep discussing them within the team on a regular basis," Kohli said.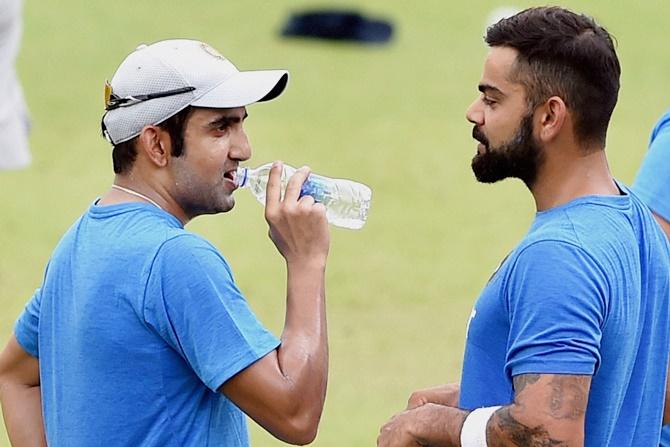 IMAGE: Virat Kohli and Gautam Gambhir during a training session. Photograph: PTI
India have already taken an unassailable 2-0 lead in the three-Test series but Kohli confirmed that the team was not going to experiment with a make-shift opener and instead give Gautam Gambhir a chance to resurrect his career after two years.
"That's a natural change because of injury to Shikhar (Dhawan), natural because he is the third opener in the team," said Kohli on the chances of Gambhir opening the innings with Murali Vijay after being in the reserves in the second Test at Kolkata.
Having recalled in the Test squad after two-year gap, Gambhir grabbed the attention of the selectors with his impressive performances in the recently-concluded Duleep Trophy where he scored 356 runs in five innings, including four half centuries.
Dhawan, also a left-handed opener from Delhi, got hit on his finger in the second innings of the second Test while batting and was subsequently ruled out of the Indore Test.
Kohli said that all those who have come in to fill in for the injured players have done well. "What happened to Shikhar was not a fitness issue, but a blow on the thumb. We have had injuries, but the good thing is we were able to recognise them early and given them rest. It's a long season ahead and the good thing others have stepped in and taking it as an opportunity (to do well).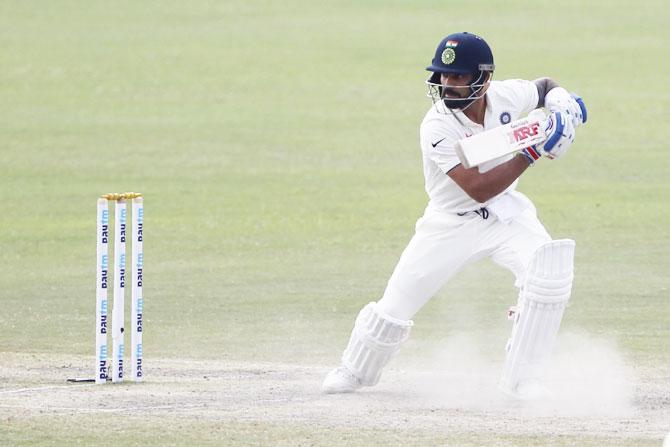 IMAGE: Virat Kohli bats. Photograph: BCCI
"It's very important to manage the work load, especially for the fast bowlers. For ODI matches, they have been given rest. It is a long Test season ahead and it gives opportunity to others to prove themselves," said Kohli.
Speaking about his own batting form, the skipper said he had stopped worrying about such things.
"It's not a concern. I don't think over such things, focus on going on to field, make runs and help the team. I have stopped worrying about such things."
He described the track prepared for the game, the first ever Test at the Holkar Stadium, as a good wicket.
"It's the first Test in Indore. It's a good stadium and the pitch looks good, it's a normal Indore pitch. We can plan well. The weather is a bit doubtful (threats of rain), but we cannot control it. There will be good carry for bowlers and if they bowl well they will get wickets and batsmen can play strokes too. It's a good Test match wicket," he said.