'That sort of behaviour at an umpire's decision was most unacceptable and regrettable'.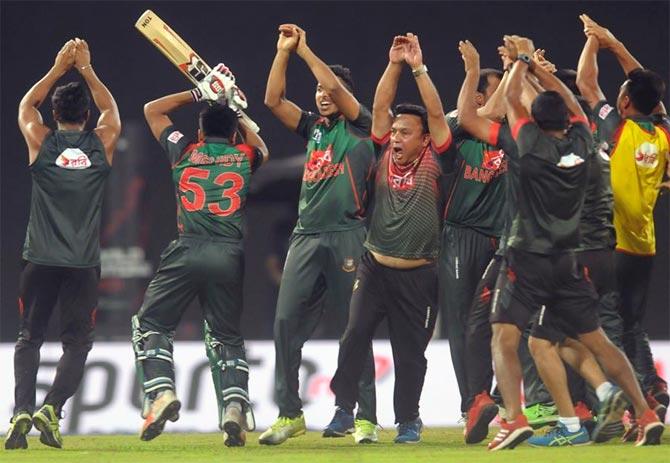 IMAGE: Bangladesh players and support staff celebrate after winning the match against Sri Lanka. Photograph: Bangladesh Cricket/Twitter
Bangladesh captain Shakib Al Hasan was fined 25 per cent of his match fees and handed a demerit point for 'remonstrating' against the umpires' decision during their Twenty20 match against Sri Lanka, in Colombo, on Friday.

Reserve player Nurul Hasan was also fined 25 per cent of his match fees and given one demerit point for breaching the ICC Code of Conduct in a separate incident.

Shakib was found to have breached Article 2.1.1 of the ICC Code of Conduct for Players and Player Support Personnel, which relates to "conduct that is contrary to the spirit of the game", while Nurul was found guilty of violating Article 2.1.2, which deals with 'conduct that brings the game into disrepute'.

The incident involving Shakib happened the in 20th over of the Bangladesh innings when he came to the edge of the boundary and gestured at his batsmen to come off the field while remonstrating against an umpiring decision.
As regards Nurul, the reserve player argued and pointed finger at Sri Lanka captain Thisara Perera which led to unruly public behaviour after he was sent by the team on to the field of play to pass on a message to the two batsmen.

"On Saturday morning, both Shakib and Nurul pleaded guilty to the offences and accepted the sanctions proposed by Chris Broad of the Emirates Elite Panel of ICC Match Referees and, as such, there was no need for a formal hearing," an ICC release said.

This was the first time one demerit point either player has had since the system came into effect on 22 September 2016.

"Friday's incidents were disappointing as you don't want to see such player behaviour during any level of cricket. I understand that it was a tense and an edge-of-the-seat match with place in the final on the line, but the actions of the two players were unacceptable and cannot be condoned as they clearly went overboard," ICC match referee Broad said.

"Had the fourth umpire not stopped Shakib and the fielders remonstrating, and then the on-field umpires not intervened between Nurul and Thisara, things could have become worse," Broad added.

The charges were levelled by on-field umpires Raveendra Wimalasiri and Ruchira Palliyaguruge, third umpire Ranmore Martinesz and fourth umpire Lyndon Hannibal.

Level 1 breaches carry a minimum penalty of an official reprimand, a maximum penalty of 50 per cent of a player's match fee, and one or two demerit points.
Sri Lanka Cricket slams Bangladesh team
'Regrettable and unacceptable' is how Sri Lanka Cricket chief Thilanga Sumathipala described the behaviour of the Bangladesh team during their do-or-die match against the hosts on Friday night.

Bangladesh captain Shakib Al Hasan was seen gesticulating at his batsmen, appearing to be conveying that they leave the field in protest against umpiring errors.

The Bangladeshis claimed that the first two balls of Isuru Udana's final over when Bangladesh needed 12 should have been called no balls for height.

Both ended as dot balls and even resulted in a run out.

"That sort of behaviour at an umpire's decision was most unacceptable and regrettable," Sumathipala said.

Reports also claimed that Bangladeshi dressing room glass pane was left to smithereens after their victory celebration as they beat the hosts narrowly to set up Sunday's final against India.

Bangladesh captain Shakib Al Hasan and reserve player Nurul Hasan were on Saturday fined 25 per cent of their match fees and given one demerit point each for breaching the International Cricket Council's Code of Conduct.