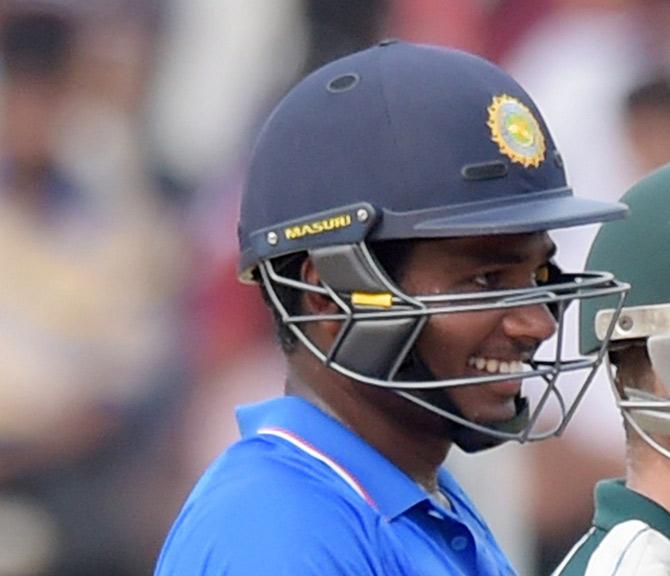 Sanju Samson. Photograph: PTI
India A might have won the tri-series final against Australia A but the match was marked by some ugly exchange of words between the players of the two sides with visiting captain Usman Khawaja alleging that Sanju Samson spit on his players.
The Unmukt Chand-led side chased down a modest 227-run target to win the title clash by four wickets but the unfortunate incident left a sour taste among the visiting players.
The problem started when Samson claimed a catch during the Australian innings, which the visitor's believed was not valid. A heated exchanged ensued between the players, which carried on when Samson (24 not out) came on to bat in a tricky chase. Khawaja, who-top scored for his side with 76, was not
happy with Samson's way of retaliation.
"Obviously, the guys in our team were disappointed that he claimed he had taken the catch. Today he spit in front of our players foot three times. If you do that the boys are going to get worked up and the umpires were not understanding it. We did try to calm the boys, but they were just went on
and on," a dejected Khawaja said in the post-match conference.
"I am happy if the batsmen happen to talk back but spitting is not on. He spit on one of our players when he came on to the field, one of the players had said something to him. I understand that. If one of our player said something to him, he can say something back but not spitting. It happened during
his batting innings," he added. Khawaja though is not keen on taking the matter further and praised India for their showing.
"I do not want to make a big deal about things that happened on the field. I do not want to take away any credit from India. They really played well today and were the better team to have won," he said.
"Unfortunately, incidents like that happen. Some incident happened the other day with one of your bowler (Sandeep Sharma). He was coming back and it was fine. I was happy with that. I have seen it all, it is another game, it does not affect me too much," the opener added.