A "sad and hassled" Praveen Kumar refused to speak about the BCCI's suspension imposed on him, which bars the pacer from playing the inter-state Vijay Hazare Trophy matches for Uttar Pradesh.
"I do not want to talk to media about this ban. I am sad and hassled. Please do not disturb me. My silence would answer all the queries," Praveen said.
"I will remain silent," the pacer responded when asked whether he actually abused the opposition team batsman as well as the umpires in a Corporate Trophy game recently.
BCCI issued a Show cause notice Praveen on Saturday and suspended him from participating in the forthcoming Vijay Hazare Trophy.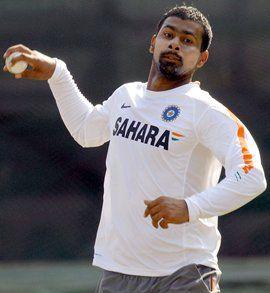 The pacer from Meerut was part of Uttar Pradesh's 15-member squad for the tournament, but now his suspension has left the side short of experience in the bowling attack.
"He (Praveen) is an experienced international player. His presence in the team would have helped us. We will definitely miss his services," UPCA General Manager Rohit Talwar said.
The chief selector of Uttar Pradesh Gopal Sharma defended the 26-year-old, saying he knows Praveen for a very long time and has never seen him misbehaving with anyone on the field.
Praveen had bowled a short-pitched delivery at Ajitesh Argal of Income Tax and when the batsman checked with the umpire whether it was a no ball, the former started abusing him.
Praveen continued to express his displeasure with the on-field umpires, Kamlesh Sharma and Ajit Datar, who then reported the incident to match referee Dhananjay Singh.
The match referee described Praveen as 'mentally unfit' as he lost his composure at the least provocation, and reported the incident to the BCCI.