Sachin's Blasters has Lara, Sehwag, Mahela, Murali and, of course, Tendulkar! Warne's Warriers has Ponting, Kallis, Sanga, Akram and Donald...
P Rajendran/Rediff.com was present at the unveiling of the teams.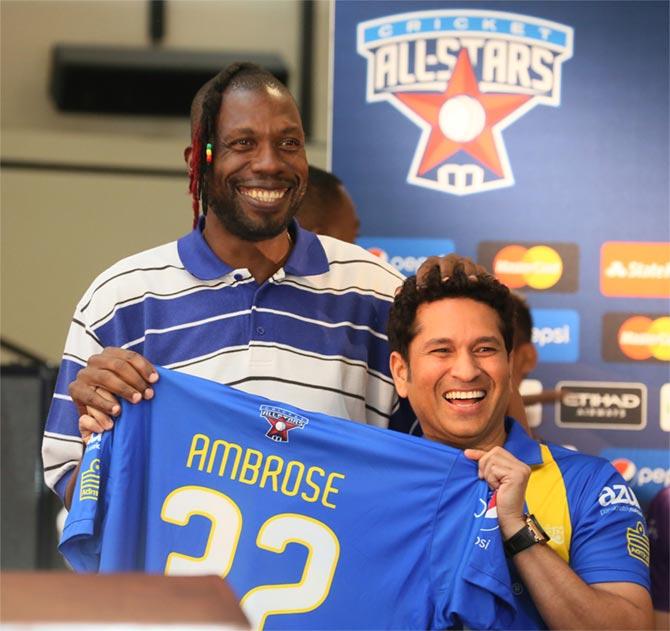 IMAGE: The great West Indian fast bowler Curtley Ambrose with Sachin Tendulkar in New York. Photographs: Mohammad Jaffer/SnapsIndia
Sachin Tendulkar may have retired, but he can't even pop out of a bathroom without fans surrounding him, seeking to get a picture taken with him.
The aforementioned bathroom was at the Marriot Marquis hotel in New York, where Tendulkar and Shane Warne were picking the teams for the All-Stars tournament to be held at three locations in America -- New York, Houston and Los Angeles.
The Sky Lobby on the 16th floor of the Marriot Marquis was perhaps an unusual place to find 28 cricketing greats of the past milling around, interacting with the media -- and selfie-taking fans in the media.
Speaking at the event, Tendulkar reiterated that the effort was not replace baseball but to supplement it.
He said he hoped to see the American team also participating in the World Cup. Warne was asked that, as a professional poker player, what did he think the chances of the tournament were.
He pointed out that soccer was not so popular in America a few years ago. "David Beckham came over here, and suddenly the sport is starting to grow. We've got 30... stars in this room here to promote the game of cricket," he said, suggesting that the effort could earn dividends.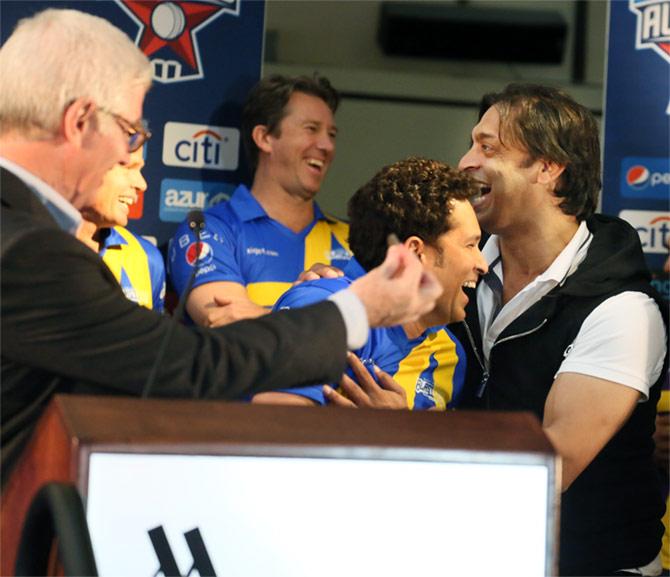 IMAGE: Shoaib Akhtar hugs Sachin as another legendary speedster Glenn McGrath is much amused by the affection between the old adversaries.
"It's time to make sure that the people who love cricket bring their American friends to the game... (and) educate them about why this is the second-most popular sport in the world behind soccer."
People have asked Tendulkar and him, Warne said, whether it was nice to walk down New York and have no one recognise them.
"Well, Sachin yesterday had the chant of 'Sa-chin, Sa-chin' going (from) 500 people out the front side (of the hotel)," Warne said, adding that he felt America is ready for the game.
"The next time we come here," Tendulkar added, "it would be nice to see an American kid with a cricket bat in his hand alongside a baseball bat. So we're not competing with anyone here to popularise cricket."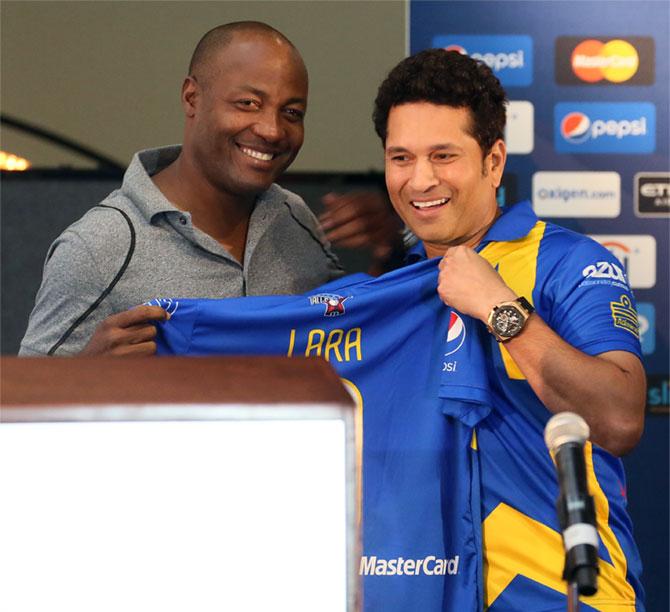 IMAGE: Brian Lara and Sachin Tendulkar, arguably the greatest batsmen of their era.
V V S Laxman, Virendra Sehwag, Sourav Ganguly, Lance Klusener and Allan Donald were not at the event (the last because he had lost his passport and was presumably still hunting for it or seeking a new one. Besides Agarkar and Sameer Dighe, the spare wicket-keeper, the other Indian players were all en route).
Tendulkar and Warne were spirited away after the teams were presented to let the media meet the other All-Star team members.
Courtney Walsh, known as a wily bowler, but most famous for letting this sportsmanship come in the way of a win in a World Cup semifinal, spoke to Rediff.com about his decision to not run out the non-striker and the last batsman -- who was backing up too far -- and give his team a legal if not quite respectable win.
"It's not in my nature," he said. "I can't play cricket without the spirit of the game. I'd do the same thing in (similar) circumstances."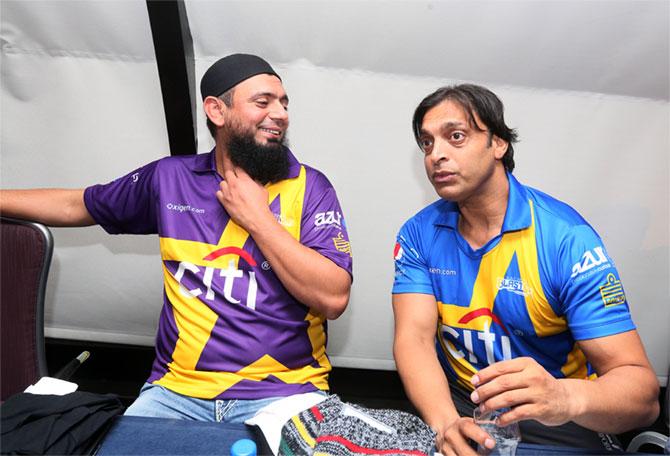 IMAGE: Saqlain Mushtaq and Shoaib Akhtar, the Pakistani greats.
Though he had just learned the composition of the team, Walsh -- who will be one of Warne's Warriors -- decided he would like to have a go at the top batsmen. "I'll be up against Lara and Sachin," he said with a grin.
Walsh was especially pleased to learn that the drop-in pitch which the teams were to use were known to favour bowlers in the early phase.
Muttaih Muralitharan, who was sitting next to him, said he hoped it would afford a lot of turn.
Walsh admitted that he had just two weeks to prepare for the tournament. Muralitharan said he had a month since Tendulkar had primed him about the upcoming tournament, but said it didn't matter since they had enough experience to get back quickly into the game mood.
While some of the players were looking a little more portly than in their prime, Lara, Shoaib Akhtar, Tendulkar and Warne looked among the fitter players.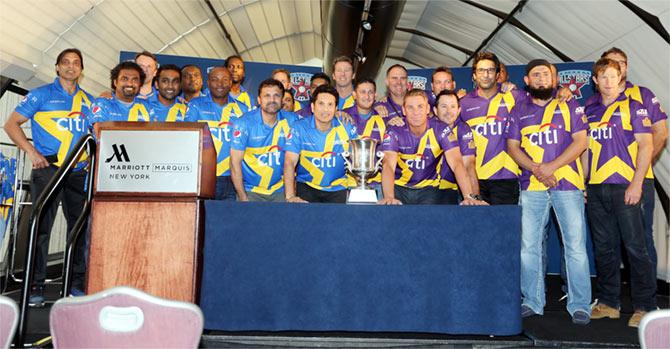 IMAGE: Sachin's Blasters and Warne's Warriors ready for battle!
The teams:
Sachin's Blasters: Virendra Sehwag, V V S Laxman, Brian Lara, Sourav Ganguly, Carl Hooper, Mahela Jayawardhane, Moin Khan, Mutthaih Murlitharan, Graeme Swann, Curtley Ambrose, Shaun Pollock, Glenn McGrath, Lance Klusener and Shoaib Akhtar.
Warne's Warriors: Matthew Hayden, Michael Vaughan, Ricky Ponting, Jonty Rhodes, Jacques Kallis, Andrew Symonds, Kumar Sangakarra, Saqlain Mushtaq, Daniel Vettori, Courtney Walsh, Wasim Akram, Allan Donald and Ajit Agarkar