'Specialised fielders for specialised positions'
'I want Pujara to be the best he can be at every given point of time; Similarly, with Ajju (Rahane), with Monk (Murali Vijay) or anybody else, for that matter.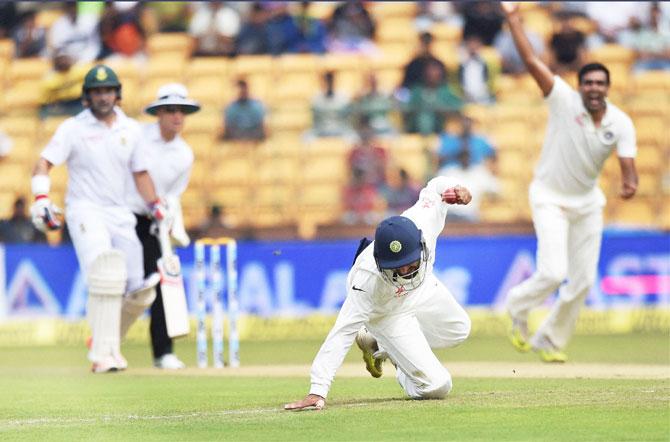 IMAGE: India's Cheteshwar Pujara completes a catch to dismiss South Africa's Faf Du Plessis on Day 1 of the second Test in Bengaluru on Saturday. Photograph: Shailendra Bhojak/PTI
Gone are the days when India's fielding was looked down upon, when diving catches or sliding stops were considered beyond our players.
In the last few years, Indian cricketers, if not better, have been at par with top fielding sides, including the likes of Australia and New Zealand. The modern-day Indian cricketer is as athletic and quick on the field as any in the world, and the likes of Ajinkya Rahane and Virat Kohli are considered among the best in the game.
Ramakrishnan Sridhar, who took over as Team India's fielding coach last August, has added a cutting edge to the players' athleticism and reflexes in the field.
On a gloomy day in Bangalore, when the fourth day's play in the second Test between India and South Africa was called off because of wet outfield, Sridhar explained the reasons behind the team's excellent showing in the field. Harish Kotian/Rediff.com reports.
Creating back-ups for core fielding positions:
We try and create specialised fielders in most of the specialised positions, which is close-in catching. But injury is part and parcel of the game and, keeping that in mind, what we try and do is to make every player in the squad willing and ready to field in any position.
That is the end goal and that is what we want to achieve. Whoever the fielder is, he should be a good outfielder and, at the same time, a good close in-fielder. But close-in fielding requires some special qualities which are seen in certain people.
Importance of fitness for close-in fielders:
If you see now, (Cheteshwar) Pujara is more agile with his feet and he moves well. If you recollect, the catch he took off Faf (du Plessis) here (in the first innings of the Bangalore Test) -- as Faf steps out, you can see Pujara skipping, moving sideways along with Faf and that enabled him to take that catch. He has been working on his fitness, to strengthen the area around his knee so that he can become more nimble with his footwork.
At the same time, standing in the same position over a period of time gives the fielder the perception. He may not get a catch the whole day, but, at least, it helps him develop perception, which is so vital to be a close-in fielder, along with the reflexes and the hand-eye co-ordination.
The experience of standing in that position works a lot and Pujara has been getting that experience standing close-in; he is improving by leaps and bounds in that department.
Simulation of match situations during practice:
That would be the best situation, try and create a match situation in practice. Especially when you work with the angles, when you know certain fielders are going to field in certain areas. We try and create the same angles for them so that you try cutting the angle as much as possible. It's not rocket science; it's a no-brainer to try and create a match situation every time you get out there in practice so that the match becomes a lot easier.
The match should just be an extension of practice; that is the idea of a good practice session.
A settled slip cordon:
We would love to have a settled slip cordon, but injury is something we can't control. You saw in Sri Lanka, Shikhar (Dhawan) got injured and (Murali) Vijay got injured and then we saw (K L) Rahul in at slips.
Then we always have the luxury of having Virat (Kohli) and Ajinkya (Rahane) in the slips. It is something we'd like to have -- a settled combination.
But when it is not in our control, we try and have the best fielders available in the slip cordon.
Also, we do have plans like having a left-hander in the outside slip for left-hand batsmen and a right-hander in the outside slip for right hand batsmen -- things like that. That's about it.
Rahane's development to a top-class fielder: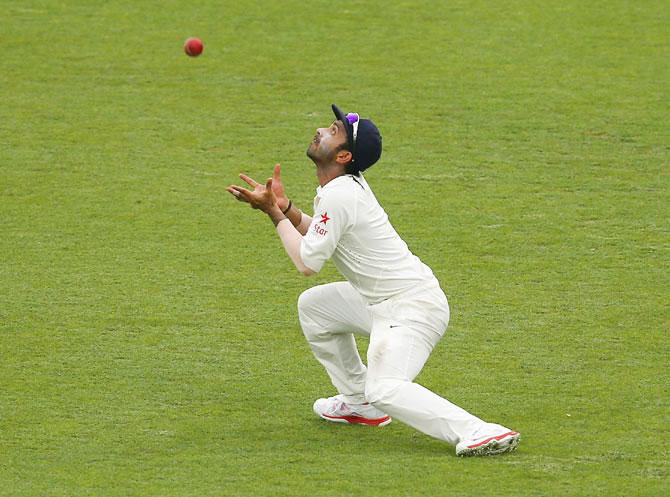 IMAGE: India's Ajinkya Rahane takes a catch in the outfield. Photograph: Cameron Spencer/Getty Images
He has been evolving into an excellent slip fielder. He has got the temperament and demeanour to be a good slip fielder. Let's make no bones about it -- he works really hard at it. He takes hundreds of catches and he is very specific about where he wants them, what he wants to do, at what height he wants them, what he is likely to get in the match.
Also, he has got excellent understanding of the angles, the pace and the depth of the ball which is likely to come.
We spoke of the perception earlier -- that is something he has developed standing in the slips. He is evolving into a very good slip fielder, which augurs well for the team.
India's fielding in the first Test in Mohali:
It will be very difficult for me to mark each and every effort, but we, as a team, and, as a leader, what Virat expects from this team... and as a bunch of young cricketers what these people do is a process of improving. Each and every guy, even in the practice, if you see, they are the ones who are pushing me, 'I want to do this, I want to move to my left and get my throw right, I want slip catches low on right'… things like that.
They are the ones who are coming and pushing me and that is a big plus, a big positive from my point of view. The players coming in and they exactly know what they want to achieve when they come out on the practice field; they are driven to improve.
Like Rohit (Sharma) said at the beginning of the series... that over a period of time this team will be one of the best fielding teams in the world. So it is player-driven and my job is to help them be at their best they can be.
So, for example, I want Pujara to be the best he can be at every given point of time; I don't want him to field like somebody else but I want him to be at his best all the time.
Similarly, with Ajju (Rahane), with Monk (Murali Vijay) or anybody else, for that matter.
So my job is to help the players reach their best potential by removing all the external interventions. These guys are really enjoying their fielding and that is a culture which has come into this team not only from now; it's been there from before, I guess, and I am carrying that forward – enjoying the fielding.
Are the players told not to dive or slide on Indian outfields, which are not as good as those overseas?
To be very honest, the fields in our country are so good nowadays that you don't get an outfield which is not good, especially at the international level.
The fields are absolutely lush green. I think the BCCI has done a great job not only at the international level, but also at the junior level you get some really good fields for young kids to dive around, slide and throw themselves around. That is something which is being developed from the grassroot levels now.
Being in a country where you don't play contact sports, the young cricketers... you see them come with such good diving abilities which they learn from what they do at the grassroot level.
I think we have some good fields and this is something I will not tell them, not to dive. The only thing which we as a team try and do is no ball shall pass you without your best effort. So the outfield is not in question at all. We give our best effort on every single ball and despite your best efforts if the ball passes you, give it to the batsman, but, otherwise, no ball shall pass you without your best effort on that particular ball and that is the culture we have in this team.
Will India push for victory on the fifth and final day of the Bangalore Test?
The weather is not something that is in our control, so we can't do much about it.
Regarding our plans, we will make them based on how many overs are remaining. According to that we will take a call on the game plan. As of now, I can't say much.
Attitude of Indian cricketers towards fielding: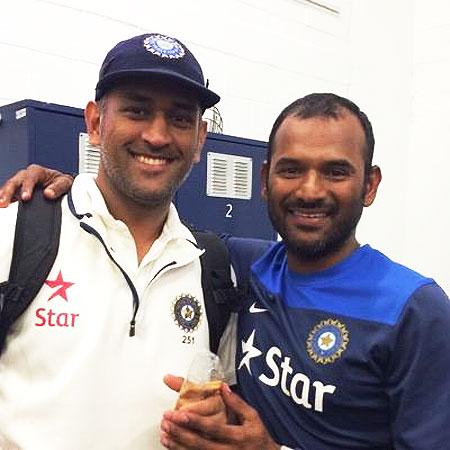 India's fielding coach R Sridhar (right) with Mahendra Singh Dhoni. Photograph: Twitter
I have said this before, but I am happy to say it again. Over the period of time, the biggest change I have seen is the mindset of the young Indian fielders and the current lot who are playing at the international level.
Earlier, fielding was not treated as a primary skill. It is something that you do when you are not batting or bowling. But, today, the young cricketers, thanks to the excellent facilities and also the advent of different formats of the game, they are treating it well. They know they can make a contribution to the team - win or lose -- by just being a good fielder.
If you see, they are giving equal importance (to fielding) as much as they do to batting or bowling. That's the biggest shift in mind-set in the junior and senior level. That itself is a big win.
Once you start treating something as a primary skill, you can see a lot of improvement. Plus, fitness standards have improved. That also helps a lot in developing fielders.
Is the current Indian team better than South Africa in the field?
Look, fielding is something you want to develop with consistency. On any given day, you want to go in and bring your 'A' game as far as your fielding is concerned. But sport being sport, every team has got an off day. Every now and then you have an off day like you have a day off in office. The challenge is to develop consistency and stay there as long as possible in terms of conversion and stopping runs. That is something we try and develop.
I am not in a position to tell which is the better fielding team, but, as you saw, in the One-day series as well the honours were shared on quite a few occasions.
The top three fielders in the India and South Africa teams:
It is a difficult question. You can say AB de Villiers is a good fielder, but I think (Ravindra) Jadeja is a wonderful and natural athlete.
In our team, each guy brings in something out of the table, making it a good fielding unit collectively.
Virat gets in the intensity and energy. (Ajinkya Rahane) Jinks brings in the sharpness close-in. Somebody brings in the calmness, Shikhar (Dhawan) brings in the athleticism. So there's so much each guy brings in, making it a good, collective unit. And that's what we say: good fielding teams hunt in packs!