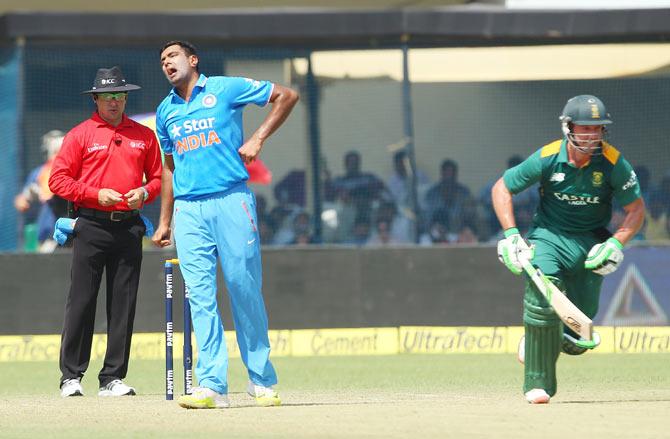 IMAGE: India's Ravichandran Ashwin winces in pain after diving to stop the ball during the 1st ODI in the Freedom Trophy Series against South Africa at the Green Park Stadium in Kanpur. Photograph: BCCI
Conceding that India might have felt the absence of their injured No 1 spinner Ravichandran Ashwin, South Africa captain A B de Villiers pointed out that the tourists too were without Morne Morkel for the last two games of the ODI rubber which the visitors won 3-2.
Former India skipper Sunil Gavaskar also commented on a TV channel that Ashwin's absence hurt India, but at the same time cautioned he should not rush back without recovering completely.
"I also think India missed Ashwin badly. I know he is too eager to play. He missed the last few matches but I saw him bowling in the nets ahead of the third ODI. I think he should not rush things as a side strain can stay with you for long. He should be patient to recover before the Test series," said Gavaskar.
"Ashwin is a world class bowler and India did miss him a bit. But injuries are part of the game and it's something you can't focus on too much. Morne Morkel was injured for the last two games. He was, possibly, our best seamer in a couple of games," said de Villiers, on Sunday night, after his side clinched the series-decider by drubbing India by 214 runs.
Morkel did not play the games at Chennai and Sunday's final ODI at the Wankhede Stadium, in Mumbai, after sustaining a leg injury at Rajkot with which he bowled and picked up a superb 4 for 39 for a winning cause in the third game.
Ashwin picked up a side strain in the opening game of the best-of-five ODI contest at Green Park, Kanpur, while diving to his right and fielding a ball on his follow through.
The tall off spinner bowled only 3.4 overs in that game but had sent back left-handed opener Quinton de Kock with a ball that spun away and took the edge in his very first over.
De Kock went on to make 103, 43 and 109 in the last three games of the ODI series.