Despite the death of Mitchell Johnson's former team mate Phillip Hughes, the likelihood is he will unleash a similar barrage on India should the first Test go ahead at the same ground next week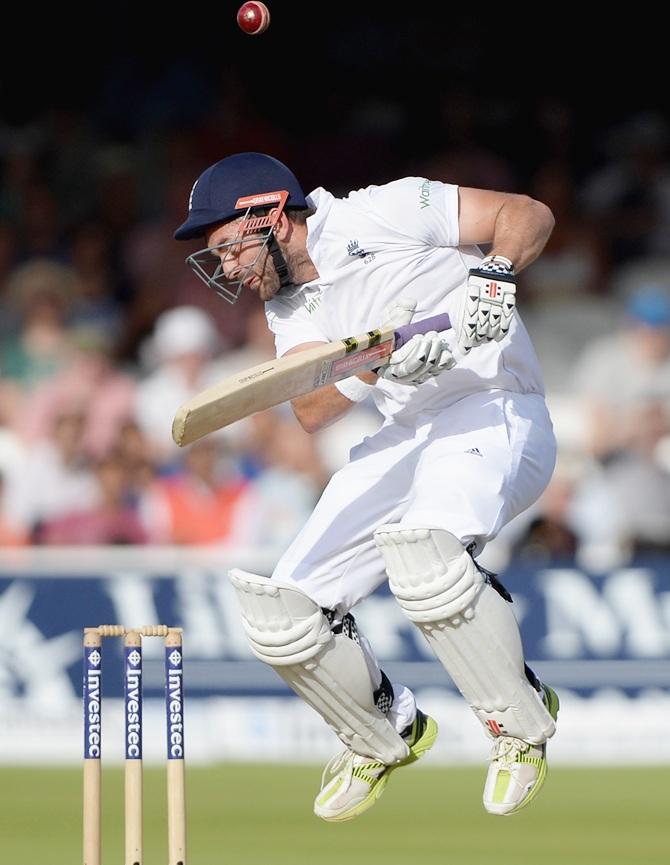 Liam Plunkett of England avoids a bouncer. Photograph: Gareth Copley/Getty Images
On the opening day of the last Ashes series, Mitchell Johnson set the tone for five matches of Australian domination by sending a series of 150km per hour missiles whistling past the ears of a succession of English batsmen.
Hughes tragedy: Untimely death not experienced since Ayrton Senna's
Abbott receives support from Hughes's family
Australian media 'share nation's agony on cricket's saddest day'
Australians packed into the Gabba and watching on television around the country cheered every near miss, every jerky swerve of an Englishman's head and every desperate attempt by a tourist to fend off the assault with his bat.
Johnson was named ICC Cricketer of the Year for his efforts and despite the death of his former team mate Phillip Hughes, the likelihood is he will unleash a similar barrage on India should the first Test go ahead at the same ground next week.
The short ball or bouncer, which rears up from the pitch towards the batsman's head, has become as much part of modern cricket as the tea break.
'It's part of the game'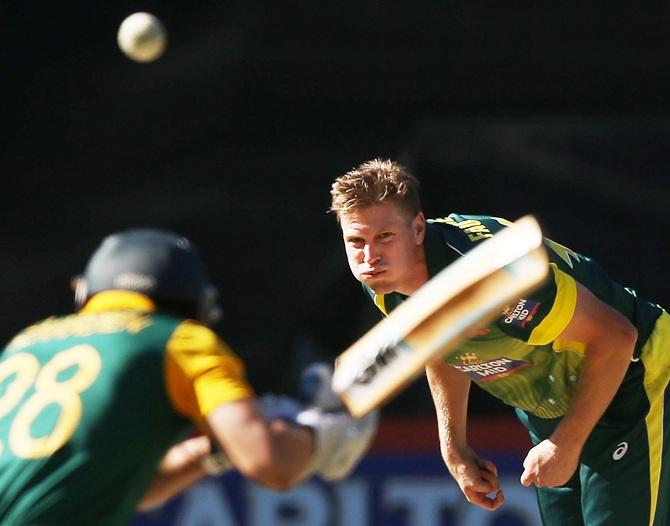 James Faulkner of Australia bowls a bouncer to Farhaan Behardien of South Africa. Photograph:

Michael Dodge/Getty Images
The bouncer is designed to 'soften up' the batsman by making him more concerned about his own safety than that of the wickets he is defending, or to panic him into a misjudged shot that will get him caught out.
"It's part of the game," West Indies great Brian Lara, one of the game's best ever batsmen, said this week.
"I think they've done their best over the years to curb it and manage it as best as possible. But it's part of a fast bowlers armoury and it's very hard to take that totally away from them.
"There are some batsmen who feed on that sort of attack and I don't really believe it's anything that should effect fast bowlers and the rules governing that."
Gladiatorial contest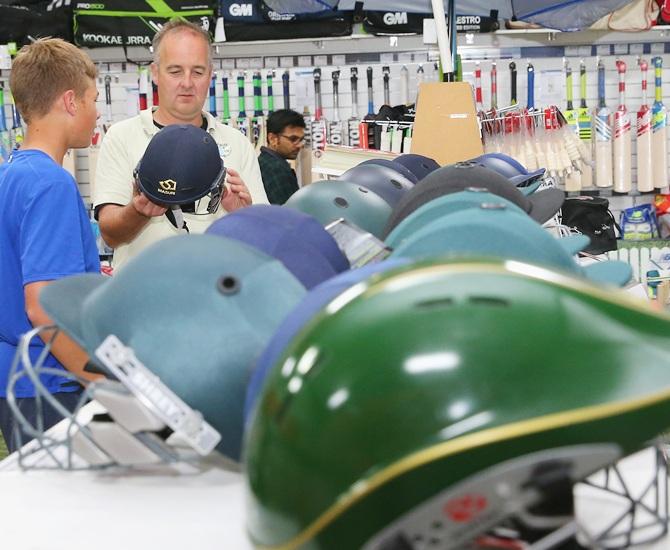 A father and son look at cricket helmets (picture for representational purpose only). Photograph: Scott Barbour/Getty Images
The counter-argument was presented in an article in the daily newspaper on Friday, which called for an immediate ban on the practice in the wake of the death of Hughes.
"Fast bowlers should use pace, cut and swing to trap batsmen," wrote senior editor Vaibhav Purandare.
"Bouncers are purely intimidatory stuff, and intimidation has no role in cricket because this sport, unlike some others, was never meant to be a gladiatorial contest.
"Bouncers are aimed not just at the batsman's body, which is bad enough, but at his head and neck, which is worse."
The argument over whether cricket can be a game of intimidation was started in the "Bodyline" Ashes series of 1932-33, when England struck on the idea of stopping Australia's vaunted batsmen by bowling at their bodies.
The argument was rejoined when Australian pace bowlers Dennis Lillie and Jeff Thompson wreaked havoc in the mid-1970s, and continued through the rise of a cohort of West Indies bowlers who turned intimidatory bowling into an art form.
The helmet replaced the cap as the default headgear of batsmen at the top level and the laws of the game were modified to allow a limited number of bouncers per over.
That Hughes's helmet was unable to prevent the catastrophic injury that killed him has already led to a Cricket Australia review of player safety and umpires could yet be encouraged to crack down on the over-use of the short ball.
It looks likely, however, that the sort of delivery bowled to Hughes on Tuesday with such tragic consequences will remain an integral part of "the gentlemanly game".