'I know that our new chairman Mr. Manohar is a very principled man and seems to be trying to at least adhere to the principles of no conflict of interest'
'What DRS has been able to do is that it improves umpiring decisions from 93 percent to say 98 percent'
'Whether we can persuade India in favour of DRS in the long run, I cannot be sure'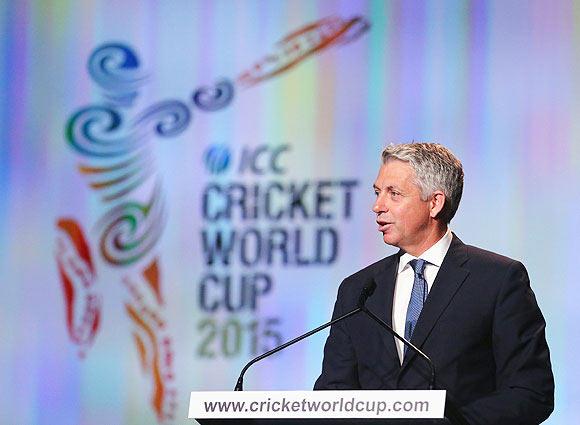 Image: ICC CEO Dave Richardson. Photograph: Scott Barbour/Getty Images.
Lauding Shashank Manohar for his stand against conflict of interest, International Cricket Council CEO Dave Richardson today said the ICC Chairman, who also heads the BCCI, is a principled man and is trying to reform the governance structure in both the bodies.
The BCCI, under Manohar's Presidency, has been forced to undertake structural reforms after the Supreme Court-appointed Justice (retd) R M Lodha committee suggested wholesale changes in its administration.
"Any improvements on the governance of any country, as far as the ICC is concerned at this stage, is fair enough.
"I know that our new chairman Mr. Manohar is a very principled man and seems to be interested or trying to at least adhere to the principles of no conflict of interest when it comes to governance of the game," Richardson said at a promotional event in Chennai.
"I think he is quite keen that the ICC should also look at those aspects of governance.
"Certainly, the ICC will be encouraged to work with countries having good governance and good administration and good performances," he added.
The talk also veered towards the contentious Decision Review System, which India has steadfastly opposed. Richardson harped on the benefits of technology but conceded that there was guarantee that India could ever be convinced about it.
"DRS has been very useful and obviously we would like to get many umpiring decisions correct. We assess decisions of matches that are telecast or broadcast.
"The assessment has been remarkable that the umpires have awarded about 93 per cent of the decisions correctly. And, what DRS has been able to do is that it improves it from 93 percent to say 98," Richardson explained.
"Now India for various reasons had not favoured the use of DRS. Number one, they often say that as a matter of principle, they like the idea of the umpire making the decisions and the spirit of the game is not to question the decision of the umpire.
"The other reason is that they do not have the confidence in the technology used for DRS. Now the DRS system is being assessed at the M.I.T (Massachusetts Institute of Technology) in the USA on accuracy...
"I do not think we would get to a stage that there will be 100 per cent clarity on each and every case. Whether we can persuade India in the long run, I cannot be sure," he added.