'Breakaway structure would be looking to exploit dissatisfaction in the game'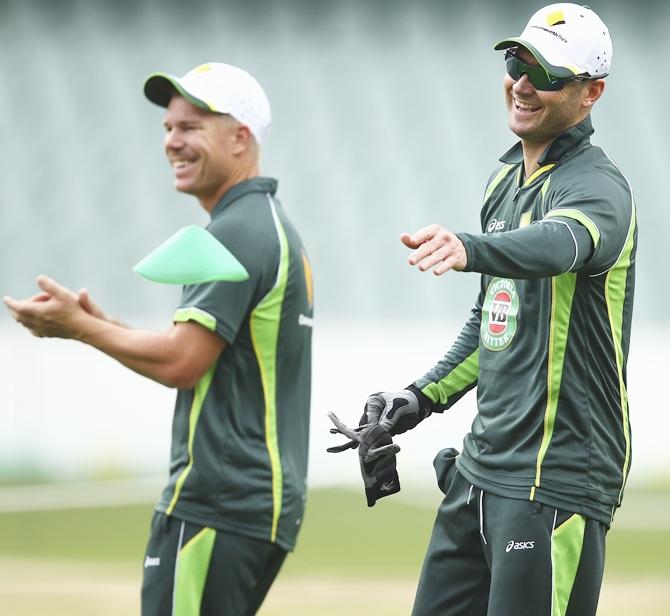 Michael Clarke and David Warner look on during an Australian nets session. Photograph: Ryan Pierse/Getty Images
Fairfax media on Friday quoted unnamed sources as saying Michael Clarke and David Warner would be targeted as 'priority acquisitions' on lucrative 10-year deals to play in an international Twenty20 league run by a new global governing body.
Top cricketers lured by Indian 'rebel league'?
But Cricket Australia have dismissed as 'highly speculative' media reports that Clarke and Warner will be offered A$50 million ($39.37 million) contracts to defect to an Indian-financed rebel cricket league.
"We are aware of the reports around a rebel league and they remain highly speculative, particularly given the proposed scale and complexity," Cricket Australia chairman Wally Edwards said in a statement.
"Australian cricket has never been in better health. Record crowds, television audiences, grassroots participation and commercial support continue to drive record revenue which means player payments have never been higher and will only increase.
"As it stands, Australia's cricketers are the highest paid athletes of any team sport in the country and the earnings of our top-ranked players would already be close to the numbers referenced in today's media reports."
According to Australian magazine BRW, all rounder Shane Watson was the best-paid cricketer in the country last year with a total of A$4.5 million ($3.54 million) in on and off-field earnings.
Friday's report was the latest in a string of stories about the new cricketing structure being set up by Indian entertainment conglomerate, the Essel Group.
The breakaway structure would be looking to exploit dissatisfaction in the game surrounding last year's deal brokered by the existing governing body, the International Cricket Council.
That 'Big Three' model gives India, England and Australia a greater say in the running of the game and a bigger share of the revenues deriving from international cricket.
Any breakaway move would have echoes of Australian tycoon Kerry Packer's rebel World Series, which reinvigorated the game with the popularisation of one-day cricket in the 1970s.
Edwards said that Cricket Australia's current pay structure had a much broader goal than just enriching the top players such as test captain Clarke and opener Warner.
"The success of international cricket directly subsidises the wages of state cricketers. Any proposed rebel league would jeopardise that," he added.
"Most of Australian cricket's revenue is reinvested back into the sport, strengthening it for the 1.1 million players at grassroots level around the country.
"We remain firmly focused on growing the game in Australia for fans and participants, while at international level we will be staunch in working with the ICC and other member countries to protect the interests of the game globally."