India's stand-in cricket captain Suresh Raina has rubbished reports linking him to an alleged bookmaker, saying getting photographed with somebody does not amount to knowing the person.
"There are so many people who get clicked with me," remarked Raina.
"I can't really know about them," he asserted.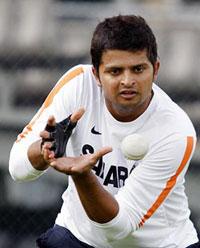 The controversy started after his visit to the Shirdi following India's triumph during the World Cup in April.
He was seen with people which television channels claimed were involved with the betting mafia.
But Raina rejected the speculation, saying that he went to Shirdi only in the company of his manager.
"All I can say is that I went with my manager to Shirdi and that's about it."
Raina is captaining a depleted Indian team in a one-off Twenty20 and five-match ODI series against the West Indies here after several senior players opted out of the tour.