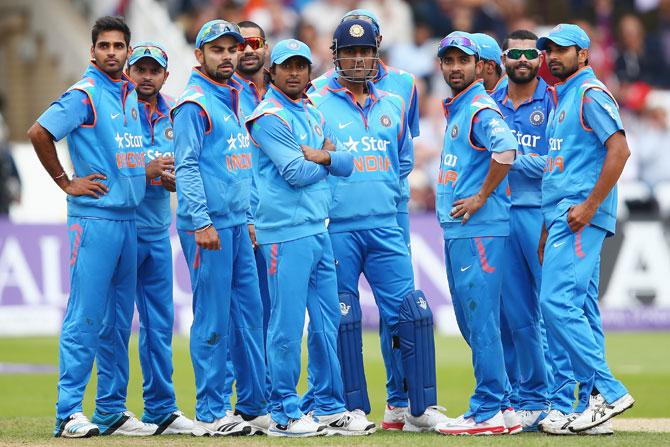 The Indian team awaits a decision. Photograph: Michael Steele/Getty Images
Rahul Dravid has said that the current Indian side that has all the makings of being a good team in the future. Asked about the upcoming series in Australia, the 41-year old said youngsters would have an opportunity to learn Down Under.
"I think it is a great challenge and hopefully some of these young Indian batsmen, irrespective of what happens on the tour, there is a lot of learnings to be had on a tour of Australia.
"Something I loved going to, irrespective of success or failure, I always came back from a tour of Australia feeling like I had been in a contest and I had learnt something," he said.
Dravid said: "I think it is going to be a great challenge. I think Australia is a fantastic place to play cricket, especially in the summer because it's just the nature of the wickets, the kind of support, you know the crowds that come to watch the Test matches and the challenge that awaits the Indian team.
'I am hoping there will be better results'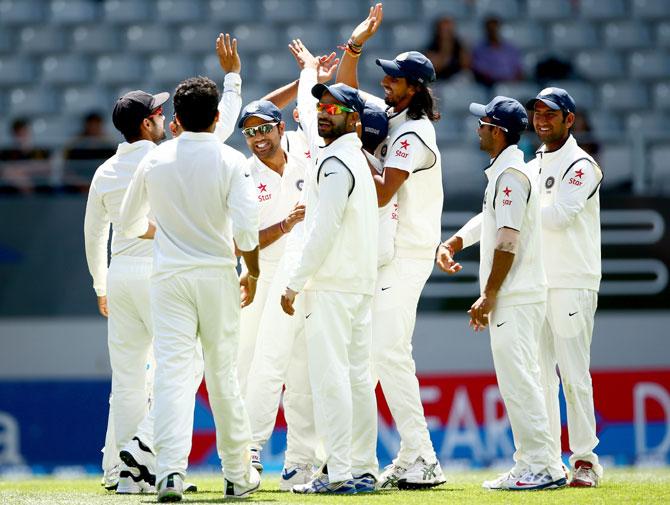 The Indian team celebrates a wicket in the series in New Zealand. Photograph: Getty Images
Obviously, the wickets you expect them to have pace and bounce and good carry. While it is not the easiest challenge, one of the good things about playing in Australia is that their wickets are quite true. Unlike England where the ball can seam and swing sometimes throughout the day, once you get
set in Australia you can score runs," he added.
Dravid hoped the Indian side would put up a better show in Australia.
"I am hoping there will be better results. If you look at India's record in the last three series, we came close in South Africa, we came close in New Zealand and then we won a Test match in England. I think that is positive.
"I feel at least they are going in the right direction. They have got some experience, this young team, but it is not going to be easy. I am not going to be standing here and saying India will win the series but I am hoping that they put up a good performance.
'Kohli or Pujara need to have a strong back foot game'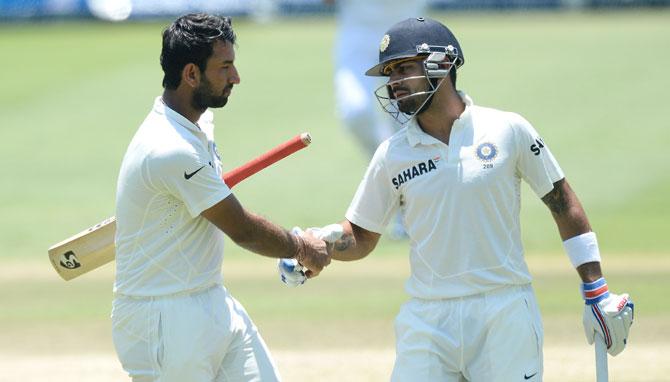 Virat Kohli (right) congratulates Cheteshwar Pujara on his century against South Africa. Photograph: Getty Images
The first part of the England tour went really well. Obviously the back three Test matches India struggled. But I am hoping that they will have a little more consistency in this series and irrespective of the results, actually play some good cricket and competitive cricket then this could be the making of really good Indian side for the future," he said.
Youngsters like Virat Kohli and Cheteshwar Pujara were tested in England and Dravid said they would have to figure out how to play on and outside the off stump.
"I think the real challenges there are going to be is again on the on and outside the off stump and the bounce that you have to counter. Knowing where your off stump is going to be critically important even in Australia because if you play ball on the fifth stump, there is a good opportunity that you
might actually end up nicking to the slips and edges do carry there.
"So, knowing where your off stump is very important as it is in Australia and being positive. I think scoring runs in Australia when you get the opportunity, actually cashing in, and having a strong back foot game, I think is the few things not only Kohli or Pujara but I think the whole batting unit would have to work on," he said.
'You are going to have to see some tough times'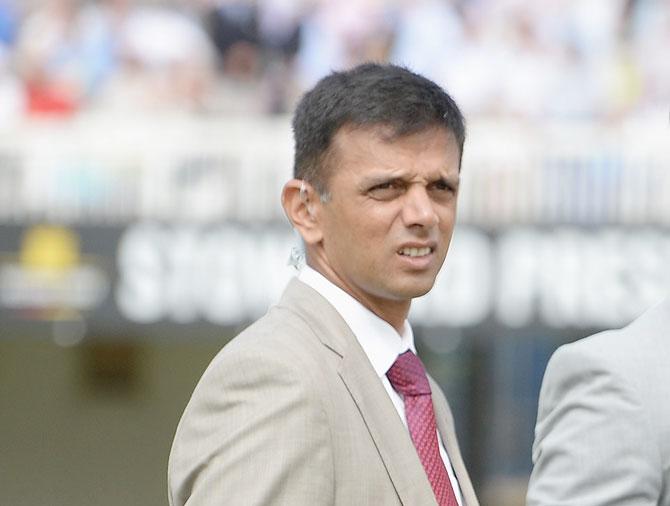 Former India captain Rahul Dravid. Photograph: Getty Images
He further said this young team was similar to the side in the late 90s and has to be given time to develop well.
"I think you have got to give this young team a bit of time. You need to be patient. It happens with young teams.
"If you look at this team, I think this team is like the team we were in late 90s and early 2000, a lot of young players coming through. And if this team develops and grows, then you could really see them have a good run in the future.
"You are going to need patience. You are going to have to see some tough times and some tough results but if you are patient then hopefully these guys will pay you back," Dravid said.