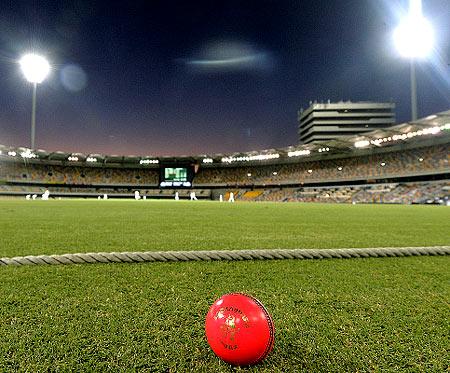 The iconic Eden Gardens in Kolkata, a witness to many firsts, on Saturday saw Indian cricket's first ever match with the pink ball during the Cricket Association of Bengal's Super League day-night final between Mohun Bagan and Bhowanipore, where the seamers got good help from the 22-yard strip compared to spinners.

Mohun Bagan scored 276 for 8 in 85.2 overs when stumps were drawn on Day 1 of the four-day match.

Former India Under-19 World Cup player Ravikant Singh, representing Bhowanipore, was skiddy and got some movement as he ended with three wickets on the opening day.

For Mohun Bagan, Anushtup Majumdar, who has played for India 'A' in the past, scored 83 off 131 balls while veteran Sanjib Sanyal (51 not out) scored an unbeaten half-century.

"The ball was coming nicely on to the bat. Visibility was not a problem at all, it's a bit glossy, the ball is skidding and seaming a bit," Majumdar said.

"The ball is just the same, only difference is the colour. Initially it was a bit difficult but once you are set, shot making became easy," Majumdar said about his primary assessment.

The bowlers' perspective was provided by left-arm medium pacer Geet Puri (two for 19), who got the first wicket of the day with a ball that shaped away after pitching from Bagan opener Jayojeet Basu.

"There was a lot of swing. The ball felt much lighter, even as it's same as the regular 156 grams. I really enjoyed bowling with the pink kookaburra. It had much better control. Pacers got a lot of help but spinners did not get much assistance," Puri said.

"Unlike in the red cherry, we can't keep the shine on one side with the pink ball. I don't think it will reverse," assessed Geet.

However, Bhowanipore's spinners including skipper Writtick Chatterjee got a wicket, but there was hardly any turn on offer even after the ball was 60 overs old.

CAB president Sourav Ganguly ensured that it drew attention from not only the international media but saw a sizeable crowd close to a thousand, that easily surpassed a Ranji Trophy attendance on any given day.

At the end of the day, everyone was happy; the umpires hailed the ball that retained its texture even at the dinner interval, batsmen scored runs, there was something for both seamers and spinners, while the crowd enjoyed the the limelight with the match shown live.

Wriddhiman Saha (33) became the first Indian Test player to face the pink ball under lights in the country in a multi-day game as he along with Majumdar built their innings in an 81-run fifth wicket partnership.

"I didn't expect it to be so firm, I'm really surprised. The ball was perfectly visible. And you can feel the seam which is still intact," one of the umpires, Premdip Chatterjee said.
Photograph: Bradley Kanaris/Getty Images