Eight franchises collectively spent Rs 91.15 crore to buy 66 players from a pool of 351 that went under the hammer.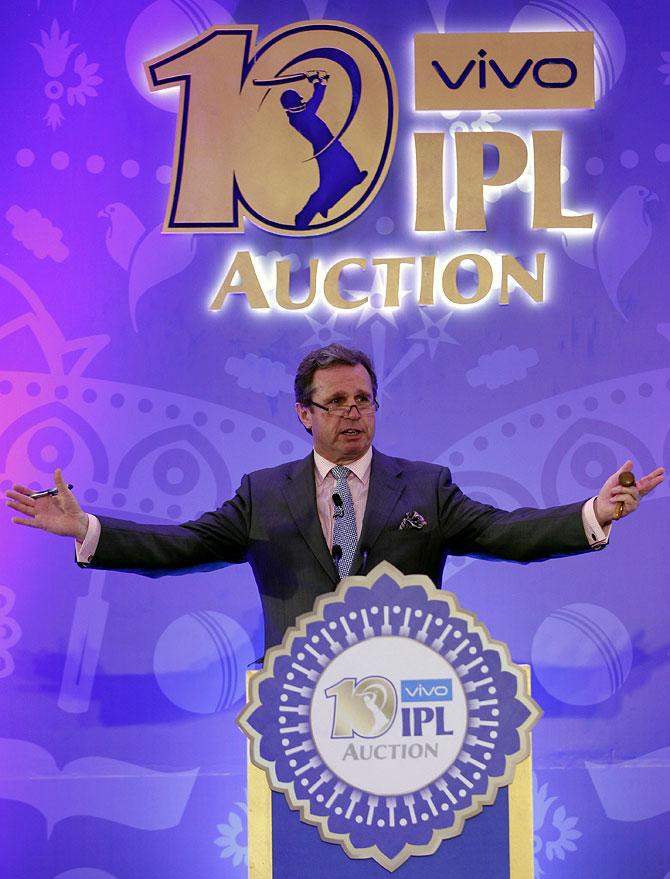 IMAGE: Auctioneer Richard Madley conducts proceedings at the IPL Players' Auction. Photograph: BCCI
England all-rounder Ben Stokes became the most expensive overseas purchase -- bought by Rising Pune Supergiants for a whopping Rs 14.50 crore even as some unheralded Indian domestic players trumped seasoned names to land lucrative deals at the Indian Premier League players' auction, in Bengaluru, on Monday.

The second biggest buy at the auction was also an England player, left-arm fast bowler Tymal Mills, who was snapped up by Royal Challengers Bangalore for a mind-boggling Rs 12 crore.

Eight franchises collectively spent Rs 91.15 crore to buy 66 players from a pool of 351 that went under the hammer. The focus was clearly on Indian players with as many as 39 of them bagging contracts while 27 overseas players came into the franchises' roster.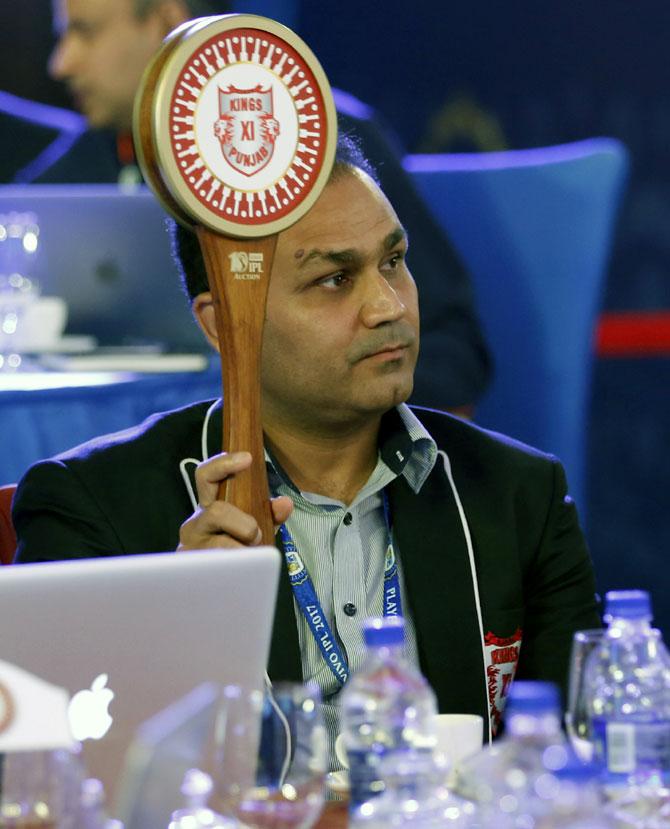 IMAGE: Virender Sehwag bids for a player at the IPL Players' Auction. Photograph: BCCI
Also making a splash were young Afghanistan leg-spinner Rashid Khan Arman, who stunned one and all by getting a Rs 4 crore (US$ 600,000) bid from Sunrisers Hyderabad, and spin-bowling all-rounder Mohammed Nabi, also going to Sunrisers Hyderabad. The duo will be the first set of Afghan players to take part in the lucrative league.

The uncapped Indian players had a field day too with little-known Tamil Nadu left-arm seamer T Natarajan going for Rs 3 crore ($ 448,000) to Kings XI Punjab, a 30-fold hike over his base price of Rs 10 lakh.

Hyderabad pacer Mohammed Siraj got a deal of Rs 2.6 crore from his local franchise -- the Sunrisers Hyderabad.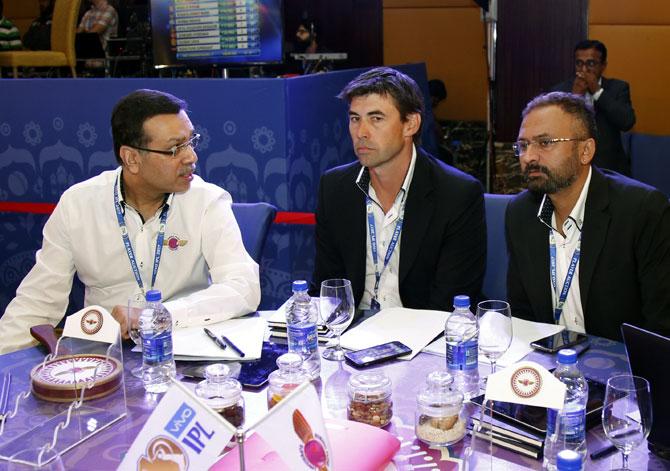 IMAGE: Rising Pune Supergiants owner Sanjeev Goenka, left, with coach Stephen Fleming, centre at the IPL Players' Auction. Photograph: BCCI
Rajasthan's left-arm pacer Aniket Chaudhary, who has been a net bowler with the Indian Test squad for some time, also bagged a cool Rs 2 crore ($ 298,000) deal from RCB.

Karnataka off-spinner Krishnappa Gowtham got a Rs 2 crore ($ 298,000) winning bid from Mumbai Indians.

India discards Varun Aaron fetched Rs 2.8 crore ($ 418,000) from Kings XI Punjab while leg-spinner Karn Sharma was bought for Rs 3.2 crore ($ 477,000) from Mumbai Indians.

For left-arm spinner Pawan Negi, it was another hefty pay day as he bagged a Rs one crore deal from RCB after starting with a base price of Rs 30 lakh.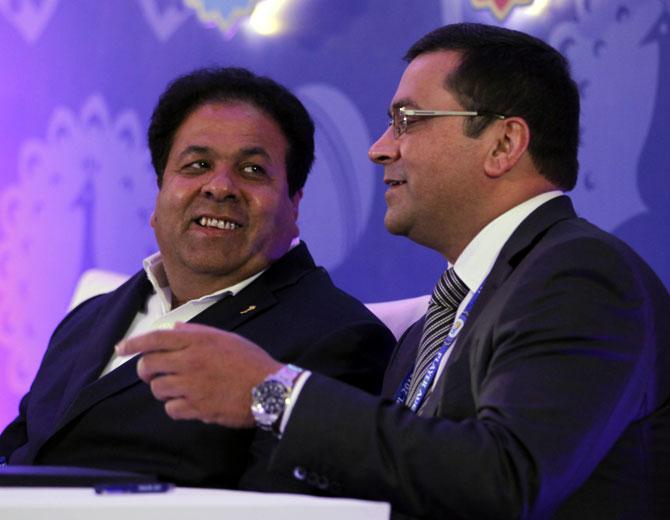 IMAGE: IPL chairman Rajeev Shukla, left, with BCCI CEO Rahul Johri, at the IPL Players' Auction. Photograph: BCCI
It was definitely much less than last year when Negi's Rs 8.5 crore deal with Delhi Daredevils had surprised one and all. But being an Indian player proved to be his advantage.

For senior Test players like Cheteshwar Pujara and Ishant Sharma, it turned out to be an embarrassment as both went unsold at their base prices of Rs 50 lakh and Rs 2 crore respectively, while former fast bowler Irfan Pathan also went unsold at his Rs 50 lakh base price.

Among the prominent international players, who failed to find takers, was South African spinner Imran Tahir, currently ranked No.1 in One-Day and T20 Internationals

The day certainly turned out to be a good one for the England players with Stokes hogging the limelight but Mills wasn't far behind either.
IMAGE: Sunrisers Hyderabad coach Tom Moody, left, with mentor VVS Laxman, centre, and bowling coach Muttiah Muralitharan, at the IPL Players' Auction. Photograph: BCCI
Both Stokes and Mills entered the million-dollar bracket with the former fetching $ 2.16 million and the latter going for $ 1.8 million.

Even Chris Woakes, with Rs 4.2 crore ($ 627,000) deal from Kolkata Knight Riders, had a good day.

Hard-hitting Jason Roy, after going unsold in the first round of bidding, was picked up during the second round by Gujarat Lions at a base price of Rs 1 crore.
Pune owner Sanjeev Goenka made it clear that they knew Stokes would go for a big price and they are also prepared for the fact that he will not be available to play the full tournament.

"We knew he was going to be expensive. We do believe he is going to be there for the first 14 games and right now we are focussing on first 14, and we are very happy with this. We pretty much knew, we are not going to get him below this price," Goenka said.

Goenka's Pune Supergiants, who removed Mahendra Singh Dhoni as the captain on Sunday, entered late into the bidding at Rs 13 crore before they eventually clinched the deal at Rs 14.50 crore defeating bids from Mumbai Indians, Delhi Daredevils, Royal Challengers Bangalore and Sunrisers Hyderabad.

Interestingly, Stokes' limited-overs captain Eoin Morgan was taken at a base price of Rs 2 crore ($ 298,000) by Kings XI Punjab.

With capable seam bowling all-rounders coming at a premium, Stokes was in the wish-list of five franchises, who engaged in tough bidding for the player, who is now revered as the world's top all-rounder.
IMAGE: Royal Challengers Bangalore coach Daniel Vettori speaks to his team, at the IPL Players' Auction. Photograph: BCCI
The 25-year-old, who hasn't played franchise cricket till date, has a career strike rate of 134 plus while batting and a moderate bowling economy rate of 8.60 in 77 matches.

Mills, on the other hand, has played 55 Twenty20 matches, fetching 63 wickets with a reasonably good economy rate of 7.47.

Asked whether Pune skipper Steven Smith was consulted in bidding for Stokes, Goenka said everyone including Stephen Fleming have been a part of the decision.

"Steve Smith and Stephen Fleming, everyone has been a part of this decision. This is a very collective and collaborative decision. We actually didn't go for individuals. We looked at the spots and gaps to fill and we did exactly that.

"We needed this kind of an all-rounder in our team. We are reinforcing our core, our playing eleven and you would see the rest of the strategy as the day unfolds," Goenka explained.

The first round of bidding for Stokes saw Mumbai, Delhi and RCB match each other till it reached Rs 10.50 crore after which the Mukesh Ambani-owned franchise pulled out.

Delhi and Bangalore continued to bid before Sunrisers entered the fray and just when it looked that Stokes would go for around Rs 12.5 crore, Pune entered the fray to finally end up signing up the all-rounder.

For left-armer Mills, who can consistently bowl at 90 mph, what got RCB going was the search for a replacement for Mitchell Starc, who pulled out of the IPL on Sunday.

"Bangalore has a very small ground. It favours batsmen -- the average first innings score was 199, and second innings was 190 and therefore, we really needed bowlers, especially with Mitchell Starc's unavailability this edition, and therefore Tymal Mills was a great buy. He suits the playing conditions in Bangalore," RCB chairman Amrit Thomas told reporters.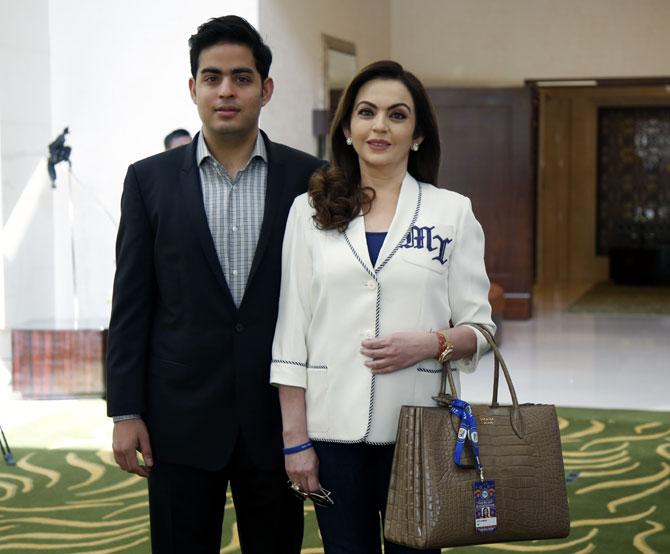 IMAGE: Mumbai Indians owner Nita Ambani with her son Akash, at the IPL Players' Auction. Photograph: BCCI
Mumbai Indians owner Nita Ambani said that her team was not disappointed despite going deep into the bidding battle for both Stokes and Mills.

"When you enter an auction, you leave disappointment outside the room as there isn't a straight forward strategy. We always have back up strategies. We are not disappointed. We are very happy with the players we have," she said.

On buying India discard Karn Sharma for Rs 3.2 crore, Ambani said: "We needed a leg-spinner."

Among notable international players, New Zealand all-rounder Corey Anderson and Sri Lankan Test captain Angelo Mathews were picked up by Delhi Daredevils at their base price of Rs 1 crore and Rs 2 crore
respectively.

Daredevils also bought South African paceman Kagiso Rabada for Rs 5 crore after staving some intense bidding from other franchises.

New Zealand fast bowler Trent Boult was picked by KKR for a huge Rs 5 crore.
Team wise list of players that were bought on Monday: