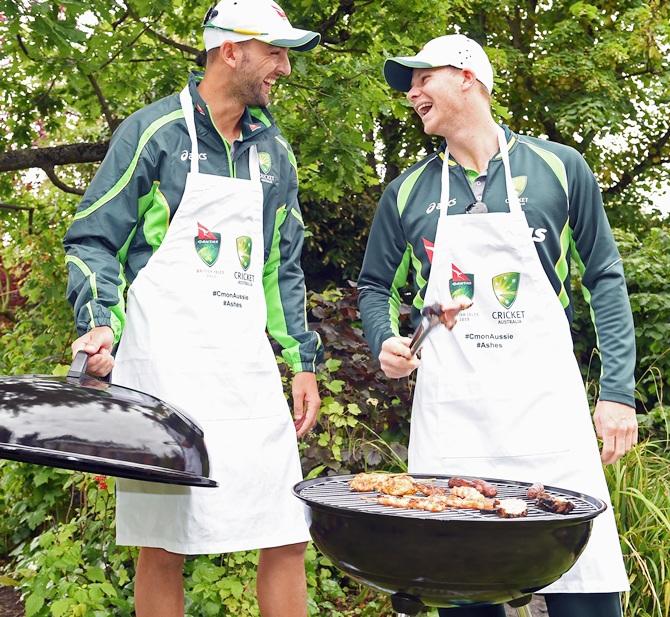 Australia's Nathan Lyon (left) and Steve Smith share a joke as they pose for the camera during the Australian Ashes Squad Welcome BBQ. Photograph: Christopher Lee/Getty Images
Australia says they are ready and waiting to take a new-look and resurgent England head-on in the Ashes, starting July 8 at Cardiff.
Captain Michael Clarke believes the five-Test series will be played in the correct spirit, even if some players come close to crossing the line.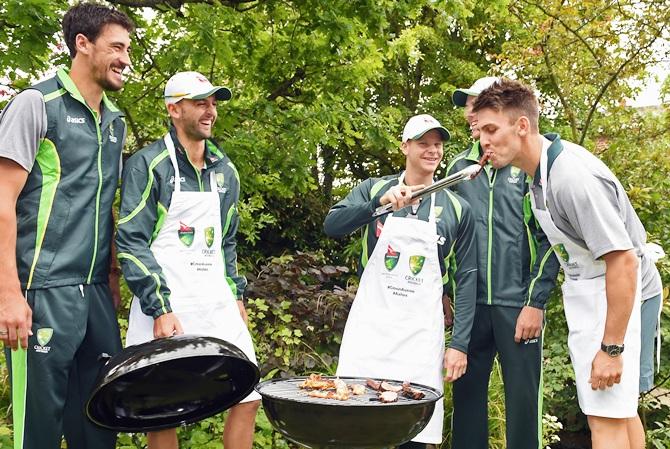 Australia's Steve Smith feeds Mitchell Marsh as Mitchell Starc, Nathan Lyon and Josh Hazelwood look on. Photograph: Christopher Lee/Getty Images
Personal abuse, or 'sledging', has often played a part in matches between the sport's two oldest rivals, but Clarke said he does not find the practice beneficial.
Australia's Mitchell Marsh gives the thumbs up to the BBQ food. Photograph: Christopher Lee/Getty Images
Words are already being exchanged. The World champions poked fun at England's pre-Ashes camp in Spain, saying they are focused on retaining the most treasured prize in Test cricket, not 'sunbaking'. The English team is scheduled to fly to a secret location in Spain this weekend to get to know their new coach, Trevor Bayliss.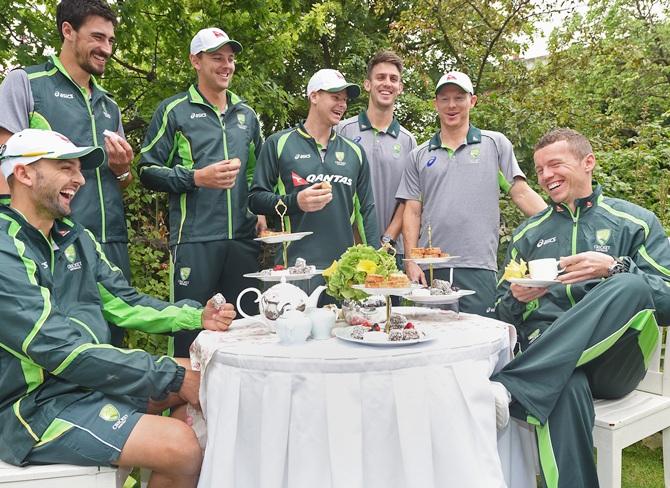 From left: Australia's Nathan Lyon, Mitchell Starc, Josh Hazlewood, Steve Smith, Mitchell Marsh. Photograph: Christopher Lee/Getty Images
The Australians will spend time at a more noted venue, Kent's Spitfire Ground, after arriving in England. They start with the confidence of a team that, as series favourites, believes has the edge.