England left-arm spinner Monty Panesar, who had impressed in the recent Test series in India, has been cleared by his county side Sussex to take part in next month's auction of the cash-rich IPL.
Panesar is among three England players to have been given permission to appear in this year's IPL auction, according to Cricinfo.
The other two are, his Sussex team-mate Matt Prior and Essex's Ravi Bopara.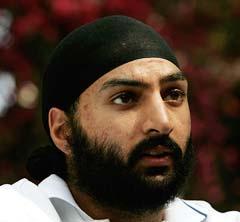 Panesar -- as well as Prior -- had appeared in the IPL auction before without attracting any takers, but his success in the recent Test series in India, where he grabbed 17 wickets in the three matches he played, could boost his chances of being bought by a franchisee.
The off-spinner, however, may not play the whole IPL season, which begins on April 3, if he is selected in the Test team for the home series against England starting May 16.
The England and Wales Cricket Board has asked any of the players involved in IPL and who may be selected in the Test team to return to England in time to appear in the final round of Championship matches, ahead of the first Test against New Zealand that begins on May 16.
That means that Sussex could be without Panesar -- in case he is bought by IPL franchises -- for two games and he may have to be back in England before the end of April.
Sussex's last game before the first Test begins on May 1.
All players are required to obtain No Objection Certificates from their counties or national boards to take part in the IPL.