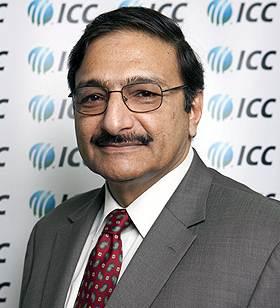 The Pakistan government dismissed the country's cricket board on Monday and appointed an ad-hoc committee to run the sport.
Following an order from Prime Minister Nawaz Sharif, an 11-member committee will run cricket in the country, replacing the Zaka Ashraf-led Pakistan Cricket Board (PCB), of which Sharif is the chief patron.
"Zaka Ashraf has been dismissed on several charges by the Prime minister, who is a great lover of the sport," Shakil Sheikh, a member of the committee, told Geo News channel.
"The charges include that he (Ashraf) left Pakistan isolated in world cricket with his mishandling of the big three issue and there were also financial mismanagement and appointments in his tenure."
Pakistan and Sri Lanka abstained from voting on Saturday when the International Cricket Council board passed structural and financial reforms to effective place India, England and Australia in charge of the game.
The new committee includes former Test players Zaheer Abbas and Iqbal Qasim and former board chiefs Shaharyar Khan and Najam Sethi.
According to a government notification, the committee will nominate a chairman to head the administration.
Ashraf was reinstated as the PCB chairman last month by the Islamabad high court after filing an appeal against his dismissal by a single bench of the same court in May last year.
The single bench had declared the election process during which Ashraf was elected last year as malafide and polluted and dismissed him, following which the government appointed Sethi as acting chairman.
"I am still the chairman of the board and this notification has no bearing on my position," a defiant Ashraf told Geo News.
"This decision will only further weaken Pakistan's position in international cricket and I will decide on what legal recourse to take soon," he said.
Image: Zaka Ashraf