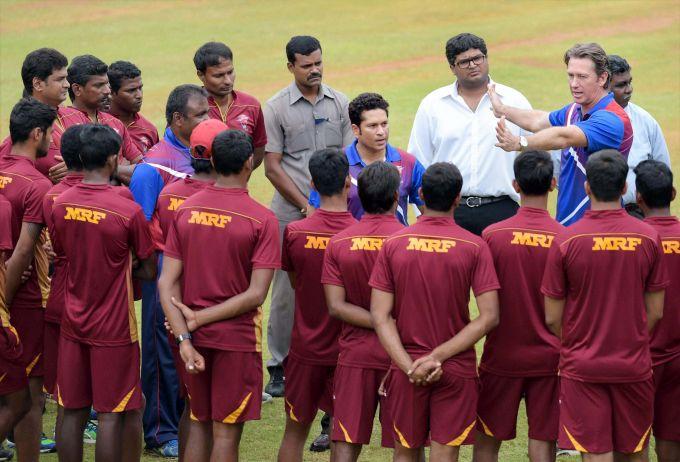 IMAGE: Sachin Tendulkar and Glenn McGrath interact with young cricketers at the MRF Pace Foundation in Chennai on Friday. Photograph: PTI
Australian pace legend Glenn McGrath feels he has learnt a lot since being associated with the MRF Pace foundation in the last two years after initial hesitation to take over the role from Dennis Lillee.
"To take over from Dennis (Lillee), I was a little bit hesitant. Dennis told me to come and work with him here for two weeks. Obviously, I was impressed with the coaching staff and then decided in favour of it. Since then it has been a learning experience for me as well," McGrath told mediapersons, sitting alongside Sachin Tendulkar, in Chennai on Friday.
"So much about the technical aspect of fast bowling... I can now identify issues the young bowlers have and help them improve and make them more efficient and teach them how to refrain from getting injured," McGrath added.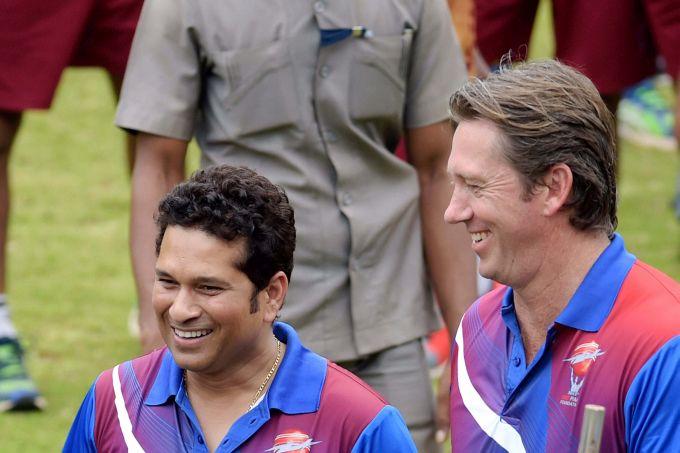 IMAGE: Sachin Tendulkar and Glenn McGrath. Photograph: PTI
The highest wicket-taker in Test cricket amongst pacers, McGrath said during his formative years he never went through such a systematic grind.
"If I had known them when I was playing as to what I know now, I could have fixed my action up and bowled a bit better. I have really enjoyed being here for three years."
He added that "skill and technique" can take a talented bowler till a certain level but it is the "attitude" that determines one's success at the highest level.
"Skill and techniques are important and attitude takes you to rest of the way. It is about combination of skill, work ethics and if you achieve these there is no stopping you.
"Sachin and myself have been lucky to play at top level and it is something unique that we are able to pass on our works to pretty young guys coming through.
"Quite a few Indian bowlers who have gone through the MRF Pace Foundation and played for India have 2200 Test wickets between them... it's incredible. I was thinking today that making it one more and we should be adding to the list is Sachin stand up to become a fast bowler in 1987-88," he said.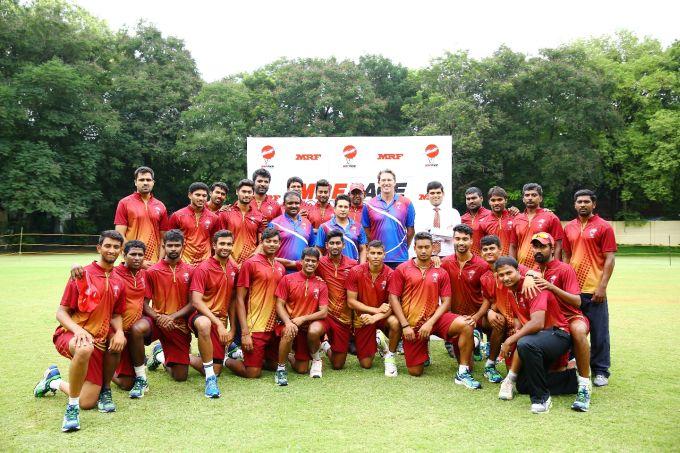 IMAGE: Sachin Tendulkar and Glenn McGrath with young pacers at the MRF Pace Foundation in Chennai.
McGrath said he enjoyed working with the next crop of Indian pacers.
"Hopefully, they are playing well and playing at state levels and doing well. But they have not made the next step to play international cricket for India. Working with them on the mental side of the game, the preparation and thought process as to how they go about taking wickets and building pressure.
"That is what we decided to and probably BCCI, which I think is a great partnership and it is huge credit to the MRF. Young bowlers come from other countries too. For MRF to get that recognition is amazing and also working with BCCI to produce quality fast bowlers for India is as hard as it gets.
"In Australia, you have the pace and bounce and other countries around the world. But in India you need to look at ways to take wickets.