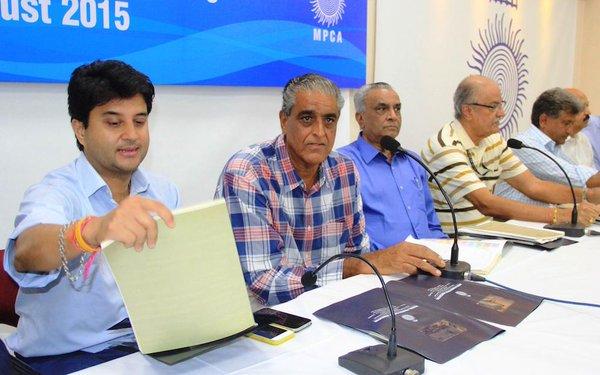 IMAGE: President Jyotiraditya Scindia (left) attending the meeting of MPCA.
The Madhya Pradesh Cricket Association (MPCA), which held its AGM on Monday, has decided that the erstwhile committee under the chairmanship of Jyotiraditya Scindia will continue to carry on its usual function in the State Association.
With no nominations against the Scindia group and a Lodha Panel directive, which states that no elections should be held unless the first set of reforms are put in place, the general body said that it is only appropriate that old committee under the leadership of Scindia continues.
MPCA CAO Rohit Pandit said: "It was decided that the same management committee continues till further notice."
Meanwhile, the Lodha panel had asked BCCI secretary Ajay Shirke to inform all state associations to put their elections on hold and revert back to them by August 27.
"It is clearly mentioned in the initial set of reforms that all state association elections will only be held after the appointment of electoral officers. Accordingly, the secretary was asked to inform all associations about "direction of the Committee".
The letter, which was also addressed to BCCI president Anurag Thakur and CEO Rahul Johri, states that similar directives were given on July 21, 29 and 30th," a source close to the panel told PTI.
The BCCI has decided that they will wait for the verdict of the review petition filed in Supreme Court seeking recusal of CJI TS Thakur from the case.
The BCCI is scheduled to hold its Annual General Meeting on September 21.