Dilshan retires as the fourth highest run-scorer in ODIs for Sri Lanka.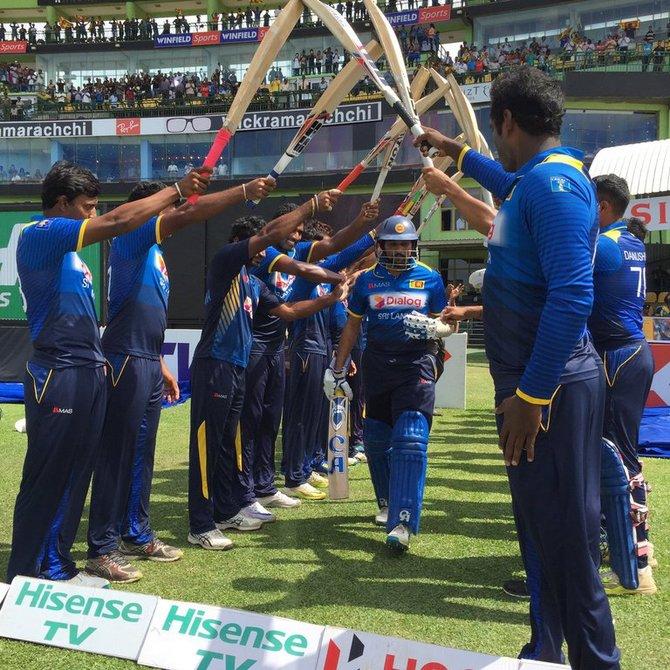 IMAGE: Sri Lankan opener Tillakaratne Dilshan being given Guard of Honour by his teammates during his final ODI. Photograph: Cricket Australia.
Veteran Sri Lankan opener Tillakaratne Dilshan bid farewell to ODI cricket by scoring a 65-ball 42 in his final game against Australia in the third ODI in Dambulla.
Earlier this week, Dilshan announced that Sunday's third ODI would be his last in the 50-over format, before departing from Twenty20 internationals in Colombo on 9 September.
The 39-year old will not be playing in the final two ODIs of the five-match series against Australia.
After making his debut way back in 1999, Dilshan finished as the fourth highest run-scorer in Lanka's ODI history, scoring 10290 runs in 330 matches at an impressive average of 39.26.
Captain Angelo Mathews paid tribute to his veteran opener and put him alongside of two of the finest to ever represent the Lions.
IMAGE: Sri Lankan opener Tillakaratne Dilshan acknowledging the crowd after his final innings. Photograph: ICC.
"He's been an absolutely brilliant servant for Sri Lanka Cricket over the past 17 years," Mathews told media ahead of the third ODI.
"He's equalled the services of Mahela (Jayawardena) and (Kumar Sangakkara). We are going to miss him a lot.
"Unfortunately he has called it a day and we respect that decision. The whole team wishes him all the very best for the future.
"It's definitely going to be a tough ask to fill his boots, but we have seen the youngsters taking a lot of responsibility."