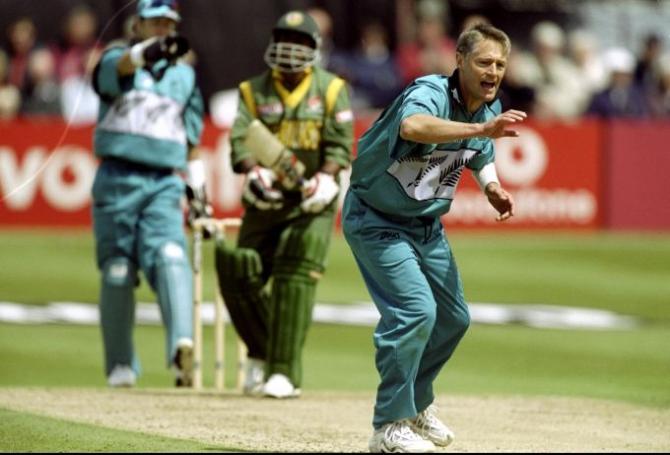 Gavin Larsen. Photograph: Mike Hewitt /Allsport
Gavin Larsen says if he could rein in the batsmen of 1990s era even with his military medium pace it was because of his skipper Martin Crowe's tremendous leadership style and his faith in the bowlers.
The former Kiwi player said Crowe's captaincy was very innovative during the 1992 World Cup in Australia and New Zealand.
- The World Cup, as never before on Rediff.com
- VOTE: Who will win the 2015 World Cup?
"Martin was a superb tactician. He was very shrewd. I can call him a chess Grand Master and I was one of his chess pieces. It was a different time and things were pretty much scripted for us. We had a model that we implemented successfully," Larsen, who is the Operations Head of the NZC's World Cup organizing committee, said.
"We had myself, Chirs Harris, Willie Watson, Rod Latham, Dipak Patel, bowling wicket to wicket with good field placements. We had a good team then. I think the manner in which game was played back then, we were right up there," said the 52-year-old, who was known for his parsimonious economy rate of 3.76 over 121 ODIs in which he got 113 wickets.
'Brendon leads from front'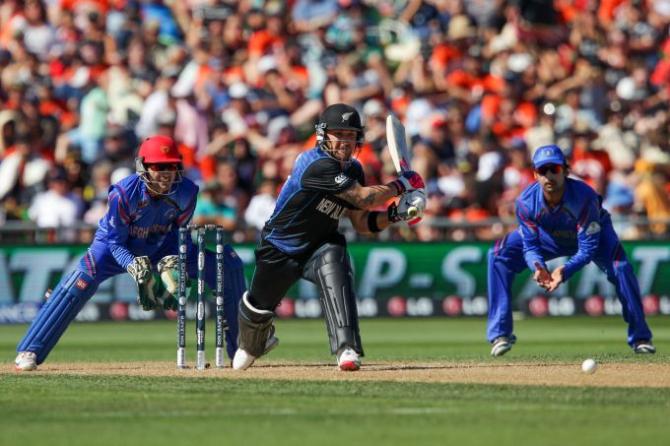 Brendon McCullum of New Zealand bats while Afsar Zazai (left) and Asghar Stanikzai of Afghanistan look on. Photograph: Hagen Hopkins/Getty Images
The current New Zealand team under Brendon McCullum is on a roll in the ongoing edition and Larsen was asked to compare the 'Class of 92' which reached the semi-finals before losing to Pakistan and Inzamam ul Haq in particular.
For Larsen, current captain McCullum is also a man who loves to lead by example.
"Brendon leads from front and that manifests in the manner his team plays. If you have mild captain, the attitude permeates in the team and a lot of it down can be put down to Brendon's captaincy," the Wellington based Larsen said.
'It's really nice to see how the Black Caps have shaped up'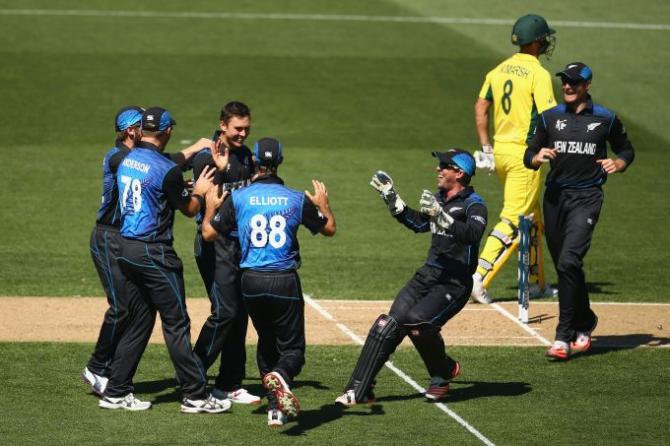 Trent Boult of New Zealand celebrates with his team mates after taking the wicket of Mitch Marsh of Australia. Photograph: Mark Kolbe/Getty Images
Larsen's semi-final picks has been similar to what most people have predicted: New Zealand, Australia, India and South Africa.
"India are travelling nicely and it's really nice to see how the Black Caps have shaped up," said the former medium pacer.
The New Zealand bowling attack of 1992 World Cup was filled with bowlers who were popularly named "dibbly dobbly wobblies" for the 120 kmph speed but which was very effective during that phase.
A master of varying the pace of his deliveries, Larsen was asked how he could effectively take the pace off the ball. His answer was interesting one.
"Well, may be the reason being able to take the pace off was because I couldn't bowl fast. I came through a period when pitches in New Zealand were a bit low and slow in early 90's. In a sense those pitches were tailor-made for cricketers like myself, Harris, and players of that ilk. We bowled medium pace and batsman had to force the issue. But honestly, if I bowl that stuff today, I would be in trouble."
'I was self-taught'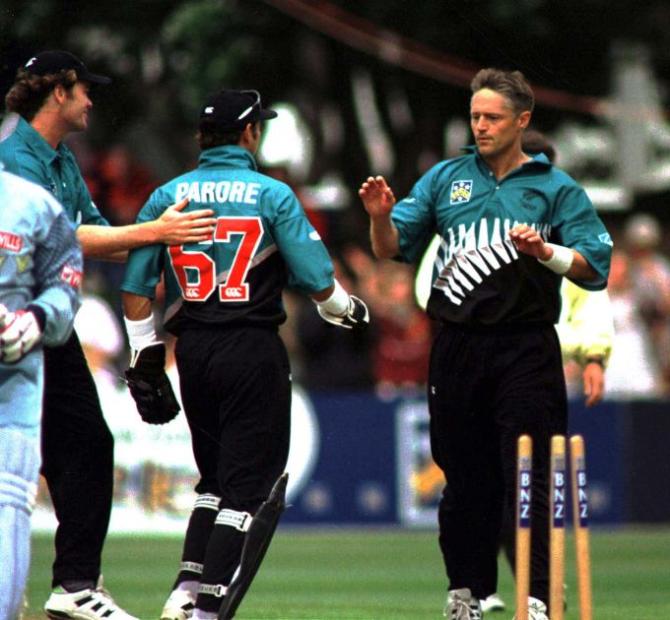 Gavin Larsen. Photograph: Barry Durrant/Getty Images
Larsen would not make it evident but he is still fiercely proud of his skill set and that was bowling wicket to wicket.
"I remember during my time, I could bowl all 60 balls on one spot and get away without being hit. May be I would bowl an odd slower delivery or an odd yorker at the death. But I can tell you that 90 percent of my deliveries that I bowled were back of length and on top off-stump."
While stump-to-stump bowling was in vogue during his time, Larsen says that it won't be effective in this era.
"The game has evolved. The playing conditions have been massaged with two balls and field restrictions. So bowlers need to attack and for that one needs genuine pace, swing, most importantly have variations. Pace, bounce ability to have change-ups, bowl those wide yorkers, leg-stump yorkers. It never happened in my day."
One of the more clever ODI bowlers during his time, Larsen said that he was a 'self-coached' individual.
"I developed my own style or you can say that I was self-taught. I was a batsman in my younger days. I went to play league cricket in England. Everyone who goes there in England claims to be an an all-rounder.
"I was no different. I was a league cricket medium pacer. Strange run-up, interesting delivery action and I was this bowler with ability to hit back of length. But it won't work now as a bowler like me would be in trouble in today's era," concluded Larsen.