'I am a fan of Imran Khan. I would have loved to play under him.'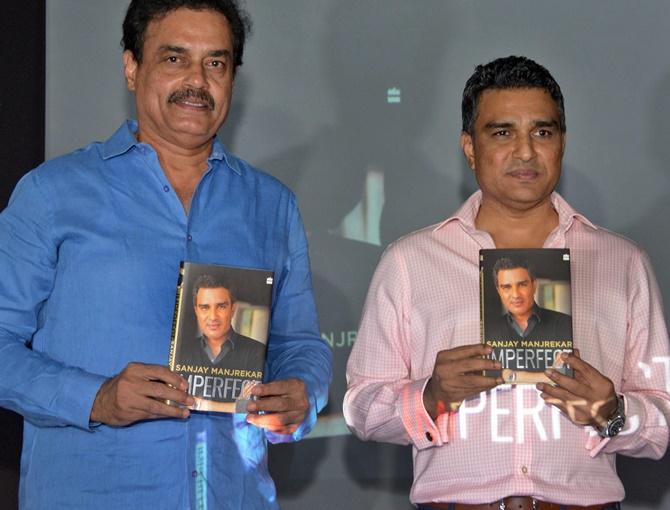 IMAGE: Former Indian captain Dilip Vengsarkar, left, with former cricketer and author Sanjay Manjrekar during a book launch in Mumbai on Wednesday. Photograph: PTI Photo
The strongest emotion he had felt in the company of his father Vijay, also a cricketer who played for nearly a decade for India, was fear, said former Test player Sanjay Manjrekar at the launch of his autobiography Imperfect in Mumbai on Wednesday.
"I had no plan of including him in my book at first. But then I decided to include all those who had made an impact on me. The strongest emotion I felt when near him was fear which was common (between father and son) in those days," said Manjrekar through a unique manner of interviewing himself in a video.
"The way he (late Vijay Manjrekar) handled me had a lot to do about my success as a cricketer. I am happy that both my children have nothing to do with cricket and I had allowed them to chart their own careers," said the cricketer-turned-commentator.
Sanjay, who played 37 Tests after making his debut in the Delhi Test against the West Indies under the captaincy of Dilip Vengsarkar in 1987, scored 2,043 runs with a career-best 218 against Imran Khan's Pakistan at Lahore in 1989.
He ended his career with an average of just over 37 with four hundreds to his credit in 1996 at Ahmedabad in his early thirties.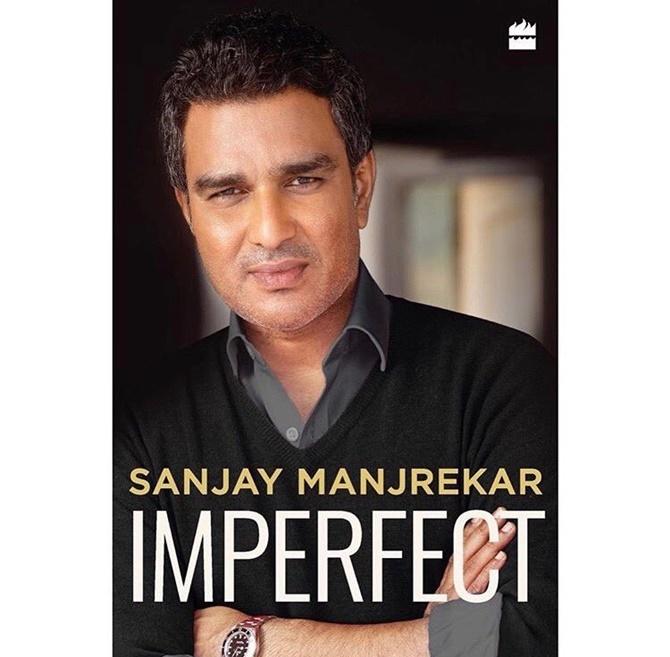 He was candid to concede that arrival of Rahul Dravid and Sourav Ganguly to shore up the middle order hastened his self-imposed exit.
"I did not want to undergo the grind of playing in Ranji Trophy to regain my lost place," said the 52-year-old ex-player.
The outspoken Manjrekar was also open about his current frosty relationship with maestro Sachin Tendulkar who was his roommate as a 14-year-old at a tournament in Chennai.
"We bump into each other at grounds. He looks at me, I look at him. We are fine," said Manjrekar in the presence of quite a few of his ex-Mumbai and India mates like Vengsarkar, Ajit Agarkar and Raju Kulkarni.
Asked about the captain he was most impressed with, Manjrekar promptly said -- Imran Khan, the former Pakistan skipper.
"It's a no-brainer. I am a fan of Imran Khan. I would have loved to play under him. Among the Indians I like Mahendra Singh Dhoni. I also would have liked to play under (current captain) Virat Kohli. He is an in-your-face leader who hates losing games and gets very upset then."
He also named former England captains Michael Atherton and Nasser Hussain as his favourite TV commentators, saying "they have raised the bar so much."
He also explained the book's title -- Imperfect.
"I realised quite late that trying to be perfect is impossible to achieve. I realised I was chasing a ghost or a mirage and that's the reason I have named it Imperfect," said Manjrekar who also played in 74 ODIs for the country.
Vengsarkar, his first international captain and the man who backed his inclusion in the face of strong opposition from other selectors, released the book published by Harper Collins.
Video: Afsar Dayatar/Rediff.com