Rajneesh Gupta salutes one of the greatest cricketers ever to have played One-Day Internationals.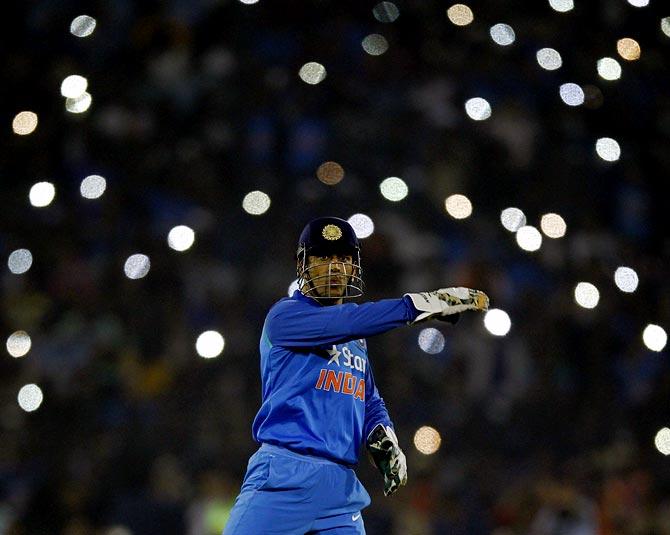 IMAGE: Mahendra Singh Dhoni. Photograph: BCCI
One of the greatest one-day players of his era, Mahendra Singh Dhoni will complete a landmark 300 One-Day Internationals when he takes the field for the fourth match between India and Sri Lanka in Colombo on Thursday, August 31.

The former India captain, who led India to two World Cup titles -- the World T20 in 2007 and the 50-overs World Cup in 2011 -- will become only the sixth Indian player to feature in 300 ODIs and the 20th player overall in world cricket.
The 36-year-old wicketkeeper-batsman continues to be one of the most important players for India in the 50-overs format.
One of the fittest members of the squad, Dhoni recently silenced all his critics with two good knocks (45 not out and 67 not out) in tight run chases against Sri Lanka and also settled the debate about him going on to play till the 2019 World Cup.

Dhoni boasts an impressive record for India in ODIs, with 9,434 runs at an average of 51, with most of them coming under pressure in tight run chases, including his amazing 91 not out in the 2011 World Cup final against Sri Lanka which has been etched in the memory of Indian fans forever.

Not suprisingly, the King of Run Chases averages an astonishing 101 in 95 matches in successful run chases! Surely that record would take some beating...

Dhoni is one rare player who is never affected by the extra burden of captaincy, with a much better average as skipper than when playing as a pure batsman.

Rajneesh Gupta presents all the numbers about Dhoni's magnificent ODI career:
Dhoni's record in One-Day Internationals
| Team | Matches | Runs | Highest Score | Average | Strike Rate | 100 | 50 |
| --- | --- | --- | --- | --- | --- | --- | --- |
| India | 296 | 9,434 | 183* | 51.55 | 87.99 | 9 | 65 |
| Asia XI | 3 | 174 | 139* | 87.00 | 125.17 | 1 | 0 |
| ODI career | 299 | 9,608 | 183* | 51.93 | 88.47 | 10 | 65 |
Dhoni: Year by Year
| Year | Matches | Runs | Highest Score | Average | Strike Rate | 100 | 50 |
| --- | --- | --- | --- | --- | --- | --- | --- |
| 2004 | 3 | 19 | 12 | 9.50 | 135.71 | 0 | 0 |
| 2005 | 27 | 895 | 183* | 49.72 | 103.11 | 2 | 3 |
| 2006 | 29 | 821 | 96 | 41.05 | 92.97 | 0 | 7 |
| 2007 | 37 | 1,103 | 139* | 44.12 | 89.60 | 1 | 7 |
| 2008 | 29 | 1,097 | 109* | 57.73 | 82.29 | 1 | 8 |
| 2009 | 29 | 1,198 | 124 | 70.47 | 85.57 | 2 | 9 |
| 2010 | 18 | 600 | 101* | 46.15 | 78.94 | 1 | 3 |
| 2011 | 24 | 764 | 91* | 58.76 | 89.88 | 0 | 6 |
| 2012 | 16 | 524 | 113* | 65.50 | 87.62 | 1 | 3 |
| 2013 | 26 | 753 | 139* | 62.75 | 96.04 | 1 | 5 |
| 2014 | 12 | 418 | 79* | 52.25 | 92.07 | 0 | 5 |
| 2015 | 20 | 640 | 92* | 45.71 | 86.83 | 0 | 4 |
| 2016 | 13 | 278 | 80 | 27.80 | 80.11 | 0 | 1 |
| 2017 | 16 | 498 | 134 | 83.00 | 82.86 | 1 | 4 |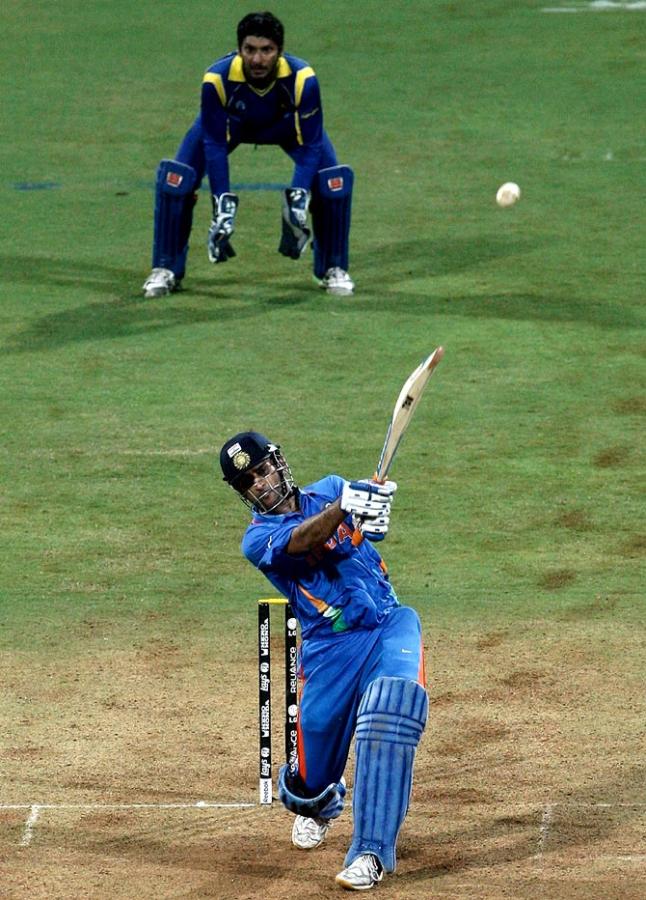 IMAGE: The most famous six in ODI cricket, the victorious shot against Sri Lanka in the 2011 World Cup final in Mumbai, April 2, 2011. Photograph: Graham Crouch/Getty Images
Dhoni: Against each opponent
| Opponent | Matches | Runs | Highest ZScore | Average | Strike Rate | 100 | 50 |
| --- | --- | --- | --- | --- | --- | --- | --- |
| Sri Lanka | 61 | 2,261 | 183* | 64.60 | 90.07 | 2 | 18 |
| England | 44 | 1,425 | 134 | 45.96 | 88.95 | 1 | 10 |
| Australia | 43 | 1,255 | 139* | 41.83 | 81.22 | 2 | 6 |
| Pakistan | 33 | 1,230 | 148 | 55.90 | 90.50 | 2 | 9 |
| West Indies | 33 | 899 | 95 | 59.93 | 90.26 | 0 | 7 |
| New Zealand | 21 | 773 | 84* | 51.53 | 81.45 | 0 | 6 |
| South Africa | 30 | 727 | 92* | 31.60 | 88.76 | 0 | 4 |
| Bangladesh | 18 | 465 | 101* | 51.66 | 85.32 | 1 | 2 |
| Zimbabwe | 6 | 208 | 85* | 208.00 | 112.43 | 0 | 3 |
| Africa XI | 3 | 174 | 139* | 87.00 | 125.17 | 1 | 0 |
| Hong Kong | 1 | 109 | 109* | - | 113.54 | 1 | 0 |
| Ireland | 2 | 34 | 34 | 34.00 | 68.00 | 0 | 0 |
| Bermuda | 1 | 29 | 29 | 29.00 | 116.00 | 0 | 0 |
| The Netherlands | 1 | 19 | 19* | - | 47.50 | 0 | 0 |
| Scotland | 1 | - | - | - | - | - | - |
| UAE | 1 | - | - | - | - | - | - |
Dhoni: Batting first and second
| | Matches | Runs | Highest Score | Average | Strike Rate | 100 | 50 |
| --- | --- | --- | --- | --- | --- | --- | --- |
| Batting 1st | 134 | 5,323 | 148 | 53.23 | 95.12 | 8 | 35 |
| Batting 2nd | 160 | 4,285 | 183* | 50.41 | 81.40 | 2 | 30 |
| ...... | | | | | | | |
| Successful chases | 95 | 2,546 | 183* | 101.84 | 89.42 | 2 | 17 |
Dhoni's Scoring Pattern
| Dots | 48.3 % |
| --- | --- |
| Ones | 36.6 % |
| Twos | 5.9 % |
| Threes | 0.5 % |
| Fours | 6.8 % |
| Sixes | 1.9 % |
Dhoni's Record as a Captain/Player
| | Matches | Runs | Highest Score | Average | Strike Rate | 100 | 50 |
| --- | --- | --- | --- | --- | --- | --- | --- |
| As a player | 100 | 2,975 | 183* | 47.98 | 93.73 | 4 | 18 |
| As a captain | 199 | 6,633 | 139* | 53.92 | 86.29 | 6 | 47 |
Dhoni, Under Various Captains
| Captain | Matches | Runs | Highest Score | Average | Strike Rate | 100 | 50 |
| --- | --- | --- | --- | --- | --- | --- | --- |
| Sourav Ganguly | 12 | 418 | 148 | 46.44 | 107.45 | 1 | 2 |
| Rahul Dravid | 65 | 1,719 | 183* | 40.92 | 91.97 | 1 | 11 |
| Virender Sehwag | 4 | 166 | 96 | 55.33 | 94.31 | 0 | 1 |
| Mahela Jayawardene # | 3 | 174 | 139* | 87.00 | 125.17 | 1 | 0 |
| M S Dhoni | 199 | 6,633 | 139* | 53.92 | 86.29 | 6 | 47 |
| Virat Kohli | 16 | 498 | 134 | 83.00 | 82.86 | 1 | 4 |
(
# for Asia XI)
Dhoni's favourite bowlers
| Bowler | Balls | Runs | Wkts | Average | Strike Rate |
| --- | --- | --- | --- | --- | --- |
| James Faulkner (Australia) | 108 | 152 | 1 | 152.00 | 140.74 |
| Shane Watson (Australia) | 115 | 135 | 1 | 135.00 | 117.39 |
| Muttiah Muralitharan (Sri Lanka) | 317 | 268 | 2 | 134.00 | 84.54 |
| Farveez Maharoof (Sri Lanka) | 121 | 127 | 1 | 127.00 | 104.95 |
| Tillakaratne Dilshan (Sri Lanka) | 107 | 119 | 1 | 119.00 | 111.21 |
| Abdul Razzaq (Pakistan) | 124 | 117 | 0 | | 94.35 |
| Shahid Afridi (Pakistan) | 250 | 207 | 2 | 103.50 | 82.80 |
| Graeme Swann (England) | 135 | 101 | 1 | 101.00 | 74.81 |
| Thilan Thusara (Sri Lanka) | 109 | 101 | 1 | 101.00 | 92.66 |
| Johan Botha (South Africa) | 101 | 99 | 1 | 99.00 | 98.01 |
| Nuwan Kulasekara (Sri Lanka) | 105 | 97 | 1 | 97.00 | 92.38 |
| Stuart Broad (England) | 102 | 92 | 1 | 92.00 | 90.19 |
| Dwayne Bravo (West Indies) | 92 | 87 | 1 | 87.00 | 94.56 |
| Tim Southee (New Zealand) | 85 | 85 | 1 | 85.00 | 100.00 |
| Samit Patel (England) | 78 | 83 | 1 | 83.00 | 106.41 |
| Saeed Ajmal (Pakistan) | 135 | 81 | 0 | | 60.00 |
| Mohammad Hafeez (Pakistan) | 111 | 79 | 1 | 79.00 | 71.17 |
| Chaminda Vaas (Sri Lanka) | 69 | 78 | 1 | 78.00 | 113.04 |
| Jason Holder (West Indies) | 66 | 75 | 0 | | 113.63 |
| Nathan Hauritz (Australia) | 110 | 75 | 0 | | 68.18 |
| Xavier Doherty (Australia) | 109 | 69 | 1 | 69.00 | 63.30 |
| Lasith Malinga (Sri Lanka) | 190 | 204 | 3 | 68.00 | 107.36 |
Dhoni's nemesis
| Bowler | Balls | Runs | Wickets | Average | Strike Rate |
| --- | --- | --- | --- | --- | --- |
| Brett Lee (Australia) | 91 | 71 | 5 | 14.20 | 78.02 |
| Shoaib Malik (Pakistan) | 101 | 94 | 4 | 23.50 | 93.06 |
| Dilhara Fernando (Sri Lanka) | 119 | 102 | 4 | 25.50 | 85.71 |
| Tim Bresnan (England) | 96 | 111 | 4 | 27.75 | 115.62 |
| James Anderson (England) | 115 | 112 | 4 | 28.00 | 97.39 |
| Thisara Perera (Sri Lanka) | 120 | 115 | 4 | 28.75 | 95.83 |
Dhoni's captaincy records in ODIs
| Matches | Won | Lost | Tied | NR | Win% |
| --- | --- | --- | --- | --- | --- |
| 199 | 110 | 74 | 4 | 11 | 55.28 |
Dhoni's Wicketkeeping
| Matches | Catches | Stumpings |
| --- | --- | --- |
| 299 | 278 | 99 |