Former India speedster, Irfan Pathan lauds Virat Kohli for backing his youngsters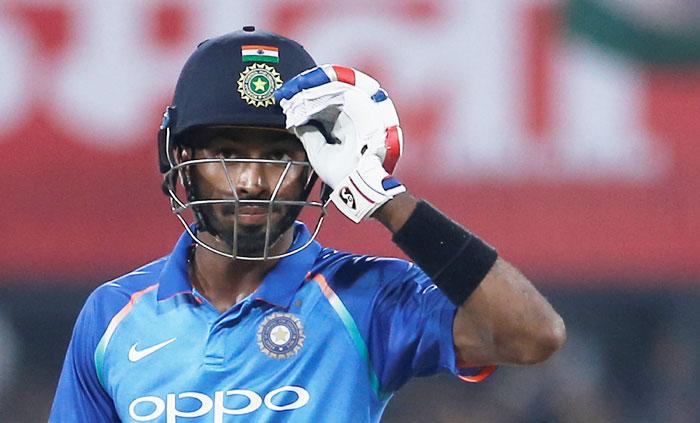 IMAGE: Hardik Pandya has been sensational for India in the current series against Australia, especially with the bat. Photograph: Adnan Abidi/Reuters
A talented cricketer can only realise his full potential when he has the full backing of the team management and that's why Irfan Pathan has lauded India captain Virat Kohli for believing in Hardik Pandya's all-round abilities.
Pandya, who made his India debut last year, has raised expectations just like his senior Baroda teammate Pathan did nearly 14 years ago, when he debuted against Australia in December 2003.
"It is great to see players being backed. Sometimes, you always wonder, players who were not backed enough and could have otherwise had a longer career," 32-year-old Pathan told PTI.
"For any player's rise, not just Hardik's, the backing of a captain plays a huge role. Kedar (Jadhav) for example was doing fantastically well in domestic cricket for so many years but he got the backing only under Virat," said Pathan, who last played for India in 2012.
"Virat is backing all the youngsters, not only one or two. If you have the backing of captain and team management, the player will perform eventually. Rohit (Sharma) got the backing of Mahi bhai (Dhoni) consistently and now look at him, he is now one of the best batsmen in the world," he said.
Some of the experts including chairman of selectors MSK Prasad feel that Pandya has the potential to become the next Kapil Dev.
However, Pathan, who has seen Pandya since the latter's junior cricket days, feels that comparisons at best should be avoided.
"I think he will be the first Hardik Pandya! Let's not compare him with anyone. Let's give him some time. Let's not put too much pressure on him. Let him play freely because that way growth is bound to happen," said Pathan.