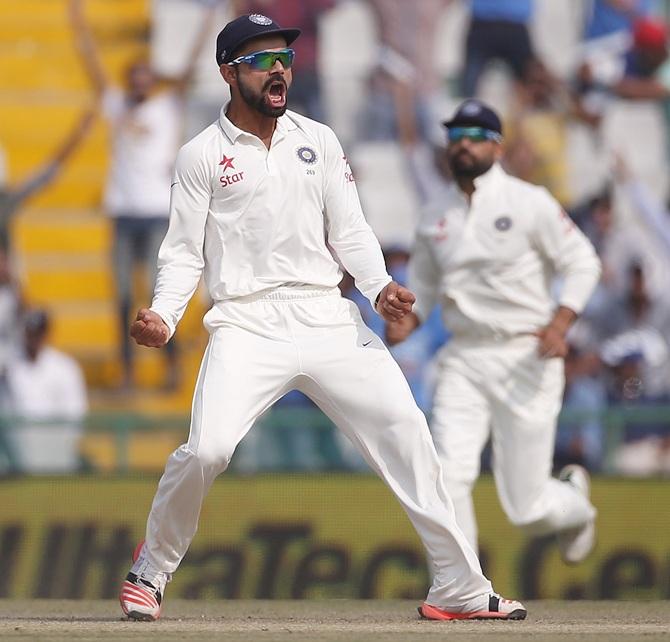 'I love watching Kohli bat.'
If he continues like this, he can achieve what Sachin did.'
1971. He made India realise that we could win Test matches away from home.

Ajit Laxman Wadekar led the Indian team to historic series victories in the West Indies and England the same year, the first time India won a series in those powerful cricketing nations.

Wadekar, a legend of Indian cricket, has had many firsts in a glorious career, besides guiding Bombay to innumerable Ranji Trophy titles.

It was also under his captaincy that India played its first ODI against England at Leeds in 1974.

As the Indian team's coach, Wadekar made Sachin Tendulkar open the innings in ODIs against New Zealand at Auckland in 1994, a decision that transformed the side's approach to one day games.

Wadekar reflects on cricket's journey in conversation with Rediff.com's Aruneel Sadadekar.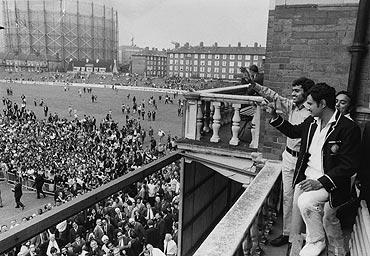 IMAGE: Captain Ajit Wadekar, Dilip Sardesai and legendary leg-spinner B S Chandrasekhar, whose 6/38 led India to a series win against England at The Oval, August 1971. Photograph: Getty Images
You were invited for India's 500th Test celebrations in Kanpur. How do you look at Indian cricket's journey?
Well, it started much before me. Vijay Merchant and Vijay Hazare were the two superstar cricketers whom I used to look up to.
I joined the team when they were at the fag end of their careers. I learnt a lot from them and other senior players.
Basically, you do well in cricket because of your talent, but your ability to learn from seniors and the ability to adapt is what makes you great.
I feel honoured to be part of this amazing journey.
India recently regained the No 1 ranking in Test cricket...
I feel very happy to see this young team led by Virat Kohli. He is an amazing batsman and surely leads from the front.
I can see all the players respecting Kohli because he gives more than his 100 percent on the field.
He is also a very good thinker of the game.
Kohli's aggressiveness, for me, has been the hallmark of his captaincy.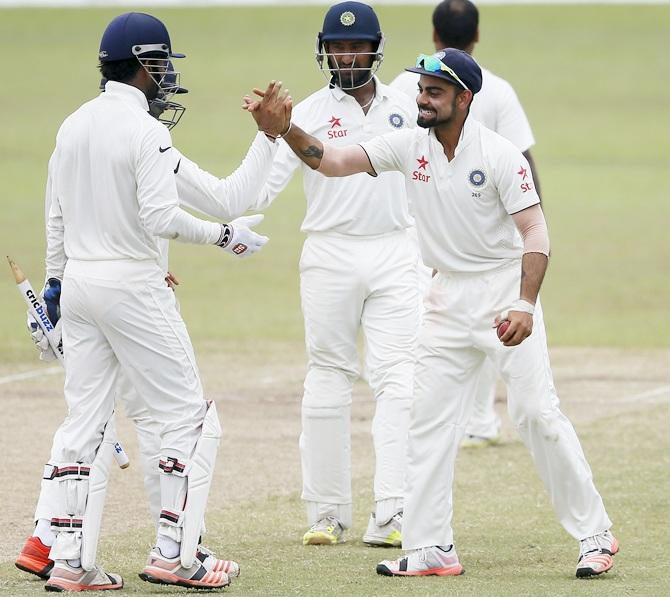 IMAGE: Captain Virat Kohli, right, celebrates with teammates in Sri Lanka last year. Photograph: Dinuka Liyanawatte/Reuters
India has a fantastic record at home, but we haven't won much in foreign conditions...
I am surprised that we haven't done much to improve our overseas performance.
I am in favour of playing to your home advantage. So, India should make turning tracks, but during off periods, it is important that the players train on fast and bouncy pitches.
Also, when we tour countries, it is important we reach there early and play practice games to get acclimatised to the conditions.
I feel Kohli's proactive captaincy can play a crucial role in winning Tests abroad.
How do you compare Kohli's captaincy with M S Dhoni's captaincy?
(Laughs.) I knew you would ask me this. Dhoni has been a very successful captain for India, but I felt he waited for things to happen.
Kohli is very aggressive and proactive. This is common with today's generation. They want to finish things off as soon as possible.
Do you think Kohli should take over from Dhoni in limited overs cricket as well?
See, the next World Cup is in 2019. Three years is a long time and we can't predict what will happen. The selectors must be having a plan.
I feel Dhoni is still very handy in limited overs cricket and we can use his experience.
The final decision can be made next year based on whether Dhoni wants to play the next World Cup or is in the scheme of things to play in 2019.
You played with the great Indian Spin Quartet -- Bishen Bedi, Bhagwat Chandrasekhar, Erapalli Prasanna, Srinivas Venkataraghavan. How do you rate Ravichandran Ashwin?
There is no denying that Ashwin is a special bowler. For me, he is the world's best spinner at present.
I wouldn't compare him with greats like Erapalli Prasanna or Bishen Bedi.
Ashwin's track record in India is very good and his stature will increase if he performs in overseas conditions.
Harbhajan Singh recently commented that the turning tracks help India and the spinners.
We have always played on turning tracks. During our time, we also depended on the spinners to take wickets.
India made optimum use of the home advantage and there is no reason to complain.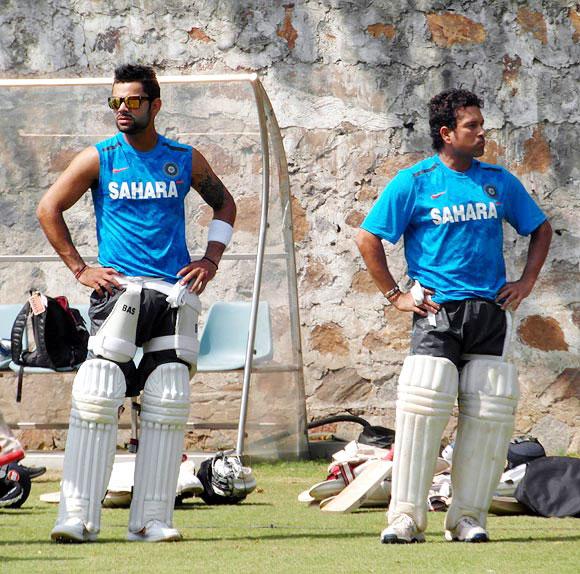 IMAGE: Kohli with Sachin Tendulkar.
How do you compare Kohli and Sachin Tendulkar?
It is like comparing Vijay Merchant with Vijay Hazare. Both are different players with different attitudes.
Moreover, Kohli and Sachin are from different generations.
I have witnessed Sachin's career closely, but haven't spoken to Kohli till now.
For Sachin, it was all about cricket and only cricket.
I love watching Kohli bat. If he continues like this, he can achieve what Sachin did.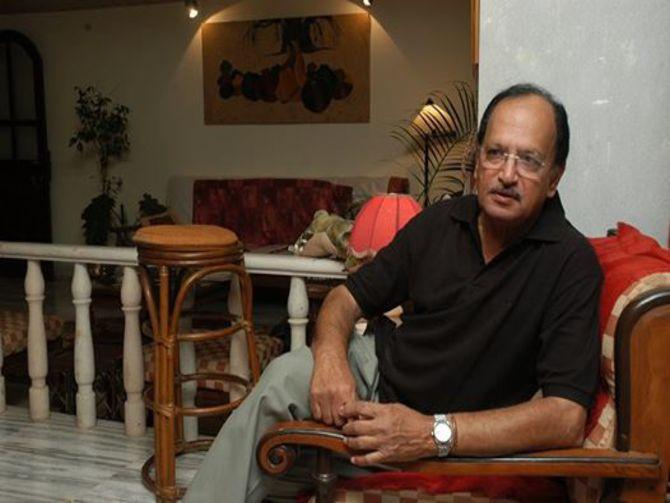 IMAGE: Ajit Wadekar, Indian cricket legend. Photograph: Facebook
In December 2014, I saw you and greats like Dilip Vengsarkar play cricket at Shivaji Park...
Sunil (Gavaskar) was also there, but he wasn't in his whites, so was umpiring (laughs).
It is always special to meet all these former cricketers. We used to have a big rivalry between the two clubs, Dadar Union and Shivaji Park Gymkhana.
I led Shivaji Park and Gavaskar used to represent Dadar Union.
I heard how a bus ride got you into cricket.
(Laughs.) It is because of leg-spinner Baloo Gupte. We were in the same college. He was two years senior to me.
He was in arts and I was in science. I didn't play any cricket till then and was concentrating on getting an engineering degree.
Baloo was my neighbour and we would travel in the same bus. One day, he just mentioned, "Ajit, would you want to be 12th man for our college team?" They had a wonderful XI, but didn't have anyone to get water onto the field.
"You will get some match fee too, Rs 3 a day." That was way back in 1957 and Rs 3 was quite a lot then. So I jumped at it.
This is how I started playing cricket in college.
Then there was Madhav Mantri, Sunil Gavaskar's uncle.
After my (college) practicals, I used to practice a little late and then play around a bit longer.
He would ask me to bat in the nets. Then he said to the captain: "This chap is really good and he could continue in the team."
That is how I started playing cricket.