'He is someone who needs to be backed because we believe that he has the ability. Once he gets his role done, he will start winning us games. We are very sure of that.'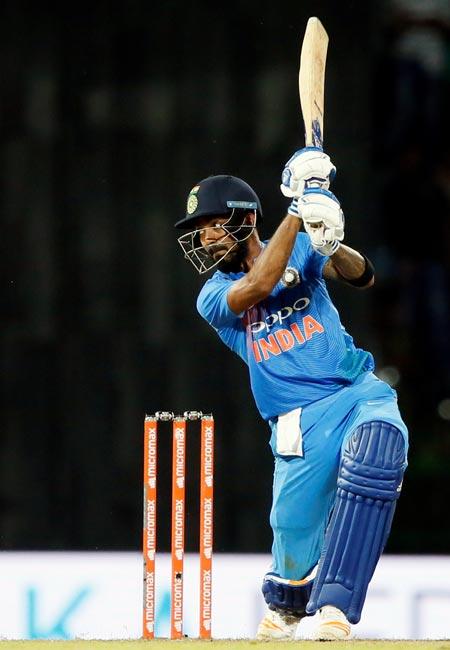 KL Rahul might have had his share of struggles in the limited overs format in Sri Lanka but skipper Virat Kohli is confident that the talented Karnataka right-hander will come good at the No. 4 slot.
Rahul had scores of 4, 17 and 7 in the three ODIs in Sri Lanka and was dropped from the fifth and final ODI.

Asked about Rahul's form, Kohli said:"KL (Rahul) is an outstanding talent. He is proved himself in all formats. And he is someone who needs to be backed because we believe that he has the ability. Once he gets his role done, he will start winning us games. We are very sure of that."

Kohli also feels that apart from Rahul, who is batting at the unfamiliar No. 4 position, each and every player in the team needs to be flexible.

"I think, if you look to bat in the position that you bat in one format, in all the formats, then it can get very difficult for the team to find the right kind of balance including that player. So I think players need to adapt to what the team requirement is more often.

"For example, I have opened in the T20 cricket as well. So I should be flexible enough to do that. I think it's up to the player to get versatile in a manner that he can take up different positions what the team requires him to do," he said on Saturday, on the eve of the first ODI against Australia in Chennai.

Kohli agreed that it takes time for anyone to settle in a particular batting slot.

"It takes time, I am not saying it is easy. If you see Jinks (Ajinkya Rahane) as well -- he has played in the middle order in the ODIs, he plays in the middle order in Test matches. He has also opened a lot in ODIs as well. He also felt that he found it difficult to switch. Now we are backing Jinks at the top of the order. So he knows the plans are clear," the skipper explained the rationale behind Rahul batting at No. 4.

The skipper said it is an advantage to have two wrist spinners -- Kuldeep Yadav and Yuzvendra Chahal -- in the side and that their ability to pick up wickets gave him a lot of confidence.

"It is a great advantage to have two wrist spinners in your team, especially when both are so different to each other and both can pick up wickets in the middle overs.

"It is important to keep picking wickets and have breakthroughs throughout. Those two guys have provided that to us and they are very confident coming into this series. They are in a zone where they don't mind getting hit as long as they pick up three-four wickets which I think is a very good space to be in," he added.

Asked if there is a different outlook because Australia is a stronger opposition, Kohli replied, "No, I don't think that we need to look at any series differently. As I mentioned in Sri Lanka as well, your preparation should matter more than who you are playing against. So obviously you'll assess strengths and weaknesses of all sides."

"As I have said before, you can't raise or decrease your intensity according to who you are playing against. That's not being fair to the sport and that's something that we as a team do not believe in. So, we like to prepare the same way and we like to play with the same kind of intensity regardless of who we are playing against.

The last Test series against Australia saw a lot of tensions on and off the field and Kohli stressed on why it is necessary to be competitive in each and every series.

Asked if it was more draining that resulted in players losing cool, he said,"I don't think so. You can say what you want, you can keep talking the whole time but if you don't deliver on the field it doesn't matter. All those things are to get that aspect of mind games which I think creates an excitement for the fans watching as well."

"I feel that intense competition should be there for the game to have that excitement and keep this game alive. I think it is very important to have that competitiveness in every series that you play," he added.
Image: KL Rahul
Photograph: Dinuka Liyanawatte/Reuters