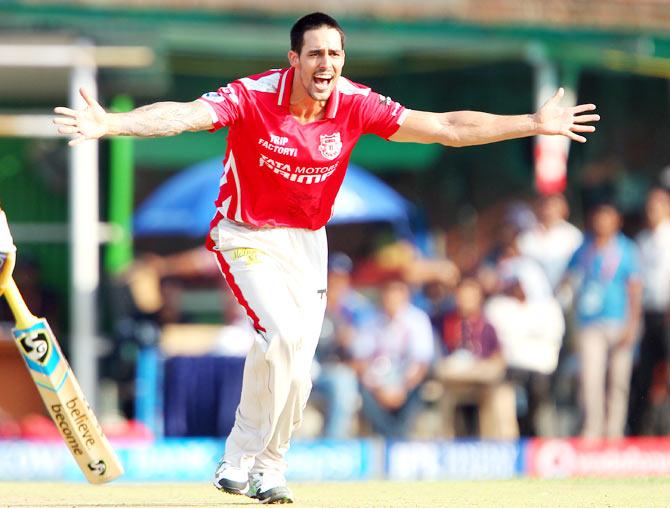 Image: Mitchell Johnson of Kings XI Punjab. Photograph: BCCI
Captain George Bailey believes the forthcoming Champions League Twenty20 tournament is a new start for his team Kings XI Punjab but the Indian Premier League runners up are ready for the challenge and hoping to win their first major title.
- The sexiest cheerleaders in IPL 7

"It is a new start, we take the good things out of IPL, what we learnt as a team and hopefully how much we grew, but I think we focus on the games ahead, it is very much a fresh start," Bailey said on Monday.

The Australian said it was disappointing not to have won the IPL this year after dominating in the league stages. They went down by three wickets to Kolkata Knight Riders in the final in June.

"It was a good IPL, but it wasn't the IPL that we wanted (losing in the final), so there's still a plenty of room for improvement."

When asked Australian pacer bowler Mitchell Johnson has recovered from his injury and is available for CLT20, Punjab coach Sanjay Bangar replied: "As of now, we are still waiting for clearance from Cricket Australia. We cannot really take a call as of now as we are still waiting for his clearance."

Bangar believes they have a good enough bowling attack who can make up for Johnson's absence incase he is ruled out of the tournament.

"Whether he is available or not, we still have a group of individuals who are capable of executing the role that is being given to them. It will be good if he is available, but we are ready to cope with the eventuality of his non-availability," Bangar said.

The Punjab coach pointed out that Virender Sehwag is free to play he wants at the top of the order and his quickfire opening starts proved handy for Punjab in the IPL.

"He plays cricket the way only he can play. We have given him a lot of freedom even in the past season and this season is going to be no different. Obviously, he has been giving us a good start," he said.