Five players who excelled at the World Cup, but did little of note otherwise.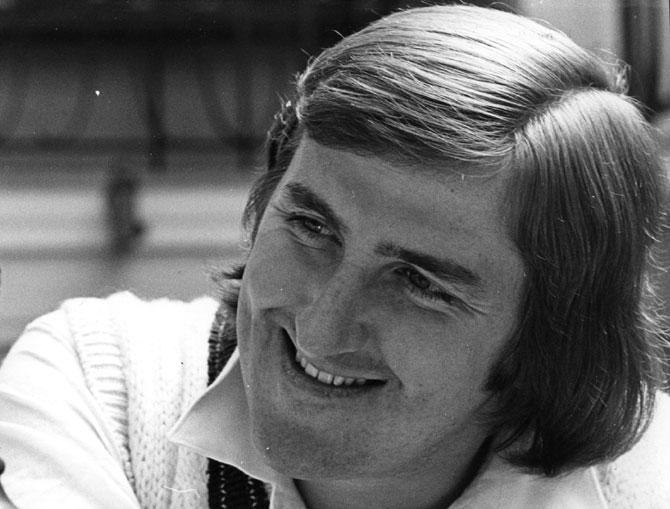 Australian cricketer Gary Gilmour. Photograph: Milton Wordley/Evening Standard/Getty Images
Sachin Tendulkar, Glenn McGrath, Clive Lloyd, Sir Viv Richards, Kapil Dev, Allan Border, Imran Khan, Wasim Akram, Steve Waugh, Shane Warne, Ricky Ponting, Adam Gilchrist, Mahendra Singh Dhoni…
These are, perhaps, the first names that come to mind when the ICC World Cup is discussed.
While the quadrennial event has seen many glorious performances since its inception in 1975, just a few names, like the ones above, have left an indelible imprint, either by incredible effort, astute captaincy or both.
While on the one side we have these stellar efforts, on the other are those that have gone on to define careers, quite literally.
They were players who were so impressive in a particular World Cup, but did so little otherwise, that they are remembered for those particular turns.
Rediff.com takes a look at a few such performances.
Gary Gilmour (Australia)
A haul of 11 wickets in two matches is an impressive statistic.
If the same happens in the semi-final and final of a World Cup, it makes it even better.
However, what made it incredible for Gary Gilmour was the fact he got into the act almost immediately after getting a chance to play.
Having been the 12th man in the early stages of the inaugural edition, he was probably a surprise selection for the semi-final against England, at Headingley (Leeds). And he was quick to seize opportunity, finishing with figures of six for 14, his effort helping Australia bowl out the hosts for a paltry 93.
It was the first instance of a bowler taking six wickets in a one-dayer, and remained the best ODI bowling performance for the next eight years.
If that wasn't enough, Gilmour contributed an unbeaten 28 with the bat, having come in to bat with Australia struggling at six for 39.
The New South Welshman took another five wickets in the final against the West Indies. However, Australia lost that final.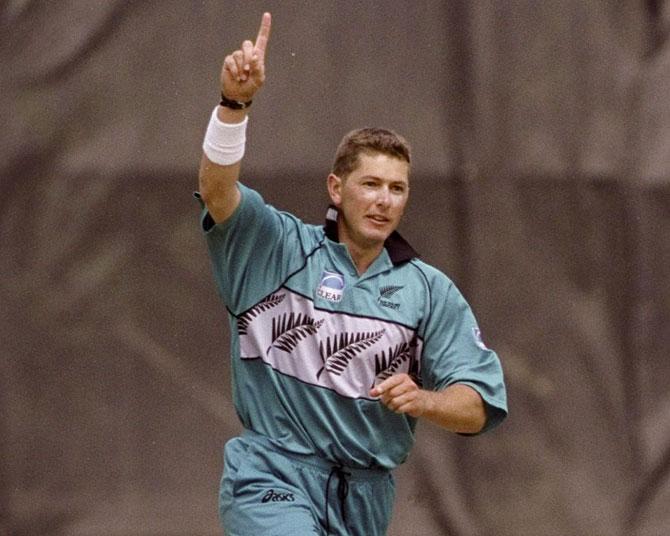 Geoff Allott of New Zealand celebrates taking a wicket in the 1999 World Cup. Photograph: Craig Prentis/Allsport
Geoff Allott (New Zealand)
Any scribe doing an interview with Geoff Allott inadvertently focuses on the 1999 World Cup.
This despite the fact that New Zealand lost in the semi-finals of that tournament, and Allott happened to part of the Black Caps squad that won the ICC Champions Trophy the following year.
Scribes can be forgiven, though. For the Canterbury-born player's performance in England that year was incredible.
Allott took 20 wickets in nine matches in the tournament, more than a third of his career-haul (52 wickets), finishing as the joint-highest wicket-taker with Australia's Shane Warne.
That included memorable efforts against Australia (four for 37) at Sophia Gardens, and Pakistan (four for 64) at Derby.
Asantha de Mel (Sri Lanka)
Arguably Sri Lanka's first bowler of note, Asantha de Mel was impressive in the 1983 edition.
The Colombo-born player took five for 39 against Pakistan at Headingley (Leeds) but couldn't help his side cross the line.
That was atoned for, though, against New Zealand at Derby. De Mel took five for 32 as the Kiwis were dismissed for 181, Sri Lanka proceeding to win by three wickets, their lone victory in the tournament.
De Mel finished the tournament as the second-highest wicket taker with 17 wickets, one behind India's Roger Binny, and that amounted for nearly a third of his career haul.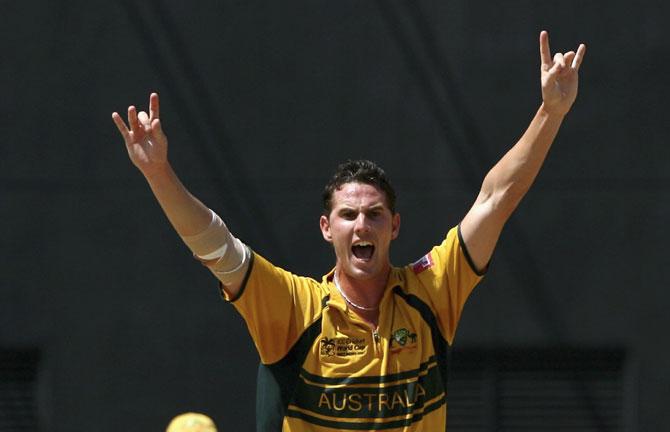 Shaun Tait of Australia claims the wicket of Stephen Fleming of New Zealand during the ICC Cricket World Cup 2007 Super Eight match in St George's, Grenada. Photograph: Shaun Botterill/Getty Images
Winston Davis (West Indies)
Being part of a West Indies squad that comprised Andy Roberts, Joel Garner, Malcolm Marshall and Michael Holding can be a deterrent, what with few opportunities coming your way.
To his credit, Winston Davis grabbed at least one of those.
Drafted into the side for their Group B clash against Australia at Headingley, he took seven for 51, leading the Caribbeans to a 101-run win.
In the process, the St Vincent-born bowler broke the world record set by Gary Gilmour – that had stood for eight years – and set one that stood for eight more years, before Pakistan's Aaqib Javed took seven for 37 against India at Sharjah.
Shaun Tait (Australia)
He is probably one of the fastest, and wayward, bowlers the world has ever seen.
But Shaun Tait did get his act right once.
Taking over the mantle of strike bowler, following the withdrawal of an injured Brett Lee, the South Australian proved to be a perfect partner for the record-breaking Glenn McGrath, playing in his final tournament.
The bowler, known as The Wild Thing, took 23 wickets (@ 20.30, to finish as the tournament's joint second-highest wicket-taker alongside Sri Lanka's Muttiah Muralitharan, and behind compatriot McGrath (26 wickets).
Tait's best effort was his man-of-the-match turn against a strong South African side in the semi-final at St Lucia, where he finished with figures of four for 29 as Australia won fairly easy.
He returned to take 11 wickets in the subsequent edition in the subcontinent. However, he wasn't as impactful and Australia couldn't get beyond the quarter-finals. He announced his ODI retirement immediately after.