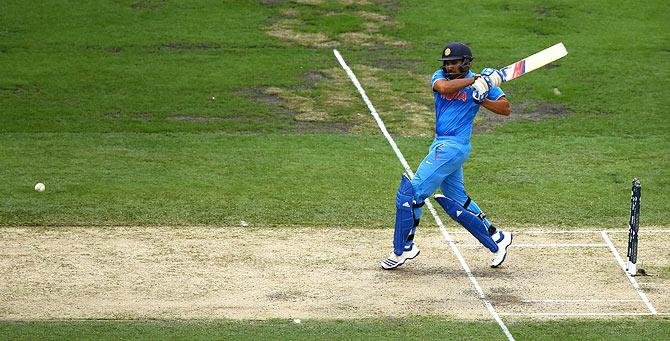 India opener Rohit Sharma hits out. Photograph: Robert Cianflone/Getty Images
His world record score of 264 came under threat from New Zealand opener Martin Guptill, who hit an unbeaten 237 against West Indies in the ICC World Cup, and even though Rohit Sharma knows 'records are there to be broken', he wants the coveted feat to stay with him for some more time.

Asked if he was scared of his record being broken by Guptill, he replied, "Records are there to be broken. I don't wish that it is broken but every batsman wants to make a big score. It is not possible to make 200 every day. It's a very tough job. Even when I made 264, I was told I should have made 300. People's expectations are high. Even if you make 300, they expect 350. Cricket is moving to a different level."

The Mumbai batsman slammed a match-winning century in the quarter-final against Bangladesh that proved crucial in India posting 302 after a slow start to win the match by 109 runs and storm into the semi-finals.
When asked why he doesn't play any ugly shots, even in the death overs, Rohit laughed heartily and replied: "That's a very interesting question. I mean, if I play a good shot, I don't think I need to play an ugly shot. I'll just stick to good shots."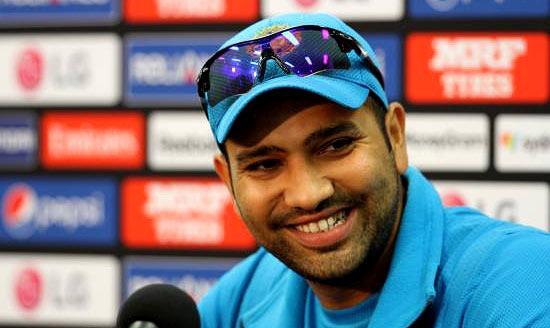 Rohit Sharma smiles during a press conference. Photograph: Solaris Images
The right-hander further went on to elaborate. "I don't know about that to be honest. When you play those big shots, it's important to get your basics right. A lot of technical issues goes into that. You need to hold your shape (balance). If you can hit straight over the bowler, maintain shape, I don't think you need to play any fancy shots," Rohit replied.

The India opener also acknowledged the contribution of team's support staff -- physios Nitin Patel and Amit Shah, trainer Sudarshan and masseur Ramesh Mane in keeping .

"This has been the most important question. People laud players and the coaching staff for good performances but no one knows what goes on behind the scenes. The four people [Sudarshan, Nitin Patel, Mane kaka, Amit Shah] have performed very important roles.

"Since the day we landed [in Australia], they have been working hard. Playing cricket continuously for four months is not easy, especially for fast bowlers. These men have made sure that we could all step on to the field. They've put in a lot of effort."
Don't miss Prem Panicker on World Cup 2015!