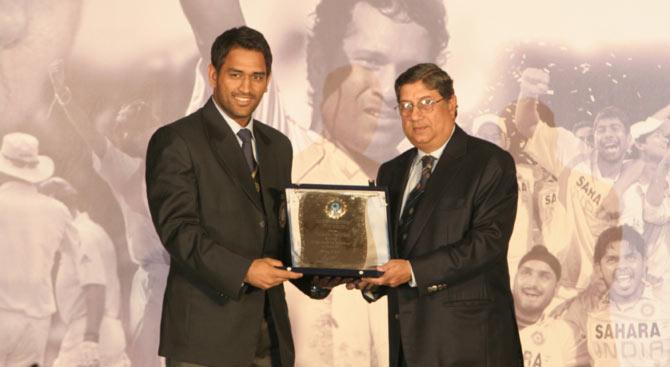 Narayanaswami Srinivasan (right) with India captain Mahendra Singh Dhoni. Photograph: BCCI
The Supreme Court on Thursday asked the suspended chief of the Board of Control for Cricket in India, Narayanaswami Srinivasan, "who really owns" the Indian Premier League franchise Chennai Super Kings.
It also expressed displeasure over India captain Mahendra Singh Dhoni holding an important position in Srinivasan's company, India Cements, saying the "dual role is a matter of concern".
The apex court asked Srinivasan to explain how there was no conflict of interest, as he was BCCI president and India Cements-owned IPL team CSK.
He was also asked to furnish details of shareholding of India Cements and the composition of its Board members.
Reports also suggest that the Supreme Court wants the CSK franchise disqualified without any further inquiry.
"Act immediately on the Mudgal report and disqualify CSK.
"In the face of so many ambiguities, isn't it easier to disqualify CSK?" it asked.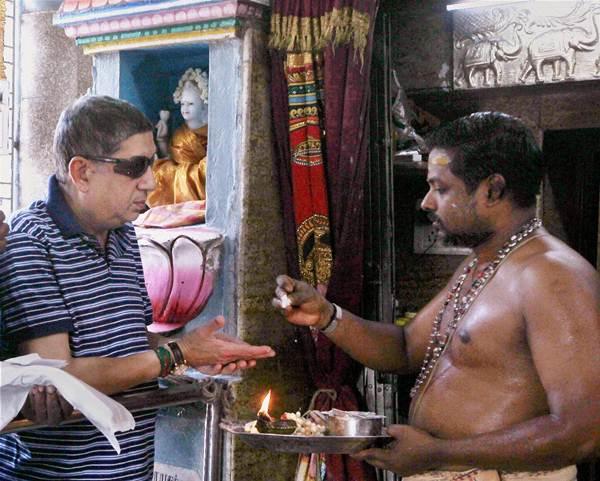 Narayanaswami Srinivasan offers prayers at temple in Chennai. Photograph: PTI
On Tuesday, the Supreme Court said Srinivasan's son-in-law Gurunath Meiyappan's role in the IPL betting and spot-fixing scandal seemed like "insider trading" and agreed to hear a plea for making public the names of cricketers, who were mentioned in the Mudgal report.
"If Meiyappan was leaking information and someone else was putting bet then it is like insider trading," a bench of justices T S Thakur and F M I Kalifulla said, when it was submitted that Meiyappan was a part of Chennai Super Kings and always with team members at all functions, whether it was dug-out or making team strategy.
The bench also raised questions on why the second report of the Mudgal Commiittee was silent on the alleged cover up of Meiyappan by the CSK owner, India Cements.
Earlier, on Monday, it slammed the Board of Control for Cricket in India, questioning the return of Srinivasan as its president.
'BCCI must uphold glory of the game. If you allow these things to happen, then you are killing the game of cricket, the court told the BCCI,' it said as it took up the IPL betting report filed by the Justice Mudgal Committee.
'You have to address question of conflict of interest as head of BCCI and also as owner of IPL team, whose official is found to be involved. The conflict of interest is a serious issue. IPL is a mutually beneficial society between IPL and BCCI,' it added.