The last eight days has been an unfortunate time for the Indian Premier League. The sixth edition of the IPL has been marred by the spot-fixing controversy and as more sordid details about the scandal emerge, Priyanka Sharma talks to former cricketer Arun Lal about how this unholy nexus between bookies and cricketers plays out.
How big is the issue of spot-fixing in Indian cricket? Is it more rampant in IPL?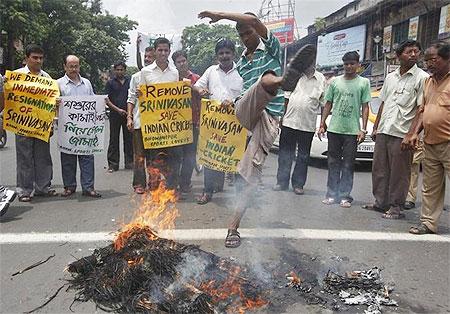 Spot-fixing is widespread in Indian cricket at large. Now that someone like Sreesanth has been accused of this menace, it is clear that it is no longer a peripheral issue. Everyone knows someone who bets in cricket -- that's all fun and games. But fixing a match, compromising an over with "approved" codes -- this is a new low. There are many who believe that betting should be legalised. But that is not the solution given the vast black money economy.
How are the cricketers contacted and chosen by the bookies? Do they track their lifestyle and weaknesses?
Yes, evidently they do. These bookies and mafia guys are very manipulative and cunning. They observe cricketers, their body language, their mannerisms and of course, their lifestyle and persona. They cajole, coerce, play on their psyche and lure them in. They often find a weak link -- someone who comes from an economically weaker section of society -- and lure him in with offers like, 'We'll get your sister married; pay off your family debt'. It is a devious game of manipulation.
Often, these bookies say things to ease the errant cricketer's conscience like, 'If you don't do it, someone else will. Your franchise owner will.' Once they find that one vulnerable link in a team, they ask him for other names. That's how they build connections.
But then again, a cricketer has to set an example in his career by being morally upright at all times. No bookie would dare approach me, just as they would never approach a Rahul Dravid or a Mahendra Singh Dhoni.
There was an alleged agreement between bookies with underworld connections and players, who received up to Rs 60 lakh for a compromised over. How big is this racket according to you?
I can't put a figure to it but I know it's HUGE. Some say it's a Rs 20,000 crore business, some believe it's over Rs 40,000 crore. And the biggest problem is, you can't prove anything.
No cricketer is ever asked to lose a match. He is asked to compromise an over by giving more runs [Sreesanth, for instance, allegedly used a towel to signal the bookies when they should place bets]. But how can one prove that he is not just having an off day?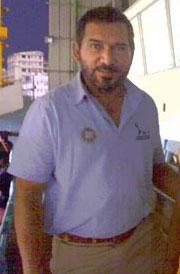 What can BCCI do to eradicate this crime? Is there a way to trace the money delivered to the cricketers?
Nothing more can be done. BCCI has done everything it can, short of tapping phones. There is a code of conduct in place, regular counselling provided to all cricketers about the repercussions of such activities as well as regular visits from the anti-corruption unit from the International Cricket Council. These guys are like hawks and watch every move.
The rule is simple: don't hang around with shady guys doing shady things. There is no way to trace these deliveries as all communication happens over the phone. So unless you have a video of money changing hands, you can't prove anything.
But I do feel that this incident will instill a fear in cricketers and deter them from dabbling in such activities in the future. Up till now, there was a general perception that no one can ever get caught. They thought they were invincible and could go on cheating the game with their encrypted codes and passwords.
But now, everything can be monitored -- phone records, Blackberry Messenger conversations and emails. Nothing is insulated. While this menace can never be completely eradicated, I do believe that the incidence will come down if these guys are proven guilty and punished. Now, people will think twice before getting into this shady business.
The IPL has always been controversy's favourite child. Will this incident hamper the popularity of the format?
No, it cannot. This is not the first time spot-fixing has come under national focus. And it won't be the last. But the game will continue to be popular no matter what.
Photographs: Rupak De Chowdhuri/Reuters/Rediff.com archives