England's middle-order mainstay Kevin Pietersen is set to move from Deccan Chargers to Delhi Daredevils for the fifth edition of the Indian Premier League, making it the third transfer of the 2012 trading window.
Pietersen, 31, said he was excited at the prospect of joining a team that includes the likes of skipper Virender Sehwag and David Warner.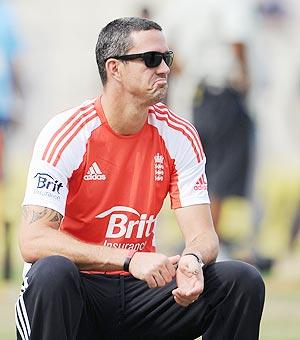 "I am looking forward to a wonderful time with the Delhi Daredevils. It will be a great experience to be playing in the same squad as Sehwag," he said.
Pietersen was acquired by the Deccan Chargers in the 2011 IPL auction. However, he could not participate in the tournament due to a surgery. He had earlier been a part of Royal Challengers Bangalore in the 2009 and 2010 editions, and had led RCB in six games in 2009.
GMR Sports' Head (Cricket) TA Sekar said Pietersen's addition would strengthen the Delhi Daredevils squad this season.
"We are pleased to add Kevin (Pietersen) to our line-up. He brings rich experience and an explosive quality to our batting and can be a more than handy off-spinner as well. We are sure that Kevin will help us to be very competitive this season and the Delhi Daredevils fans will enjoy this addition," Sekar said.
IPL chairman, Rajeev Shukla, said: "The Delhi Daredevils squad will be bolstered by the entry of Kevin Pietersen. It is great to see the franchises in the process of strategising for the upcoming tournament. We are in for a cracker of a competition in April-May," he said.
Deccan Chargers CEO, Venkat Reddy, wished Pietersen luck.
"Kevin Pietersen is a quality player, and there is no doubt that he will be one of the players to watch out for, in the coming edition of the IPL. We wish him all the best," Reddy said.