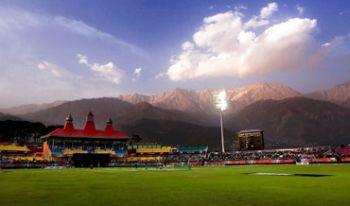 The Himachal Pradesh Cricket Association (HPCA) has approached the government for holding the upcoming Indian Premier League matches in the state.
"We have requested the state to allow holding of cricket matches here, and given a tentative schedule for organising the matches between May 10 and May 14 as the elections would be held on May 7 and counting of votes would take place on May 16," HPCA spokesperson Sanjay Sharma said.
Director General of Police Sanjay Kumar said Kangra SP would take a decision on this issue.
Sources said the HPCA officials have already met the state government functionaries, including the DGP regarding security for the matches but they were non-committal.
"The HPCA functionaries were told to get a clearance first from the Union Home Ministry and the Election Commission of India and then approach the state," said an official.
"We are trying to get permission to host two matches between May 10 and 14 and three matches after the counting date," said Mohit Sood, an office bearer of HPCA.
The IPL Governing Council had announced that the first phase of the tournament would be held in United Arab Emirates while the second leg of the tournament has been tentatively kept for Bangladesh but could be held in India between May 1-12 if the government agrees to provide security to the event.