Midway through IPL 9, who would make a Dream XI?
Season 9 of the Indian Premier League has reached the half-way stage.
New entrants Gujarat Lions and two-time champions Kolkata Knight Riders are on top of the points table, while the Kings XI Punjab and Virat Kohli's Royal Challengers Bangalore languish at the bottom.
As many as 11 international players have returned home because of injury.
Some players, both domestic and international, have thrived in the heat of the Indian summer.
Midway through the tournament, they are the ones who make Aruneel Sadadekar/Rediff.com's Dream Team.
David Warner (Sunrisers Hyderabad)
Innings: 7. Runs: 386. Average: 77.20. Strike Rate: 168.55. Highest Score: 92. 50s: 5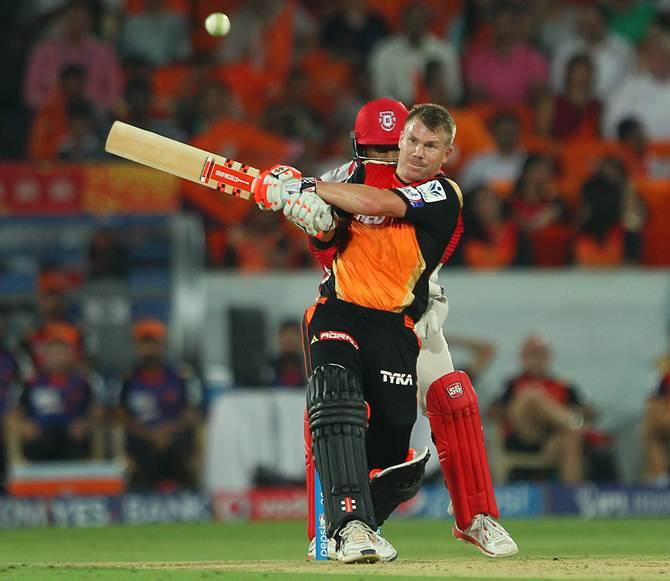 IMAGE: Sunrisers Hyderabad skipper and opener David Warner. All Photographs: BCCI
If Sunrisers Hyderabad is doing well in IPL 9, it's because of this Aussie tornado.
Warner has hit 5 half centuries, 4 of which have come in a winning cause for his side.
He is currently second in the run-scoring chart, having hit 17 sixes, the most so far.
He deserves the opening slot considering his ability to bat the opposition out right from the start of the innings.
Rohit Sharma (Mumbai Indians)
Innings: 9. Runs: 383. Average: 63.83. SR: 137.27. HS: 85 not out. 50s: 5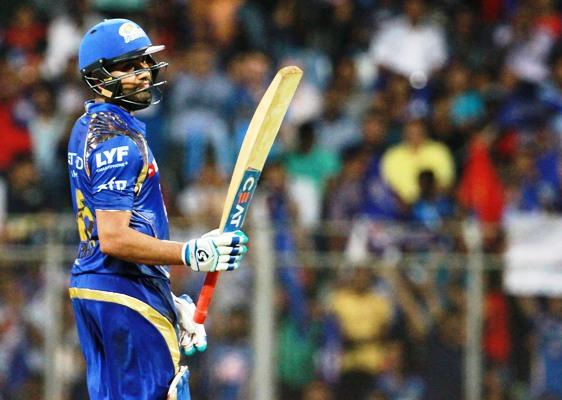 IMAGE: Mumbai Indians captain Rohit Sharma after scoring a 50.
Just like he did in the last two IPL seasons, Rohit has been pivotal in the turnaround of Mumbai Indians' fortunes.
He has 5 half-centuries, 4 of which have come in a winning cause.
The key is getting him out early -- when he goes past seven he averages a jaw-dropping 182!
The Mumbai Indians skipper is the perfect partner for Warner.
While the Aussie can be expected to hit the ball from the word go, Rohit can be entrusted with the responsibility of anchoring the innings.

Virat Kohli (Royal Challengers Bangalore)
Innings: 7. Runs: 433. Average: 72.16. SR: 137.02. HS: 100 not out. 100s: 1. 50s: 4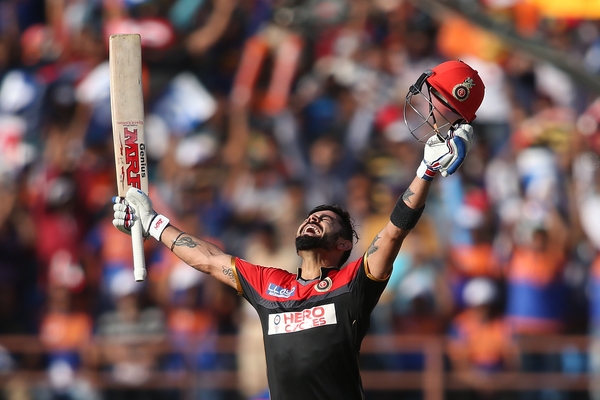 IMAGE: Royal Challengers Bangalore Captain Virat Kohli celebrates his maiden IPL and T20 century against the Gujarat Lions in Rajkot.
When we speak of Dream Teams, it is near-impossible to leave out this Indian Superman.
Royal Challengers Bangalore may face a lot of issues in the field -- their bowlers are leaking runs aplenty as a result of which they are second last in the points table -- but Virat has been sensational -- scoring runs aplenty.
As of May 3 the custodian of the Orange Cap leads Warner by a respectable 47 runs atop the leading scorers' chart.
The swashbuckler also scored his first century in all forms of T20 cricket this season, though sadly it came in a losing cause.
His huge appetite for runs and consistency gives him the vital No 3 slot.
Gautam Gambhir (Kolkata Knight Riders)
Innings: 8. Runs: 339. Average: 56.50. SR: 123.72. HS: 90 not out. 50s: 3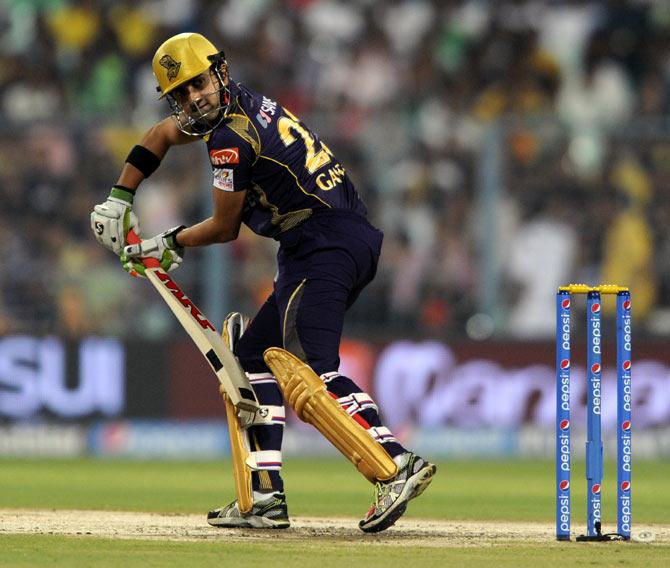 IMAGE: Kolkata Knight Riders captain and opener Gautam Gambhir.
Yes, he is an opener and has scored all his runs for the Kolkata Knight Riders in the top slot in the batting order.
The 34 year old, as consistent as ever, has contributed well in all but two innings for his side.
His standout knock came against the Sunrisers in Hyderabad, when he raced to 90 off 60 balls to fashion a thumping 8 wicket victory.
He is aggressive against the pacers, but his ability to use his feet and read pitches impeccably makes Gambhir one of the best players of spin bowling in world cricket.
No, we haven't forgotten the ugly spat between Kohli and him in IPL 6 (in 2013), but the Delhi batsmen are the best to solidify the middle order.
Robin Uthappa (Kolkata Knight Riders)
Innings: 8. Runs: 243. Average: 30.37. SR: 133.51. HS: 72. 50s: 2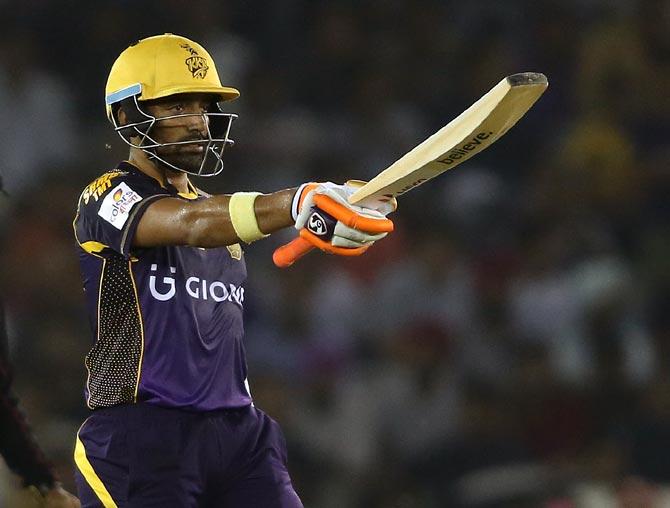 IMAGE: Robin Uthappa celebrates his half-century against the Kings XI Punjab.
This is the toughest call to make!
He may not be a regular wicket-keeper, but Robin has been spectacular behind the stumps for KKR this season. He has not only read the turn of West Indies mystery spinner Sunil Narine, but done well while keeping to the team's pacers, Morne Morkel and Umesh Yadav.
His batting pegs him above the other contenders for the slot.
He played a vital role in chases against the Sunrisers and Delhi Daredevils, his 28-ball 53 against the Kings XI Punjab being his best knock so far.
Uthappa may be an opener, but considering the way he muscles the opposition's bowlers, KKR's 'keeper-batsman deserves to don the finisher's role if needed.

Chris Morris (Delhi Daredevils)
Innings: 3. Runs: 93. Average: 46.50. SR: 216.27. HS: 82 not out. 50s: 1
Wickets: 5. Average: 30. Economy: 6.52. SR: 27.60. Best Bowling: 2/35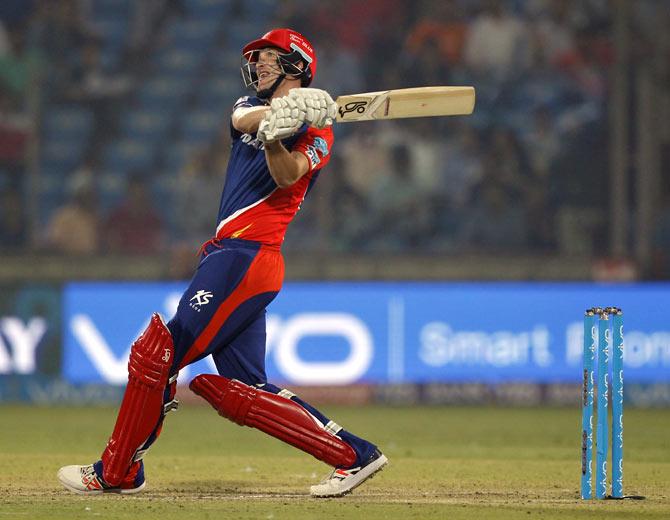 IMAGE: Chris Morris on the attack during his 32-ball 82 runs knock against the Gujarat Lions.
With a price tag of $1.4 million there was pressure on the South African all-rounder to live up to his billing. Six matches into the season, he's living up to the tag.
Morris is up there with the most frugal bowlers in the competition, having conceded just 6.52 runs per over. His 32-ball 82, arguably the most entertaining innings in the tournament so far, speaks volumes of his all-round abilities.
Laced with 8 towering sixes (though his exploits came in a losing cause) he displayed enough skill with bat and ball to earn the all-rounder's spot.

Axar Patel (Kings XI Punjab)
Innings: 7. Runs: 60. Average: 15. SR: 113.20. HS: 36 n.o. 50s: 0
Wickets: 8. Average: 25.18. Economy: 7.16. SR: 27.07. BB: 4/21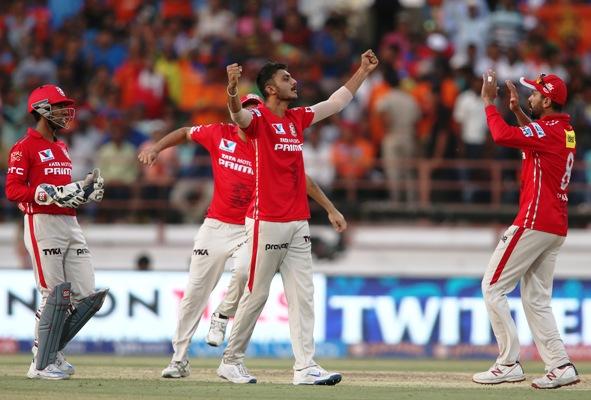 IMAGE: Axar Patel celebrates with his Kings XI Punjab teammates after taking a hat-trick against the Gujarat Lions.
He claimed the first and only hat-trick so far of IPL 9.
Axar's four wickets helped bottom-placed Kings XI Punjab demolish table-toppers Gujarat Lions.
The left-arm spinner takes the bowling all-rounder's slot because of his ability to contribute with the bat when the chips are down.
Mitchell McClenaghan (Mumbai Indians)
Innings: 9. Wickets: 13. Average: 21.15. Economy: 7.97. SR: 15.92. BB: 4/21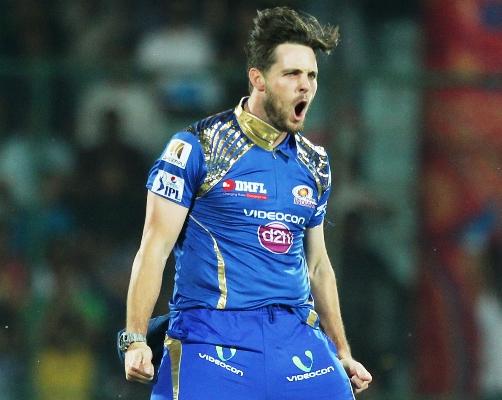 IMAGE: Mitchell McClenaghan has been the star bowling turn for the Mumbai Indians.
The competition's leading wicket-taker, Mitch is the spearhead of the Mumbai Indians attack. Be it his fast bouncers, accurate yorkers or deceptive slower deliveries, his bag of tricks have spurred the defending champions in the opening as well as death overs.
In injured Lasith Malinga's absence, Mitch has filled the Lankan legend's big shoes commendably. His aggressive bowling coupled with sharp athletic fielding makes him a prized entity for any team.

Amit Mishra (Delhi Daredevils)
Innings: 6. Wickets: 8. Average: 16.87. Economy: 7.10. SR: 14.25. BB: 4/11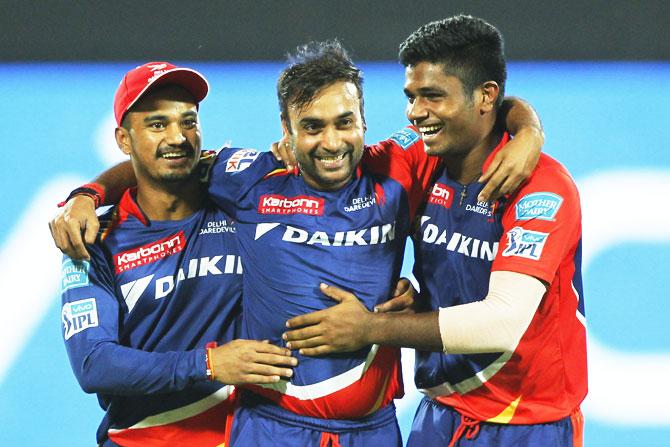 IMAGE: Leg-spinner Amit Mishra, centre, celebrates Glenn Maxwell's wicket.
The wily 33 year old is the leading spinner in the competition.
Mishra's leg-breaks have bamboozled the best in the business and while he hasn't taken a wicket in every outing, only once has he gone for more than 27 runs in a game.
He ripped the heart out of Kings XI Punjab's batting, bagging the prized scalps of Manan Vohra, Shaun Marsh, David Miller and Glenn Maxwell for figures of 4/11.

Mustafizur Rahman (Sunrisers Hyderabad)
Innings: 7. Wickets: 8. Average: 21.25. Economy: 6.53. SR: 19.50. BB: 2/9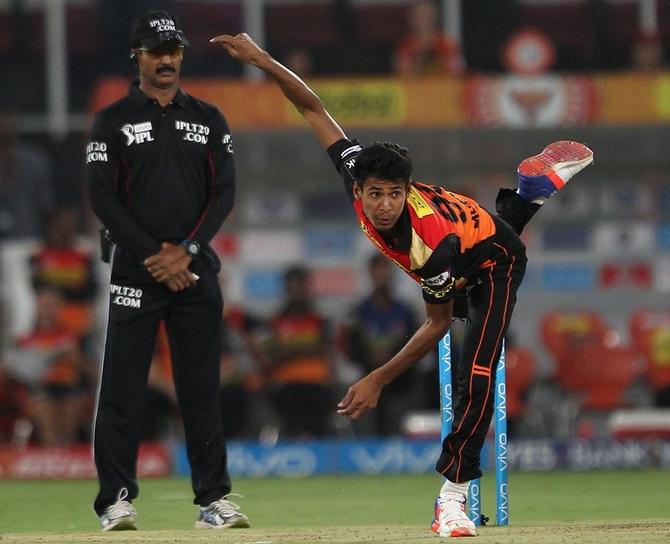 Image: Mustafizur Rahman was Man of the Match for taking two wickets conceding only 9 runs off his four overs against the Kings XI Punjab.
Undoubtedly the bowler of the tournament!
The left-arm Bangladesh pacer has all the tricks of his trade: Cutters, yorkers, slower balls and bouncers. Almost every batsman has failed to read his deceptive bowling.
Mustafizur's 2/9 against the Kings XI Punjab was a masterclass amidst his other terrific performances.
He may have a problem communicating with teammates (he doesn't speak English or Hindi), but Sunrisers' team management won't bother much about that. Mustafizur has some of the world's best batsmen in tangles.