'The momentum is with us, from Rajkot, and we're looking to take that forward'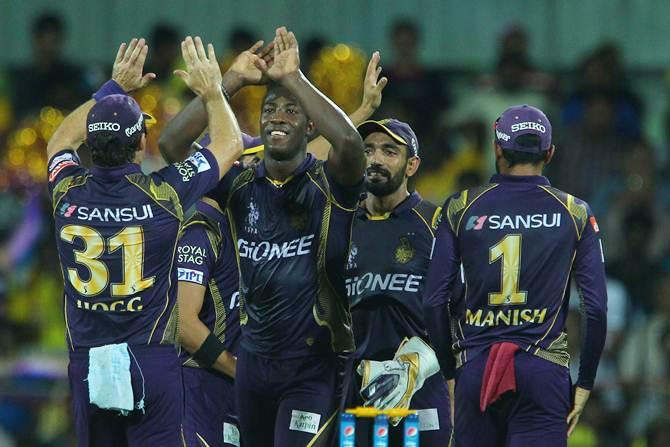 IMAGE: Kolkata Knight Riders' Andre Russell celebrates. Photograph: BCCI.
His four-wicket haul guided Kolkata Knight Riders to a seven-run win over Kings XI Punjab and West Indies all-rounder Andre Russell said they bowled like champions in their Indian Premier League match in Kolkata.
IPL PHOTOS: Russell stars as Knight Riders regain top spot
Adjudged Man of the Match for returning with figures of 4-0-20-4, Russell said, "The last game against Royal Challengers Bangalore (RCB), me and Yusuf did well. But this match was important too and we bowled like champions. Our batters have been doing the job most of the time and we had been letting them down earlier.
"But we proved ourselves tonight. We were trying to get 180 but their bowlers bowled yorkers very well. But we knew 160 was defendable on this ground. We had to bowl to our field, build pressure and take wickets."
Punjab skipper Murali Vijay looked to take positives from the game.
"We didn't start well and for Maxi to put on a knock like that was unbelievable. Axar got run out at the wrong time but lot of positives for us to take," he said.
"Our bowlers were upto the mark and Sandeep has been excellent but we needed a strong start with the bat. The momentum is with us, from Rajkot, and we're looking to take that forward."
Asked about Hashim Amla who joined the squad on Wednesday in place of Shaun marsh, Vijay said, "Hashim Amla came this morning and we wanted to give him some break before including him in the future."
Despite winning, Gambhir said they were 10 runs short on a slow wicket but was happy to come up with a good show here.
Gambhir said, "We were not used to this kind of a wicket but I think did well and were pretty professional after that game in Royal Challengers Bangalore. I think we were about 10 runs short.
"After playing at Wankhede and Banglaore, this was a touch slower. But we got to get used to it.
"Russell and Morkel getting wickets upfront was crucial. Our middle order has been in decent form. We can't be complacent, like what happened last year when we couldn't qualify for the playoffs," he added.