Srinivas Bhogle and Purnendu Maji present Rediff.com's Most Valuable Players ratings for the Indian Premier League 8.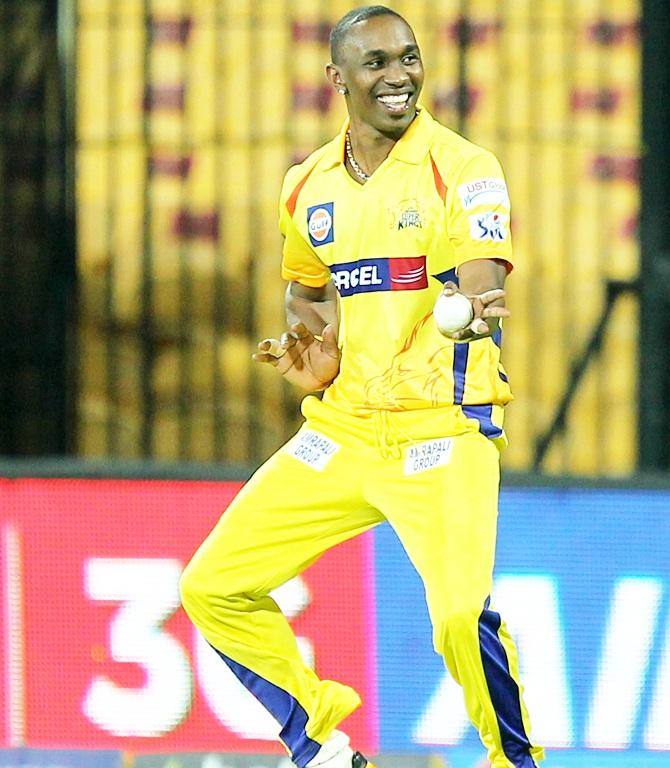 Image: Dwayne Bravo of the Chennai Super Kings won the Purple cap for IPL 8 with 26 wickets. Photograph: BCCI
IPL 8 will be remembered for Mumbai Indians's journey that culminated in a resounding win.
When it comes to individual performances, Dwayne Bravo just got past A B de Villiers to become the Most Valuable Player of IPL 8.
Bravo was a deserving winner with 26 wickets (and the Purple cap) augmented by nearly 200 runs.
Recall that the Most Valuable Player Index (MVPI) collapses a player's batting, bowling and fielding performances into a one-dimensional 'run equivalent'.
The PVI (Player Value Index in English, and Paisa Vasool Index in Hindi) column suggests that Bravo offered great value with a 'run' costing less than $1,000.
This was very much a West Indian IPL with five of the top dozen places in the MVPI table bagged by players from the Caribbean.
| | | | | | | | | | | | | | |
| --- | --- | --- | --- | --- | --- | --- | --- | --- | --- | --- | --- | --- | --- |
| Rank | Player's Name | Team | From | Runs | 6s | Str. Rate | W | Eco | M | MVPI | Offered ($) | PVI($) | PVI(Rs) |
| 1 | Dwayne Bravo | CSK | WI | 195 | 5 | 131.8 | 26 | 8.1 | 17 | 698 | 666,667 | 955 | 57,307 |
| 2 | A B de Villiers | RCB | SA | 513 | 22 | 175.1 | 0 | - | 16 | 691 | 1,250,000 | 1,809 | 108,538 |
| 3 | David Warner | SH | AUS | 562 | 21 | 156.5 | 0 | - | 14 | 685 | 916,667 | 1,338 | 80,292 |
| 4 | Andre Russell | KKR | WI | 326 | 19 | 192.9 | 14 | 8 | 13 | 682 | 100,000 | 147 | 8,798 |
| 5 | Kieron Pollard | MI | WI | 419 | 28 | 163.7 | 3 | 9.5 | 16 | 595 | 1,250,000 | 2,101 | 126,050 |
| 6 | Jean-Paul Duminy | DD | SA | 414 | 20 | 131.4 | 8 | 7.4 | 14 | 594 | 366,667 | 617 | 37,037 |
| 7 | Ajinkya Rahane | RR | IND | 540 | 13 | 130.8 | 0 | - | 14 | 568 | 1,250,000 | 2,201 | 132,042 |
| 8 | Virat Kohli | RCB | IND | 505 | 23 | 130.8 | 0 | 5.5 | 16 | 567 | 2,083,333 | 3,674 | 220,459 |
| 9 | Rohit Sharma | MI | IND | 482 | 21 | 144.7 | 0 | - | 16 | 553 | 2,083,333 | 3,767 | 226,040 |
| 10 | Chris Gayle | RCB | WI | 491 | 38 | 147.4 | 0 | 7.5 | 14 | 544 | 1,583,333 | 2,911 | 174,632 |
| 11 | Lendl Simmons | MI | WI | 540 | 21 | 122.4 | 0 | - | 13 | 538 | 50,000 | 93 | 5,576 |
| 12 | Moises Henriques | SH | AUS | 287 | 13 | 136.0 | 11 | 6.3 | 9 | 516 | 166,667 | 323 | 19,380 |
| 13 | Brendon McCullum | CSK | NZ | 436 | 23 | 155.7 | 0 | - | 14 | 509 | 541,667 | 1,064 | 63,851 |
| 14 | Robin Uthappa | KKR | IND | 364 | 7 | 131.4 | 0 | - | 13 | 459 | 833,333 | 1,816 | 108,932 |
| 15 | Harbhajan Singh | MI | IND | 117 | 9 | 160.3 | 18 | 7.8 | 15 | 450 | 916,667 | 2,037 | 122,222 |
| 16 | MS Dhoni | CSK | IND | 372 | 17 | 122.0 | 0 | - | 17 | 448 | 2,083,333 | 4,650 | 279,018 |
| 17 | Lasith Malinga | MI | SL | 6 | 0 | 60.0 | 24 | 7.4 | 15 | 445 | 1,583,333 | 3,558 | 213,483 |
| 18 | Parthiv Patel | MI | IND | 339 | 5 | 137.8 | 0 | - | 14 | 440 | 233,333 | 530 | 31,818 |
| 19 | Axar Patel | KXI | IND | 206 | 8 | 118.4 | 13 | 8.4 | 14 | 436 | 125,000 | 287 | 17,202 |
| 20 | Shreyas Iyer | DD | IND | 439 | 21 | 128.4 | 0 | - | 14 | 432 | 433,333 | 1,003 | 60,185 |
| 21 | Shane Watson | RR | AUS | 347 | 14 | 135.0 | 6 | 9.3 | 10 | 431 | 2,083,333 | 4,834 | 290,023 |
| 22 | Suresh Raina | CSK | IND | 374 | 16 | 122.6 | 2 | 7.8 | 17 | 431 | 1,583,333 | 3,674 | 220,418 |
| 23 | Dwayne Smith | CSK | WI | 399 | 16 | 119.1 | 1 | 8.5 | 16 | 419 | 750,000 | 1,790 | 107,399 |
| 24 | Ashish Nehra | CSK | IND | 1 | 0 | 14.3 | 22 | 7.2 | 16 | 415 | 333,333 | 803 | 48,193 |
| 25 | Mitchell Starc | RCB | AUS | 11 | 0 | 78.6 | 20 | 6.8 | 13 | 411 | 833,333 | 2,028 | 121,655 |
| 26 | Faf du Plessis | CSK | SA | 380 | 5 | 125.0 | 0 | - | 17 | 411 | 750,000 | 1,825 | 109,489 |
| 27 | David Wiese | RCB | SA | 122 | 4 | 141.9 | 16 | 8.3 | 14 | 396 | 466,667 | 1,178 | 70,707 |
| 28 | David Miller | KXI | SA | 357 | 21 | 134.2 | 0 | - | 13 | 394 | 2,083,333 | 5,288 | 317,259 |
| 29 | Yuzvendra Chahal | RCB | IND | 1 | 0 | 100.0 | 23 | 8.9 | 15 | 372 | 16,667 | 45 | 2,688 |
| 30 | Ravindra Jadeja | CSK | IND | 132 | 3 | 104.8 | 11 | 7.7 | 17 | 364 | 1,250,000 | 3,434 | 206,044 |
| 31 | Yusuf Pathan | KKR | IND | 312 | 12 | 135.1 | 2 | 9.7 | 13 | 362 | 541,667 | 1,496 | 89,779 |
| 32 | Bhuvneshwar Kumar | SH | IND | 17 | 1 | 170.0 | 18 | 7.9 | 14 | 356 | 708,333 | 1,990 | 119,382 |
| 33 | Shikhar Dhawan | SH | IND | 353 | 6 | 123.4 | 0 | - | 14 | 355 | 2,083,333 | 5,869 | 352,113 |
| 34 | Ambati Rayudu | MI | IND | 281 | 16 | 145.6 | 0 | - | 15 | 350 | 666,667 | 1,905 | 114,286 |
| 35 | Steven Smith | RR | Aus | 293 | 3 | 132.6 | 0 | - | 14 | 342 | 666,667 | 1,949 | 116,959 |
| 36 | Chris Morris | RR | SA | 76 | 5 | 165.2 | 13 | 7.4 | 11 | 339 | 233,333 | 688 | 41,298 |
| 37 | Harshal Patel | RCB | IND | 19 | 2 | 158.3 | 17 | 7.5 | 15 | 330 | 66,667 | 202 | 12,121 |
| 38 | Ravichandran Ashwin | CSK | IND | 52 | 1 | 162.5 | 10 | 5.8 | 14 | 320 | 916,667 | 2,865 | 171,875 |
| 39 | Nathan Coulter-Nile | DD | AUS | 20 | 1 | 111.1 | 15 | 7.6 | 11 | 316 | 708,333 | 2,242 | 134,494 |
| 40 | Gautam Gambhir | KKR | IND | 327 | 4 | 117.6 | 0 | - | 13 | 306 | 2,083,333 | 6,808 | 408,497 |
| 41 | Wriddhiman Saha | KXI | IND | 249 | 10 | 126.4 | 0 | - | 14 | 305 | 366,667 | 1,202 | 72,131 |
| 42 | Mitchell McClenaghan | MI | NZ | 13 | 2 | 216.7 | 18 | 8.2 | 12 | 304 | 50,000 | 164 | 9,868 |
| 43 | Sanju Samson | RR | IND | 204 | 8 | 125.2 | 0 | - | 14 | 292 | 666,667 | 2,283 | 136,986 |
| 44 | George Bailey | KXI | AUS | 259 | 7 | 136.3 | 0 | - | 13 | 286 | 541,667 | 1,894 | 113,636 |
| 45 | Angelo Mathews | DD | SL | 144 | 6 | 138.5 | 7 | 8.2 | 11 | 275 | 1,250,000 | 4,545 | 272,727 |
| 46 | Dinesh Karthik | RCB | IND | 141 | 4 | 120.5 | 0 | - | 16 | 272 | 175,0000 | 6,434 | 386,029 |
| 47 | Sandeep Sharma | KXI | IND | 9 | 0 | 64.3 | 13 | 7 | 14 | 267 | 141,667 | 531 | 31,835 |
| 48 | Karn Sharma | SH | IND | 104 | 6 | 122.4 | 10 | 8.3 | 14 | 261 | 625,000 | 2,395 | 14,3678 |
| 49 | Mohit Sharma | CSK | IND | 28 | 2 | 155.6 | 14 | 8.4 | 16 | 256 | 333,333 | 1,302 | 78,125 |
| 50 | Manish Pandey | KKR | IND | 225 | 7 | 122.3 | 0 | - | 13 | 254 | 283,333 | 1,115 | 66,929 |
| 51 | Pawan Negi | CSK | IND | 116 | 5 | 158.9 | 6 | 8.4 | 10 | 247 | 16,667 | 67 | 4,049 |
| 52 | Kedar Jadhav | DD | IND | 189 | 7 | 135.0 | 0 | - | 14 | 244 | 333,333 | 1,366 | 81,967 |
| 53 | Piyush Chawla | KKR | IND | 54 | 2 | 114.9 | 11 | 7.7 | 13 | 242 | 708,333 | 2,927 | 175,620 |
| 54 | Yuvraj Singh | DD | IND | 248 | 10 | 118.1 | 1 | 8 | 14 | 242 | 266,6667 | 11,019 | 661,157 |
| 55 | Ravi Bopara | SH | ENG | 145 | 6 | 120.8 | 6 | 8 | 9 | 236 | 16,6667 | 706 | 42,373 |
| 56 | Jagadeesha Suchith | MI | IND | 48 | 2 | 150.0 | 10 | 8.6 | 13 | 236 | 16,667 | 71 | 4,237 |
| 57 | James Faulkner | RR | AUS | 144 | 5 | 132.1 | 8 | 9.5 | 13 | 233 | 158,3333 | 6,795 | 407,725 |
| 58 | Dhawal Kulkarni | RR | IND | 4 | 0 | 36.4 | 13 | 7.9 | 11 | 229 | 183,333 | 801 | 48,035 |
| 59 | Imran Tahir | DD | SA | 5 | 0 | 83.3 | 15 | 8.8 | 10 | 227 | 33,333 | 147 | 8,811 |
| 60 | Murali Vijay | KXI | IND | 251 | 8 | 110.1 | 0 | 7 | 11 | 222 | 500,000 | 2,252 | 135,135 |
| 61 | Anureet Singh | KXI | IND | 18 | 1 | 58.1 | 15 | 9 | 14 | 219 | 33,333 | 152 | 9,132 |
| 62 | Mandeep Singh | RCB | IND | 157 | 7 | 160.2 | 0 | - | 14 | 218 | 133,333 | 612 | 36,697 |
| 63 | Ishwar Pandey | CSK | IND | 0 | 0 | - | 11 | 7.2 | 10 | 211 | 250,000 | 1,185 | 71,090 |
| 64 | Mayank Agarwal | DD | IND | 213 | 7 | 120.3 | 0 | - | 10 | 205 | 266,667 | 1,301 | 78,049 |
| 65 | Suryakumar Yadav | KKR | IND | 157 | 8 | 138.9 | 0 | - | 13 | 198 | 116,667 | 589 | 35,354 |
| 66 | Eoin Morgan | SH | ENG | 187 | 11 | 123.8 | 0 | - | 9 | 198 | 250,000 | 1263 | 75,758 |
| 67 | Deepak Hooda | RR | IND | 151 | 11 | 158.9 | 1 | 8.5 | 14 | 197 | 66,667 | 338 | 20,305 |
| 68 | Morne Morkel | KKR | SA | 4 | 0 | 133.3 | 10 | 7.4 | 7 | 195 | 466,667 | 2393 | 14,3590 |
| 69 | Karun Nair | RR | IND | 181 | 5 | 124.8 | 0 | - | 14 | 184 | 125,000 | 679 | 40,761 |
| 70 | Umesh Yadav | KKR | IND | 29 | 1 | 207.1 | 10 | 9.1 | 12 | 178 | 433,333 | 2434 | 146,067 |
| 71 | Trent Boult | SH | NZ | 0 | 0 | - | 9 | 8.4 | 7 | 174 | 633,333 | 3640 | 218,391 |
| 72 | Brad Hogg | KKR | AUS | 7 | 0 | 116.7 | 9 | 6.9 | 6 | 174 | 83,333 | 479 | 28,736 |
| 73 | Stuart Binny | RR | IND | 74 | 1 | 112.1 | 4 | 7.4 | 13 | 169 | 916,667 | 5,424 | 325,444 |
| 74 | Glenn Maxwell | KXI | AUS | 145 | 8 | 129.5 | 2 | 9.7 | 11 | 166 | 1,000,000 | 6,024 | 361,446 |
| 75 | Amit Mishra | DD | IND | 8 | 0 | 66.7 | 9 | 7.7 | 12 | 165 | 583,333 | 3,535 | 212,121 |
| 76 | Naman Ojha | SH | IND | 137 | 4 | 113.2 | 0 | - | 14 | 164 | 83,333 | 508 | 30,488 |
| 77 | Hardik Pandya | MI | IND | 112 | 8 | 180.6 | 1 | 10 | 9 | 160 | 16,667 | 104 | 6,250 |
| 78 | Ashish Reddy | SH | IND | 73 | 5 | 158.7 | 3 | 8.3 | 6 | 152 | 33,333 | 219 | 13,158 |
| 79 | Zaheer Khan | DD | IND | 0 | 0 | - | 7 | 6.5 | 7 | 149 | 666,667 | 4,474 | 268,456 |
| 80 | Sreenath Aravind | RCB | IND | 0 | 0 | 0.0 | 8 | 7.3 | 5 | 144 | 50,000 | 347 | 20,833 |
| 81 | Sarfaraz Khan | RCB | IND | 111 | 2 | 156.3 | 0 | - | 13 | 143 | 83,333 | 583 | 34,965 |
| 82 | Quinton de Kock | DD | SA | 122 | 4 | 158.4 | 0 | - | 3 | 141 | 583,333 | 4,137 | 248,227 |
| 83 | Saurabh Tiwary | DD | IND | 109 | 5 | 139.7 | 0 | - | 7 | 139 | 116,667 | 839 | 50,360 |
| 84 | Sunil Narine | KKR | WI | 0 | 0 | 0.0 | 7 | 7.3 | 8 | 138 | 1,583,333 | 11,473 | 688,406 |
| 85 | Lokesh Rahul | SH | IND | 142 | 5 | 112.7 | 0 | - | 9 | 137 | 166,667 | 1,217 | 72,993 |
| 86 | Vinay Kumar | MI | IND | 0 | 0 | 0.0 | 7 | 8.5 | 13 | 135 | 466,667 | 3,457 | 207,407 |
| 87 | Albie Morkel | DD | SA | 86 | 2 | 132.3 | 3 | 9.1 | 4 | 125 | 50,000 | 400 | 24,000 |
| 88 | Pravin Tambe | RR | IND | 3 | 0 | 60.0 | 7 | 7.8 | 10 | 122 | 16,667 | 137 | 8,197 |
| 89 | Corey Anderson | MI | NZ | 114 | 6 | 117.5 | 1 | 8.3 | 4 | 119 | 750,000 | 6,303 | 378,151 |
| 90 | Tim Southee | RR | NZ | 13 | 0 | 144.4 | 6 | 8.8 | 7 | 115 | 200,000 | 1,739 | 104,348 |
| 91 | Unmukt Chand | MI | IND | 102 | 2 | 122.9 | 0 | - | 6 | 113 | 108,333 | 959 | 57,522 |
| 92 | Mitchell Johnson | KXI | AUS | 31 | 1 | 86.1 | 9 | 9.4 | 9 | 109 | 1,083,333 | 9,939 | 596,330 |
| 93 | Shakib Al Hasan | KKR | BAN | 36 | 0 | 133.3 | 4 | 8.8 | 4 | 105 | 466,667 | 4,444 | 266,667 |
| 94 | Ryan ten Doeschate | KKR | NETH | 61 | 3 | 135.6 | 0 | 4 | 6 | 95 | 166,667 | 1,754 | 105,263 |
| 95 | Iqbal Abdulla | RCB | IND | 20 | 0 | 111.1 | 4 | 7.9 | 5 | 87 | 108,333 | 1,245 | 74,713 |
| 96 | Praveen Kumar | SH | IND | 17 | 0 | 68.0 | 7 | 9.1 | 12 | 87 | 366,667 | 4,215 | 252,874 |
| 97 | Virender Sehwag | KXI | IND | 99 | 3 | 117.9 | 0 | - | 8 | 86 | 533,333 | 6,202 | 372,093 |
| 98 | Shaun Marsh | KXI | AUS | 81 | 3 | 139.7 | 0 | - | 4 | 85 | 366,667 | 4,314 | 258,824 |
| 99 | Beuran Hendricks | KXI | AUS | 1 | 0 | 50.0 | 5 | 8.4 | 4 | 84 | 300,000 | 3,571 | 214,286 |
| 100 | Johan Botha | KKR | SA | 31 | 1 | 206.7 | 1 | 8.1 | 4 | 77 | 166,667 | 2,165 | 129,870 |
ALSO SEE