Rajasthan Royals captain Shane Warne on Friday said that the back-to-back victories over Kochi Tuskers Kerala and Mumbai Indians have brought his side back to a "good position" in ongoing Indian Premier League.
After a good start to the tournament, Rajasthan slumped to three consecutive defeats but came back strongly in their next two games, which includes a seven-wicket win over table toppers Mumbai Indians in Jaipur, to climb up to the top half in the points table.
"The past two victories over Kochi and Mumbai were nice. It has brought us back to winning momentum. The nature of the tournament is such that you have to have the momentum. We feel we are in good position at the halfway stage," Warne said.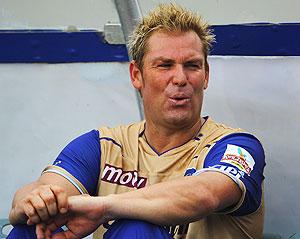 Warne, who is also the coach of the Jaipur outfit, said that he was delighted to see the intensity with which his team played against Mumbai Indians at the Sawai Man Singh Stadium.
"I am happy with the intensity we have shown today. We started well but lost a few games in the middle. But I am happy with the intensity and character the boys have showed."
He also refused to buy the theory that familiar conditions give the home team much of advantage in an IPL match.
"Yes, the home conditions give confidence because we know quite a few things. We know the angles to block runs. But I feel the visiting teams try to make too much out of the conditions and pitch," Warne said.
Talking about the Ashok Maneria delivery to get rid off danger man Sachin Tendulkar stumped by wicket-keeper Dishant Yagnik, the Australian said, "Sachin is a great player and doesn't miss too many but he missed out on that ball. It was a pretty good ball. He might be a great player but he is human too."
Warne also credited his bowlers for restricting Mumbai Indians to a paltry score of 94 for eight.
"Our bowlers bowled well, especially Watson, Maneria and Botha. That is perhaps one of the reasons for the low score. I thought it was a 130-run wicket but we bowled well to restrict them to 94," he pointed out.
On the other hand, Mumbai Indians wicket-keeper Davy Jacobs was is no mood to dwell too much into the loss and said it was part and parcel of the tournament.
"It happens in such kind of tournament. The nature of tournaments is such that after few wins on the trot you can lose a few," he opined.
"We didn't have enough runs on the board. We did not bat well but our bowling was pretty good. Harbhajan (Singh) and other spinners did a good job. We did not let them get the runs easily," Jacobs added.
Asked whether there were too many rash shots from the Mumbai Indians batsmen today, he said, "Sometimes such shots pay off but it was not the case today.
"Perhaps we were not good enough today. But we will bounce back."