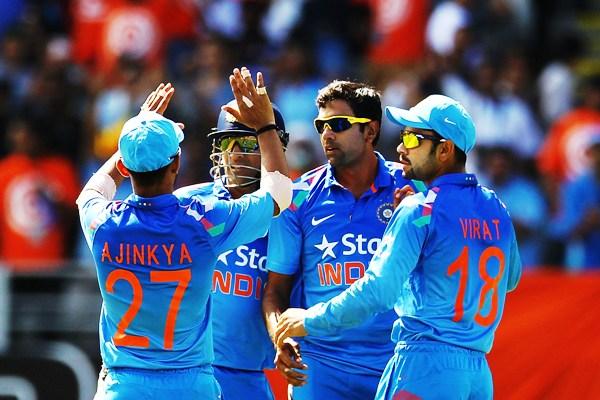 IMAGE: MS Dhoni of India celebrates with teammates Ravichandran Ashwin, Virat Kohli and Ajinkya Rahane the fall of an opposition wicket. Photograph: Getty Images
Ahead of the World Twenty20 Championships in India between March and April, batting legend Sachin Tendulkar has voiced his support for the winners of the inaugural edition.
Tendulkar, who was one among the brand ambassadors of last year's ODI World Cup, said not having any such role for the upcoming T20 showpiece makes it easier for him to put on his cheering cap for India.
"...everyone is waiting for this opportunity to go and support India. This time I am not ambassador of ICC like last year when I had to say things discreetly and had said that the defending champions are ready to defend but this time I can say that India will go all the way," he said.