Ahead of the India-New Zealand series, Rajneesh Gupta looks at how the two teams stack up.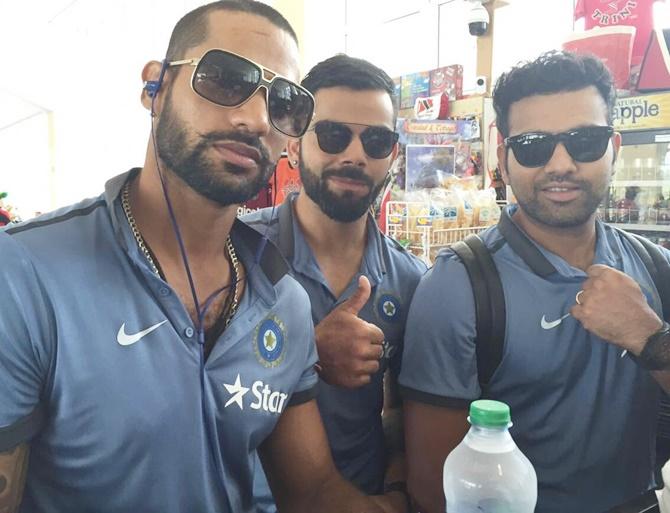 IMAGE: Virat Kohli, centre, with Shikhar Dhawan, right, and Rohit Sharma . Photograph: BCCI/Twitter.
India retained opener Shikhar Dhawan and middle order batsman Rohit Sharma on Monday for their three-Test home series against New Zealand beginning in Kanpur later this month.
The 29-year-old Rohit is an automatic choice in India's limited-overs sides but has failed to replicate that form in the five-day format, averaging 32.62 with the bat in 18 Tests.
The emergence of Lokesh Rahul, who was named in the 15-member squad, as an opener has put further pressure on Dhawan to perform after the 24-year-old right-hander scored two hundreds and a fifty in four innings against West Indies in tests and a Twenty20 international.
Off-spinner Ravichandran Ashwin, who also scored two centuries against West Indies after being promoted in the batting order, will lead India's slow-bowling attack, aided by leggie Amit Mishra and left-arm spinner Ravindra Jadeja.
Mohammed Shami, Ishant Sharma and Umesh Yadav were the three pacemen in India's squad.
Here are the career statistics of 15-member squad - overall, in India and against New Zealand.
Indian Test Squad
Career figures –Batting & Fielding
| | | | | | | | | | | |
| --- | --- | --- | --- | --- | --- | --- | --- | --- | --- | --- |
| | Mts | Inns | NO | Runs | Hs | Avg | 100s | 50s | 0s | Ct/St |
| Virat Kohli (Cap) | 45 | 76 | 4 | 3245 | 200 | 45.06 | 12 | 12 | 4 | 42 |
| Ravichandran Ashwin | 36 | 52 | 10 | 1439 | 124 | 34.26 | 4 | 6 | 2 | 13 |
| Shikhar Dhawan | 22 | 37 | 1 | 1446 | 187 | 40.16 | 4 | 3 | 4 | 18 |
| Ravindra Jadeja | 17 | 26 | 2 | 495 | 68 | 20.62 | 0 | 1 | 2 | 17 |
| Bhuvneshwar Kumar | 14 | 19 | 3 | 393 | 63* | 24.56 | 0 | 3 | 3 | 5 |
| Amit Mishra | 20 | 31 | 2 | 648 | 84 | 22.34 | 0 | 4 | 3 | 7 |
| Mohammed Shami | 16 | 22 | 8 | 183 | 51* | 13.07 | 0 | 1 | 4 | 2 |
| Cheteshwar Pujara | 35 | 58 | 5 | 2482 | 206* | 46.83 | 7 | 7 | 2 | 27 |
| Ajinkya Rahane | 26 | 44 | 6 | 1862 | 147 | 49.00 | 7 | 8 | 3 | 30 |
| Lokesh Rahul | 8 | 13 | 0 | 492 | 158 | 37.84 | 3 | 1 | 0 | 16 |
| Wriddhiman Saha | 15 | 23 | 2 | 572 | 104 | 27.23 | 1 | 2 | 3 | 23/7 |
| Ishant Sharma | 72 | 101 | 38 | 550 | 31* | 8.73 | 0 | 0 | 23 | 14 |
| Rohit Sharma | 18 | 31 | 2 | 946 | 177 | 32.62 | 2 | 4 | 4 | 20 |
| Murali Vijay | 39 | 66 | 1 | 2637 | 167 | 40.56 | 6 | 12 | 4 | 31 |
| Umesh Yadav | 19 | 23 | 8 | 128 | 30 | 8.53 | 0 | 0 | 3 | 4 |
Career figures -Bowling
| | | | | | | | | | | | |
| --- | --- | --- | --- | --- | --- | --- | --- | --- | --- | --- | --- |
| | Mts | Balls | Mdns | Runs | Wkts | Best | Avg | SR | RPO | 5I | 10M |
| Virat Kohli (Cap) | 45 | 150 | 2 | 70 | 0 | 0-0 | - | - | 2.80 | 0 | 0 |
| Ravichandran Ashwin | 36 | 10010 | 349 | 4864 | 193 | 7-66 | 25.20 | 51.87 | 2.91 | 18 | 4 |
| Shikhar Dhawan | 22 | 54 | 2 | 18 | 0 | 0-0 | - | - | 2.00 | 0 | 0 |
| Ravindra Jadeja | 17 | 4446 | 210 | 1663 | 71 | 6-138 | 23.42 | 62.62 | 2.24 | 4 | 0 |
| Bhuvneshwar Kumar | 14 | 2163 | 85 | 1074 | 35 | 6-82 | 30.68 | 61.80 | 2.97 | 3 | 0 |
| Amit Mishra | 20 | 4648 | 111 | 2440 | 71 | 5-71 | 34.36 | 65.46 | 3.14 | 1 | 0 |
| Mohammed Shami | 16 | 3237 | 82 | 1983 | 58 | 5-47 | 34.18 | 55.81 | 3.67 | 2 | 0 |
| Cheteshwar Pujara | 35 | 6 | 0 | 2 | 0 | 0-2 | - | - | 2.00 | 0 | 0 |
| Ajinkya Rahane | 26 | - | - | - | - | - | - | - | - | - | - |
| Lokesh Rahul | 8 | - | - | - | - | - | - | - | - | - | - |
| Wriddhiman Saha | 15 | - | - | - | - | - | - | - | - | - | - |
| Ishant Sharma | 72 | 13923 | 447 | 7674 | 209 | 7-74 | 36.71 | 66.62 | 3.30 | 7 | 1 |
| Rohit Sharma | 18 | 328 | 3 | 197 | 2 | 1-26 | 98.50 | 164.00 | 3.60 | 0 | 0 |
| Murali Vijay | 39 | 228 | 5 | 107 | 1 | 1-12 | 107.00 | 228.00 | 2.81 | 0 | 0 |
| Umesh Yadav | 19 | 3120 | 89 | 2060 | 58 | 5-93 | 35.51 | 53.79 | 3.96 | 1 | 0 |
Career figures inIndia – Batting & Fielding
| | | | | | | | | | | |
| --- | --- | --- | --- | --- | --- | --- | --- | --- | --- | --- |
| | Mts | Inns | NO | Runs | Hs | Avg | 100s | 50s | 0s | Ct/St |
| Virat Kohli (Cap) | 17 | 26 | 3 | 1059 | 107 | 46.04 | 3 | 7 | 0 | 19 |
| Ravichandran Ashwin | 19 | 23 | 5 | 708 | 124 | 39.33 | 2 | 3 | 1 | 5 |
| Shikhar Dhawan | 7 | 10 | 1 | 393 | 187 | 43.67 | 1 | 0 | 2 | 1 |
| Ravindra Jadeja | 9 | 11 | 1 | 206 | 43 | 20.60 | 0 | 0 | 0 | 6 |
| Bhuvneshwar Kumar | 6 | 6 | 1 | 96 | 38 | 19.20 | 0 | 0 | 0 | 4 |
| Amit Mishra | 10 | 14 | 2 | 126 | 28 | 10.50 | 0 | 0 | 3 | 4 |
| Mohammed Shami | 2 | 2 | 0 | 12 | 11 | 6.00 | 0 | 0 | 0 | 1 |
| Cheteshwar Pujara | 17 | 27 | 4 | 1481 | 206* | 64.39 | 5 | 4 | 0 | 7 |
| Ajinkya Rahane | 5 | 8 | 1 | 274 | 127 | 39.14 | 2 | 0 | 0 | 11 |
| Lokesh Rahul | 0 | | | | | | | | | |
| Wriddhiman Saha | 5 | 8 | 1 | 119 | 36 | 17.00 | 0 | 0 | 2 | 5/2 |
| Ishant Sharma | 25 | 29 | 13 | 147 | 31 | 9.19 | 0 | 0 | 7 | 7 |
| Rohit Sharma | 4 | 6 | 1 | 314 | 177 | 62.80 | 2 | 0 | 1 | 4 |
| Murali Vijay | 15 | 24 | 1 | 1089 | 167 | 47.35 | 3 | 3 | 0 | 12 |
| Umesh Yadav | 7 | 6 | 1 | 24 | 10* | 4.80 | 0 | 0 | 1 | 1 |
Career figures inIndia – Bowling
| | | | | | | | | | | | |
| --- | --- | --- | --- | --- | --- | --- | --- | --- | --- | --- | --- |
| | Mts | Balls | Mdns | Runs | Wkts | Best | Avg | SR | RPO | 5I | 10M |
| Virat Kohli (Cap) | 17 | 18 | 1 | 9 | 0 | 0-0 | - | - | 3.00 | 0 | 0 |
| Ravichandran Ashwin | 19 | 5845 | 237 | 2637 | 126 | 7-66 | 20.93 | 46.39 | 2.71 | 13 | 3 |
| Shikhar Dhawan | 7 | 18 | 1 | 9 | 0 | 0-9 | - | - | 3.00 | 0 | 0 |
| Ravindra Jadeja | 9 | 2425 | 143 | 785 | 50 | 5-21 | 15.70 | 48.50 | 1.94 | 3 | 0 |
| Bhuvneshwar Kumar | 6 | 624 | 18 | 341 | 9 | 3-31 | 37.89 | 69.33 | 3.28 | 0 | 0 |
| Amit Mishra | 10 | 2520 | 68 | 1205 | 32 | 5-71 | 37.66 | 78.75 | 2.87 | 1 | 0 |
| Mohammed Shami | 2 | 295 | 4 | 182 | 11 | 5-47 | 16.55 | 26.82 | 3.70 | 1 | 0 |
| Cheteshwar Pujara | 17 | 6 | 0 | 2 | 0 | 0-2 | - | - | 2.00 | 0 | 0 |
| Ajinkya Rahane | 5 | 0 | 0 | 0 | 0 | - | - | - | - | 0 | 0 |
| Lokesh Rahul | 0 | | | | | | | | | | |
| Wriddhiman Saha | 5 | 0 | 0 | 0 | 0 | - | - | - | - | 0 | 0 |
| Ishant Sharma | 25 | 4489 | 168 | 2190 | 63 | 5-118 | 34.76 | 71.25 | 2.93 | 1 | 0 |
| Rohit Sharma | 4 | 0 | 0 | 0 | 0 | - | - | - | - | 0 | 0 |
| Murali Vijay | 15 | 12 | 0 | 2 | 0 | 0-2 | - | - | 1.00 | 0 | 0 |
| Umesh Yadav | 7 | 1029 | 33 | 549 | 23 | 4-80 | 23.87 | 44.74 | 3.20 | 0 | 0 |
Career figures vs NewZealand – Batting & fielding
| | | | | | | | | | | |
| --- | --- | --- | --- | --- | --- | --- | --- | --- | --- | --- |
| | Mts | Inns | NO | Runs | Hs | Avg | 100s | 50s | 0s | Ct/St |
| Virat Kohli (Cap) | 4 | 7 | 2 | 426 | 105* | 85.20 | 2 | 3 | 0 | 6 |
| Ravichandran Ashwin | 2 | 2 | 1 | 69 | 37 | 69.00 | 0 | 0 | 0 | 1 |
| Shikhar Dhawan | 2 | 4 | 0 | 215 | 115 | 53.75 | 1 | 1 | 1 | 1 |
| Ravindra Jadeja | 2 | 3 | 1 | 82 | 30* | 41.00 | 0 | 0 | 0 | 7 |
| Bhuvneshwar Kumar | 0 | | | | | | | | | |
| Amit Mishra | 0 | | | | | | | | | |
| Mohammed Shami | 2 | 3 | 2 | 2 | 2 | 2.00 | 0 | 0 | 0 | 0 |
| Cheteshwar Pujara | 4 | 7 | 0 | 276 | 159 | 39.43 | 1 | 0 | 0 | 3 |
| Ajinkya Rahane | 2 | 3 | 0 | 162 | 118 | 54.00 | 1 | 0 | 0 | 2 |
| Lokesh Rahul | 0 | | | | | | | | | |
| Wriddhiman Saha | 0 | | | | | | | | | |
| Ishant Sharma | 6 | 7 | 1 | 61 | 26 | 10.17 | 0 | 0 | 2 | 2 |
| Rohit Sharma | 2 | 4 | 1 | 122 | 72 | 40.67 | 0 | 1 | 1 | 4 |
| Murali Vijay | 2 | 4 | 0 | 48 | 26 | 12.00 | 0 | 0 | 0 | 2 |
| Umesh Yadav | 2 | 2 | 0 | 8 | 4 | 4.00 | 0 | 0 | 0 | 0 |
Career figures vs NewZealand – Bowling
| | | | | | | | | | | | |
| --- | --- | --- | --- | --- | --- | --- | --- | --- | --- | --- | --- |
| | Mts | Balls | Mdns | Runs | Wkts | Best | Avg | SR | RPO | 5I | 10M |
| Virat Kohli (Cap) | 4 | 42 | 1 | 17 | 0 | 0-4 | - | - | 2.43 | 0 | 0 |
| Ravichandran Ashwin | 2 | 536 | 20 | 236 | 18 | 6-31 | 13.11 | 29.78 | 2.64 | 3 | 1 |
| Shikhar Dhawan | 2 | 6 | 0 | 3 | 0 | 0-3 | - | - | 3.00 | 0 | 0 |
| Ravindra Jadeja | 2 | 534 | 17 | 257 | 3 | 1-10 | 85.67 | 178.00 | 2.89 | 0 | 0 |
| Bhuvneshwar Kumar | 0 | | | | | | | | | | |
| Amit Mishra | 0 | | | | | | | | | | |
| Mohammed Shami | 2 | 599 | 17 | 351 | 10 | 4-70 | 35.10 | 59.90 | 3.52 | 0 | 0 |
| Cheteshwar Pujara | 4 | 0 | 0 | 0 | 0 | - | - | - | - | 0 | 0 |
| Ajinkya Rahane | 2 | 0 | 0 | 0 | 0 | - | - | - | - | 0 | 0 |
| Lokesh Rahul | 0 | | | | | | | | | | |
| Wriddhiman Saha | 0 | | | | | | | | | | |
| Ishant Sharma | 6 | 1348 | 41 | 769 | 30 | 6-51 | 25.63 | 44.93 | 3.42 | 2 | 0 |
| Rohit Sharma | 2 | 90 | 0 | 55 | 0 | 0-3 | - | - | 3.67 | 0 | 0 |
| Murali Vijay | 2 | 0 | 0 | 0 | 0 | - | - | - | - | 0 | 0 |
| Umesh Yadav | 2 | 294 | 2 | 214 | 5 | 2-68 | 42.80 | 58.80 | 4.37 | 0 | 0 |