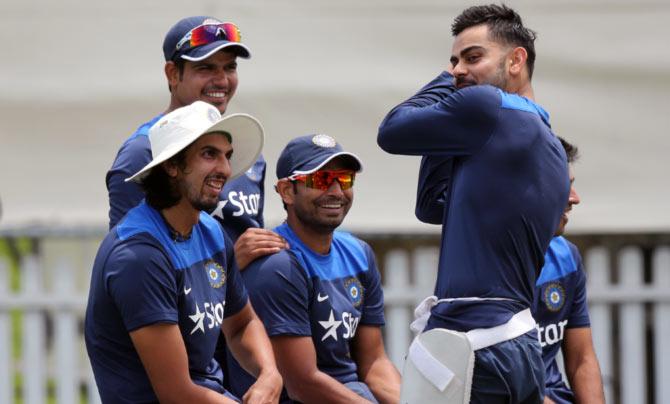 Virat Kohli (right) speaks to his teammates during a training session in Adelaide. Photograph: Morne de Klerk/Getty Images
Their World Cup preparations derailed by successive losses, India would look to reignite the spark and keep themselves afloat in the ODI cricket tri-series when they take on an unbeaten Australia in a must-win game in Sydney on Monday.
With three victories in three matches, the hosts have already qualified for the final in Perth on February 1.
The heavy loss to England in Brisbane thus means that India will not only have to win both their remaining games, in Sydney and then in Perth against the English, but win with a decent margin. They will probably need to garner bonus points in both matches.
In that light, perhaps it is good news that Ishant Sharma and Ravindra Jadeja are available for Sunday's game. It remains to be seen though if they will be picked in the playing eleven, especially Jadeja, as there still remains some doubt over his fielding capability in the outfield.
Meanwhile, Rohit Sharma has been ruled out of this match as a hamstring injury continues to bother him. However, at this point in time, his participation in the World Cup is not in doubt.
Should Kohli continue to bat at number four?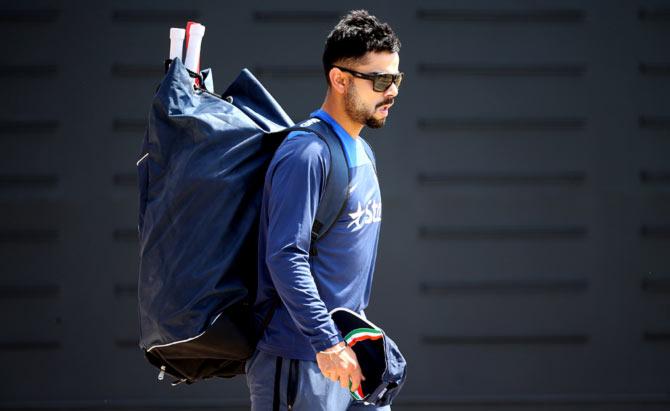 Virat Kohli during a training session. Photograph: Morne de Klerk/Getty Images
As such, India's batting order is nearly pre-decided. Ajinkya Rahane will once again open with Shikhar Dhawan, who will be desperately searching for some form. The possibility of debate will be over two points. First, whether Virat Kohli will continue to bat at number four.
There has been a huge debate over this move from the Indian team management, in argument that the best batsman in the side should bat higher up in the order.
Statistically, Kohli has done well at both number three and four. He averages 51.97 at number three, scoring 14 of his 21 ODI hundreds there, a run of form that has seen parallels drawn with the likes of Sir Vivian Richards and Ricky Ponting.
However, before he made that spot all his own, Kohli batted at number four for India, and indeed played a pivotal role in the 2011 World Cup for the team. In this debate, Kohli's performances at that slot have been forgotten.
Kohli averages 61.35 at number four, playing one of his most memorable knocks against Sri Lanka in Hobart on the 2011-12 tour, wherein he smacked the bowling to all parts of the ground as he scored a rousing 133 not out off only 86 balls.
And that particular innings is the explanation behind this ploy. In a steep chase where a 300-plus target needed to be achieved in 40-odd overs, Kohli pivoted the innings.
The team management is hoping for an encore from him during the upcoming World Cup and as such it is difficult to see them dropping this plan after just two attempts.
Lower-middle order crises in Indian dressing room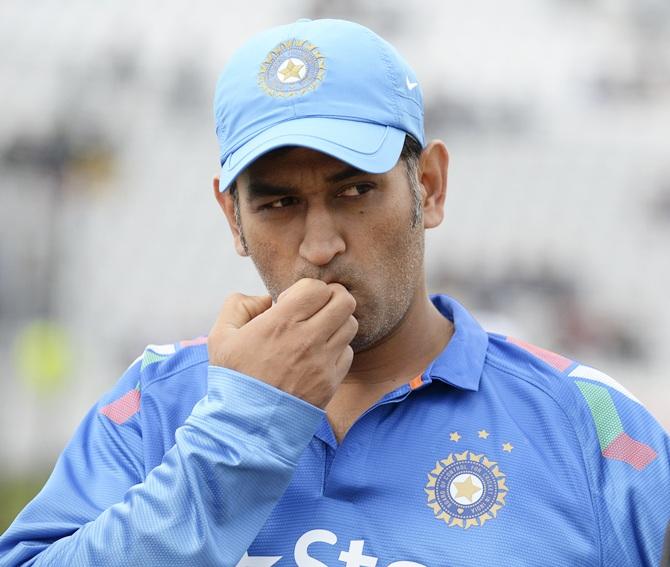 India's Mahendra Singh Dhoni looks on. Photograph: Philip Brown/Reuters
The second point of discussion in the Indian dressing room will be the lower-middle order, particularly from the point of view of scoring quick runs in the death overs. Stuart Binny enjoyed a good outing at the Gabba – both with bat and ball – and he is in the World Cup squad to play this double-role.
He had also opened the bowling in Brisbane and as such can play as the third medium-pace option. With R Ashwin, Axar Patel (or Jadeja) and Bhuvneshwar Kumar batting after him, it will prolong the batting and strengthen the lower order.
While Mahendra Singh Dhoni has mentioned on a couple occasions that Binny's presence will come in handy on helpful wickets, it remains to be seen if the skipper will entertain the thought of playing him on slower tracks as well, like the one at Sydney Cricket Ground.
Australia to experiment with squad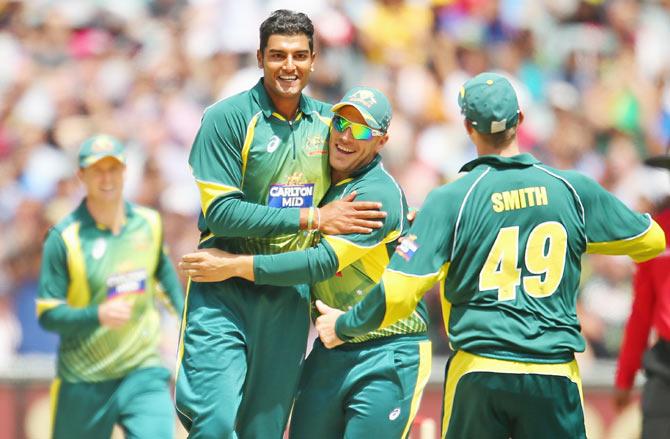 Gurinder Sandhu of Australia celebrates with his teammates. Photograph: Scott Barbour/Getty Images
While India need to find a balance between experimentation for the World Cup and their best playing eleven for the must-win next two matches, Australia have no such worry.
Having already qualified for the Perth final, they will use this match to rest a couple of players as well as fine-tune their permutations and combinations for the big tournament ahead.
To this effect, George Bailey is back in-charge of the side after Steve Smith did the job against England on Friday. Shane Watson is still ruled due to injury, while Mitchell Marsh has recovered.
If he is selected he will not be playing as a batsman alone and will be expected to bowl as Australia are looking to play Xavier Doherty and drop one of their regular pace-bowlers on this spin-friendly wicket.
Mitchell Johnson and Josh Hazlewood have both rejoined the squad here in Sydney, and while they did bowl during net-practice, they are not expected to feature in the eleven just as yet. It will mean a toss-up between Mitchell Starc, Pat Cummins and Gurinder Sandhu. Given their recent rotation policy, Starc might be up for a rest on Monday.
Match starts at: 8.50 am IST.