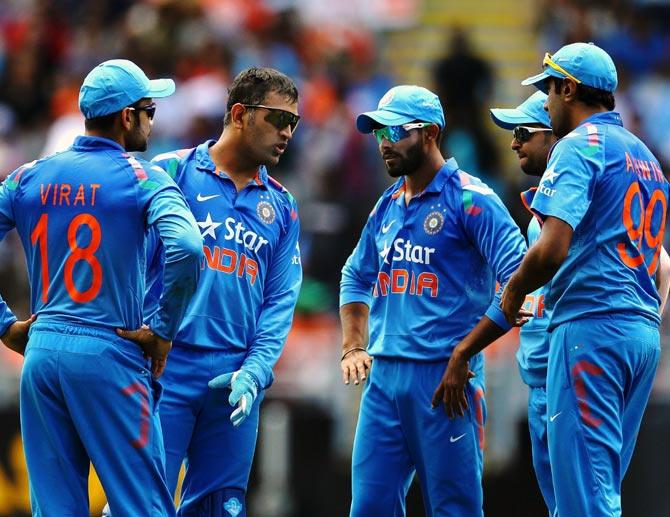 India captain Mahendra Singh Dhoni talks with his teammates. Photograph: Getty Images.
After rescheduling the dates of the Test series between India and Australia, Cricket Australia have now swapped the first two matches of the triangular One-Day series to be played between Australia, India and England.
India will now take on Australia in the second ODI of the tri-series, also involving England, on January 18 after it was decided to swap the first two matches to provide appropriate recovery time to the Indian players following the rescheduling of the four-match Test series.
According to the revised schedule, the first match of the series will be played between Australia and England at the Sydney Cricket Ground on January 16, while India will take on the hosts in the second game at the Melbourne Cricket Ground.
Earlier, India were supposed to play Australia in the opening match of the tri-series, after their tour-game against England at Drummoyne Oval in Sydney on January 12.
India will now play a tour match with the date and venue yet to be confirmed.
"This change was required to provide the Indian players appropriate recovery time after the tour match which follows the Commonwealth Bank Sydney Test in the lead up to their first Carlton Mid ODI Tri Series match," Cricket Australia said.
"We can confirm the traditional Prime Minister's XI match against England at Manuka Oval remains unchanged, and will be played on 14 January 2015.
"England will now play a Tour match against an ACT XI on 12 January 2015 at Manuka Oval, which was previously to be against India at Drummoyne Oval in Sydney. India will instead play a Tour match with the date and venue to be announced soon," it added.
Cricket Australia Chief Executive Officer James Sutherland said: "In light of recent scheduling changes, we have attempted to minimise the impact on the series.
"We appreciate the patience of our fans as we continue to work through the impacts of these changes. At the same time, we look forward to an exciting Carlton Mid ODI Tri Series with England and India, which will be a fitting lead-in to the ICC Cricket World Cup commencing in February."
Revised tri-series schedule:
Jan 16: Australia v England at SCG (Changed from Jan 18)
Jan 18: Australia v India at MCG (Changed from Jan 16)
Jan 20: England v India at Gabba
Jan 23: Australia v England at Blundstone Arena
Jan 26: Australia v India at SCG
Jan 30: India v England at WACA
Feb 1: Final at WACA.