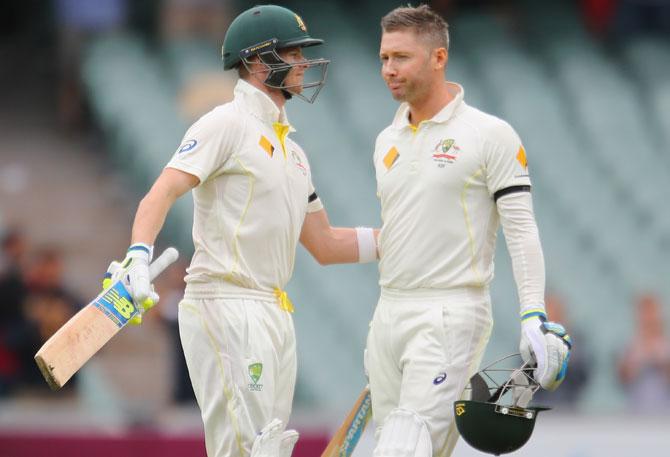 Michael Clarke of Australia is congratulated by Steven Smith as he reaches his century during day two of the First Test at Adelaide Oval. Photograph: Scott Barbour/Getty Images
Australian batsman Steve Smith feels skipper Michael Clarke has shown "unbelievable" courage in the wake of the tragic death of Phillip Hughes and played "beautifully" battling severe back pain to score a century on Day Two of the first Test against India.
After retiring at the score of 60 on Tuesday, Clarke returned to the crease this morning and scored his 28th Test hundred, despite being in pain in his lower back, as Australia closed on 517-7.
Smith added 163 runs in 30 overs with Clarke, who was finally out for 128 runs towards the end of the rain-hit second day at Adelaide Oval.
"He was keen to get out there and get some hits and it worked out well for him. There were a few shots that hurt him but he played beautifully under the circumstances," Smith told reporters in Adelaide.
"I think he has been amazing over the last few days. It's been tough for all of us. By spending that whole time by Hugey's family side, just the strength and courage Clarke has showed to us, that is unbelievable. He must be mentally drained," he added.
'At the start of my career, I probably wasn't quite as patient as I am now'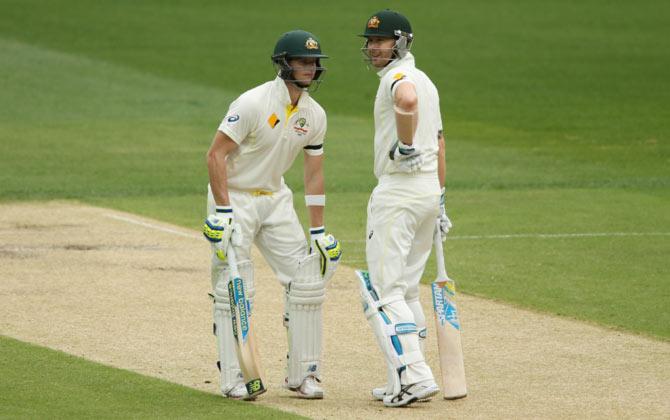 Australian batsmen Michael Clarke and Steven Smith during day two of the First Test at Adelaide Oval. Photograph: Getty Images
Clarke was in the thick of things when his close friend and teammate Hughes was fatally hit on the area around the head and neck by a bouncer in a domestic game. He supported the Hughes' family throughout the crisis.
Talking about his innings, Smith, who notched up his fifth Test hundred hitting 162 not out, attributed his new-found patience as the reason behind his batting form.
"At the start of my career, I probably wasn't quite as patient as I am now," Smith said.
"I probably tried to play too many shots early on in the innings and that got me in trouble. That's the way I want to go about my business, get my patience right then I will be able to get big runs. Today is a good example of that. Hopefully I will continue to do so.
"If I may say so, that is not my best innings. I think my hundred at Centurion against South Africa in those conditions was probably my best one so far in my book. But every century is special and I hope I will get some more this summer," he added.
'I think we have a good score on the board'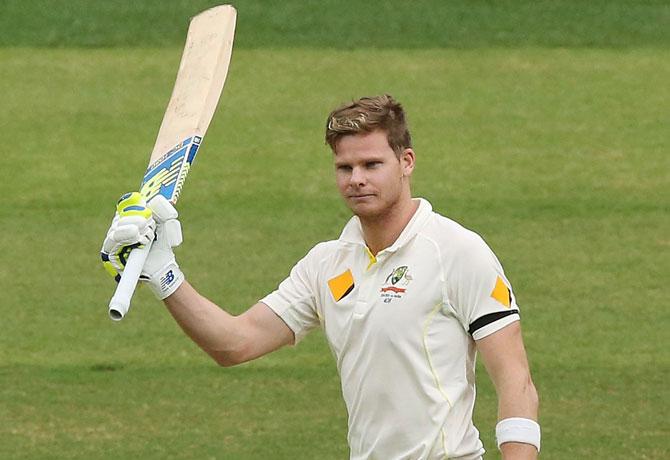 Steve Smith of Australia celebrates making 150 runs during day two of the First Test against India at Adelaide Oval. Photograph: Michael Dodge/Getty Images
When asked about the tribute he paid to Phillip Hughes, walking over to the painted 408 number on the turf after getting his hundred, Smith said, "I had a bit of break when I was on 98 (because of rain). I thought if I got two more runs, I have to go there, and stick my bat and thanks Hugey for being with me out there."
Nearly four hours were lost due to rain and as a result play will start half an hour earlier tomorrow. Their stand put India under the pressure as they scored at 5.36 runs per over through the truncated day.
"I think we have a good score on the board. We think we have to bowl well tomorrow. It's one of those wickets where we need patience to get the wickets and all our bowlers know what to do. I expect some good fireworks from our bowlers," said the centurion.
"I am not too sure about the declaration. The skipper is going to sleep on it. Whether we come out to bat a little bit longer or straightway come out with the ball, we will see how it goes," Smith signed off.