'You feel like India are searching for an excuse'
Dhawan's refusal to come out to bat in Brisbane was a reflection of India's timid approach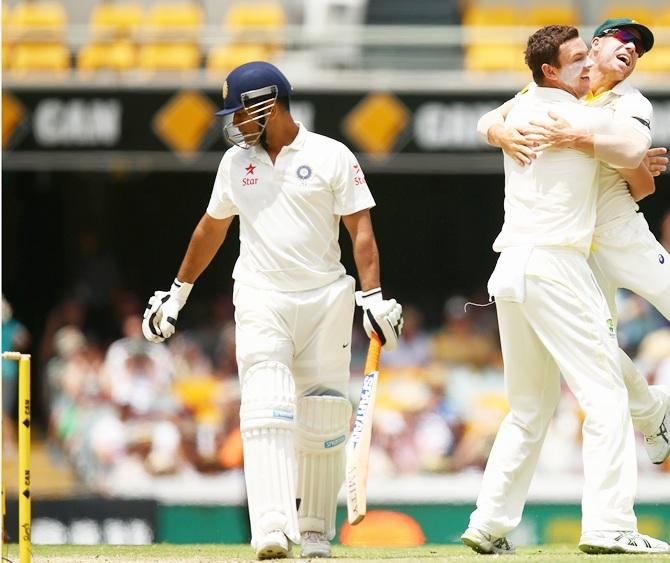 Josh Hazlewood of Australia celebrates with team mate David Warner after dismissing Mahendra Singh Dhoni. Photograph: Cameron Spencer/Getty Images
Not too impressed with the Indian cricket team, former Australian opener Matthew Hayden feels the tourists do not seem to believe that they can win away from home and have gone 'missing' during key moments of the ongoing Test series.
Revealed! Why Dhoni has failed the Test
Sledger-in-chief Warner has no plans to curb the exchanges
Clarke recovery on track, hopes to be fit in time for World Cup
Hazlewood and fellow Australian pacers have only one goal in sight
India trail the four-match series 0-2, losing the second Test with more than a day to spare.
"India's biggest weakness is they don't believe they can win away from home. Whether it's starting the day badly or not finishing an innings like they should -- they seem to go missing at key moments," Hayden wrote in a column for The Daily Telegraph.
"The noise around the team isn't great either. Putting the food issue aside (which I think is embarrassing for Australia because grounds should be making an extra effort to provide the food the visitors require), you feel like India are searching for an excuse," he said.
'Dhawan's decision clearly caused confusion'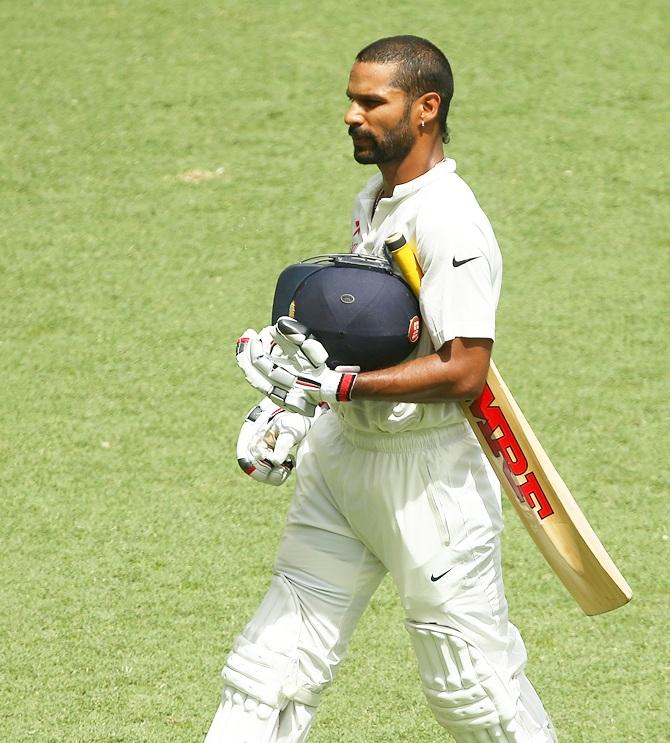 Shikhar Dhawan of India walks off the field after being dismissed by Nathan Lyon of Australia. Photograph: Chris Hyde/Getty Images
Hayden said the controversy generated by Shikhar Dhawan's refusal to come out to bat on the fourth day in Brisbane after being hit in the nets, was a reflection of India's timid approach.
"Shikhar Dhawan not coming out to bat on day four in Brisbane speaks of his mindset. Fear of failure is more often than not a powerful motivator and the great players like Steve Waugh use that to their advantage," said Hayden.
"Dhawan's decision clearly caused confusion in the Indian camp and his troops, including Mahendra Singh Dhoni and Virat Kohli, couldn't rally revealing the fragility of this powerful Indian team."
'They've got a false sense of what aggression means'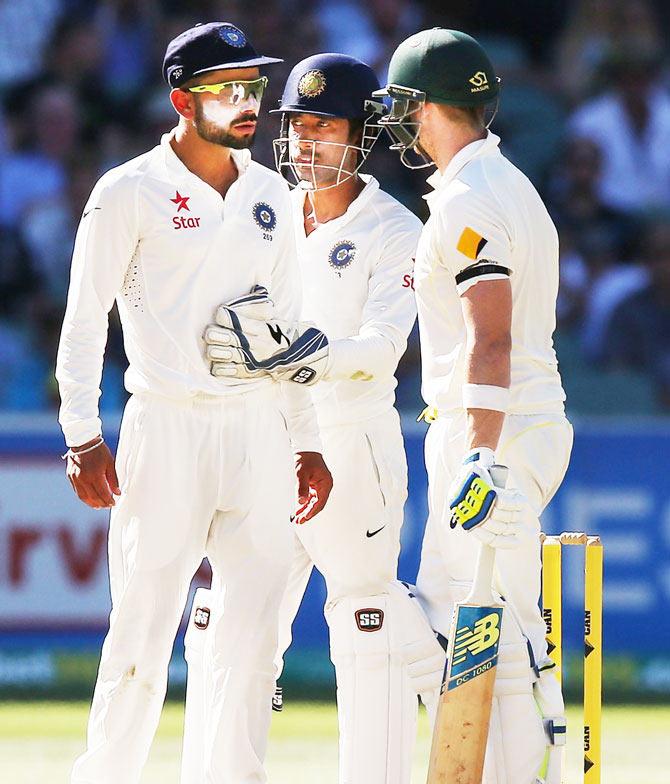 Virat Kohli of India is held back by keeper Wriddhiman Saha as he has words with Steve Smith of Australia. Photograph: Michael Dodge/Getty Images
Hayden also took a dig at the Indian team's for attempting to sledge the Australians, a move which backfired badly.
"They've got a false sense of what aggression means as well. I think they've got the talent in their bowling unit to get us out but they're inexperienced and can't bowl consistent Test level spells."
Hayden, however, lauded the Indian batting.
"Australia definitely have the edge when it comes to bowling but talent-wise the Indian batsmen are on par. Virat Kohli is world class -- there's an edge to his game – and Murali Vijay has gone to a new level.
"He's patience personified blended with conventional and destructive stroke play and if Australia had him opening the batting with David Warner it would be an incredible partnership. But the rest are vulnerable," he said.