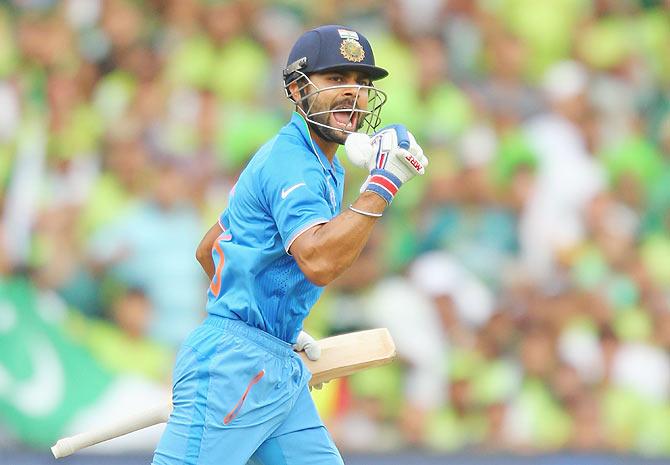 IMAGE: India's Virat Kohli celebrates after completing his half century. Photograph: Getty Images
Virat Kohli has been in great touch since landing in Australia, with two hundreds and two half-centuries in the five-match ODI series, and now an unbeaten 90 in this first T20I.
And captain MS Dhoni was effusive in his praise for the star batsman.
"I think in Adelaide they'll be naming a stand after him (Kohli), the amount of runs he's scoring. By the time he ends his career, quite a few Australian grounds will have his stand," said Dhoni.
"But yes, he's batting really well. When he is taking the risk of playing a big shot, he calculates it well. Also, he is someone who looks to score in front of the wicket.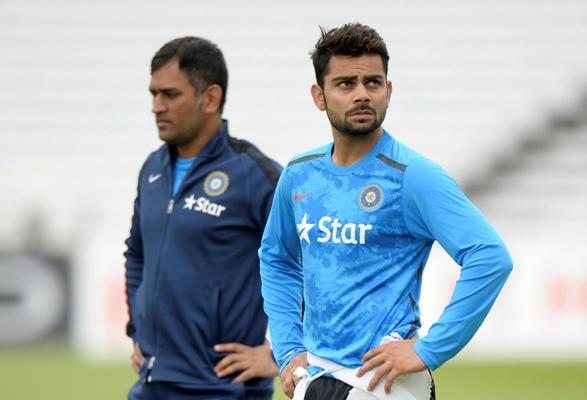 IMAGE: India's Mahendra Singh Dhoni and Virat Kohli during a training session. Photograph: Reuters
"Of course he's a good cutter and puller of the ball also, but at the same time, he looks to hit in front of the wicket and that always gives you more chances of success.
"He is someone who reads the game also very well. Right from the very start, whenever we had any kind of interaction, he was always looking to improve himself as a cricketer.
"If you have that kind of curiosity, it helps you become a better cricketer. It's good when youngsters grab a chance with both hands when they get it. I feel Virat did it really well once he got a chance to bat up the order," he added.