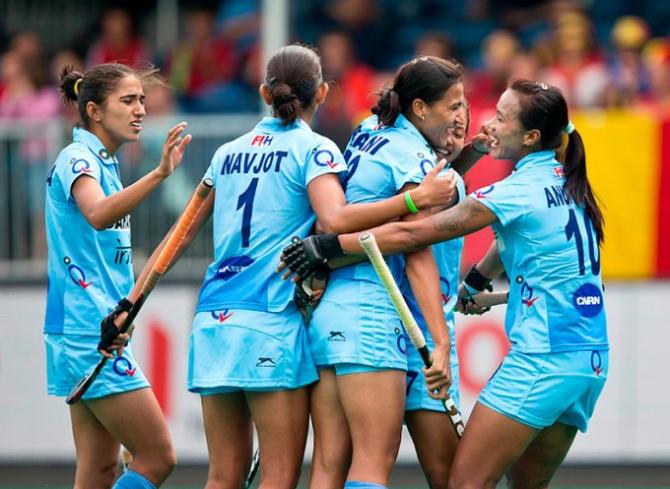 IMAGE: India's women's hockey team celebrates. Photograph: Hockey India.
The Indian women's hockey team beat Canada 3-1 in their second consecutive encounter on the USA tour, in Manheim, on Saturday.
Poonam Rani opened the scoring for India in the 19th minute, Renuka Yadav (32nd minute) scored the second goal and Anuradha Thokchom (58th) added to the tally.
India started off on the offensive and had a shot on target within the first few minutes, which was saved by Canada's goalkeeper Rowan Harris.
A penalty-corner was also squandered before the game settled into a midfield battle, as the teams played out a stalemate heading into the first break.
Despite Canada's fresh start in the first quarter, India broke the deadlock via Rani.
Canada equalised shortly after through Natalie Sourisseau.
India went under sustained pressure after the equalizer as a green card for Deep Grace Ekka left them a player short.
Canada won a flurry of penalty-corners but failed to convert any, with the Indian eves determined and putting bodies behind the ball.
The defensive work paid off as they went into half-time with the scores level at a goal apiece.
India hit back immediately after the restart, Renuka scoring from a direct shot off a penalty-corner in the 32nd minute.
Soon enough India were the ones creating all the chances and pressuring Canada into mistakes off the ball.
A second penalty-corner in the quarter saw a goal disallowed after a direct shot went into the net.
Deep Grace had a chance later on, but went narrowly wide as India went into the break leading 2-1.
It was all one-way again in the final quarter, as India played the game out in the midfield, denying Canada the ball and a chance to equalise.
Anuradha scored with two minutes to the hooter, a shine on their performance as they won their third consecutive game of the tour.