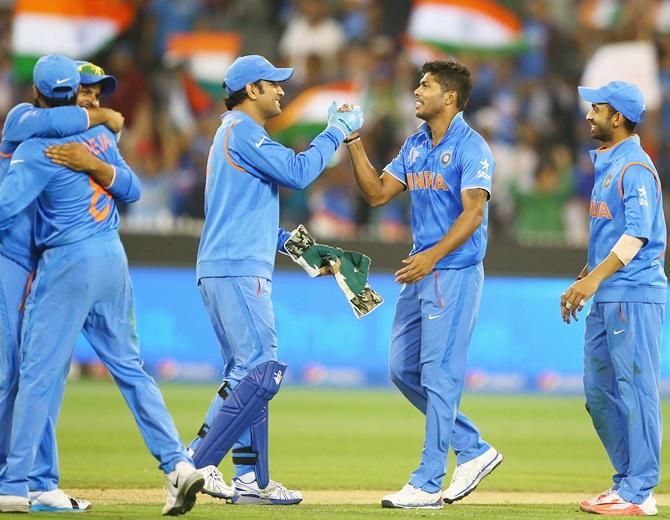 Indian team players celebrate, after they beat Bangladesh at the 2015 ICC Cricket World Cup. Photograph: Robert Cianflone/Getty Images
Pakistan skipper Misbah-ul Haq has placed his money on India to prevail over Australia in the cricket World Cup semifinal as he believes the home team will struggle for spin options at the SCG that is traditionally helpful to the slower bowlers.
'India has got a good chance because they are playing in Sydney'
'I like to take time initially and assess the conditions'
Four-time winners Australia, who defeated Pakistan in a last-eight clash in Adelaide on Friday, will lock horns with defending champions India at the Sydney Cricket Ground in the second semifinal on March 26.
"Playing in Sydney they will miss a good spinner. That could be the difference, because spinners have had a lot of success in Sydney and Imran Tahir did well the other day. So that could be a problem for Australia," said the 40-year-old Misbah, whose one-day international career ended after on Friday's defeat to Australia.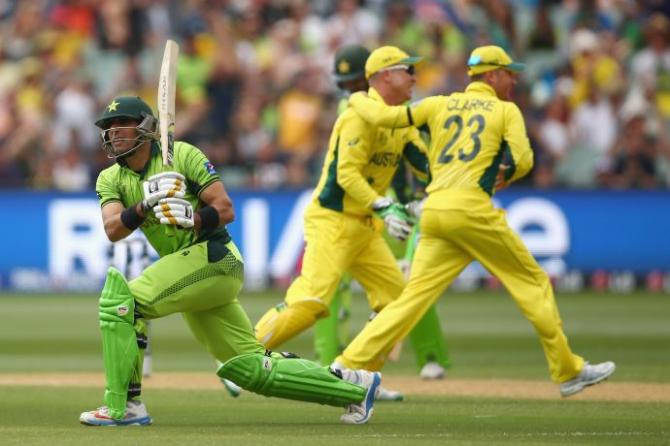 Pakistan's Misbah-ul-Haq rehearses his shot after being caught on the boundary as the Australian players celebrate. Photograph: Mark Kolbe/Getty Images
Misbah, whose side lost by six wickets at the Adelaide Oval, said the tournament co-hosts will feel the absence of a quality spinner in their last four clash.
"They might just be in trouble there, although it will be a tough game because both sides are playing good cricket."
South African leg-spinner Imran Tahir collected four for 26 and fellow slow bowler JP Duminy took three for 29, including a hat-trick, as South Africa bowled out Sri Lanka for just 133 to win Wednesday's quarter-final at the SCG by nine wickets.
The bat, though, also dominated at the SCG with Australia piling up 376 for nine against Sri Lanka and South Africa smashing 408 for five against the West Indies in the league stage.
India have been on a roll with seven straight wins, dramatically turning things around after going through a winless Test and ODI tour of Australia prior to the mega tournament.