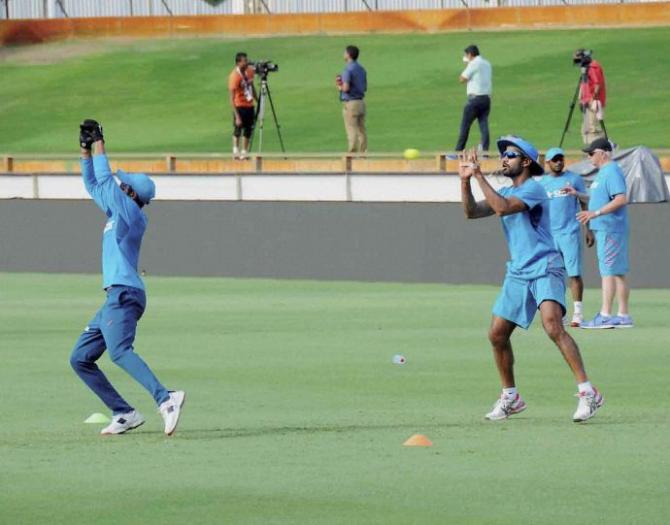 Shikhar Dhawan and Ajinkya Rahane during a practice session in Perth. Photograph: PTI
Moving away from the mundane fielding drills, Team India tried something unique in Perth as they were involved in a 75-minute fielding session.
There weren't any ground breaking new methods deployed at the session but a bit of tweak and there brought out the competitive spirit in them on a day when there weren't any net sessions held.
There were two methods during fielding that really caught the attention. One was the 'dummy catch' session which aims at improving the reflex action of the players when it comes to sharp chances, while the second one was a 'fielding match' involving two groups where the winners were adjudged on the basis of successful direct hits at the two plastic stumps that were kept for the aim.
The first method was an interesting one. It's not new for teams to use tennis racquets and balls to improve the reflex while latching onto powerful catches from close range.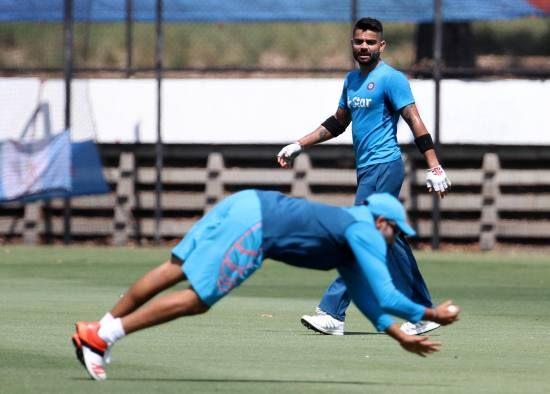 Rohit Sharma takes a diving catch during a practice session. Photograph: Solaris Images
However assistant coach Sanjay Bangar's session with groups of four was slightly different from the normal tennis ball catching session.
Here, a group of four fielders stood in a queue with Bangar some 10 metres adrift. The moment Bangar would hit a ball with his racquet, the first fielder in queue would sell a 'dummy' and the next in line will need to catch the ball.
It can come at any height at a good force considering tennis balls being used. The one who catches the ball gets less than a second's time to react as the man in-front ducks at the last moment.
The utility of this training is that when you get those sharp edges coming at the first slip of cut shots, the slip fielders are alert and ready. Normally, it comes at great speed with a split-second reaction time.
Suresh Raina, Ravindra Jadeja and Virat Kohli were the best performers during the 'dummy catch' session.
The next session was a 'fielding match' between two groups with one having comparatively better fielders including Raina, Kohli, Shikhar Dhawan, Stuart Binny while the other had the weaker lot like R Ashwin and Co with only Jadeja being their strength.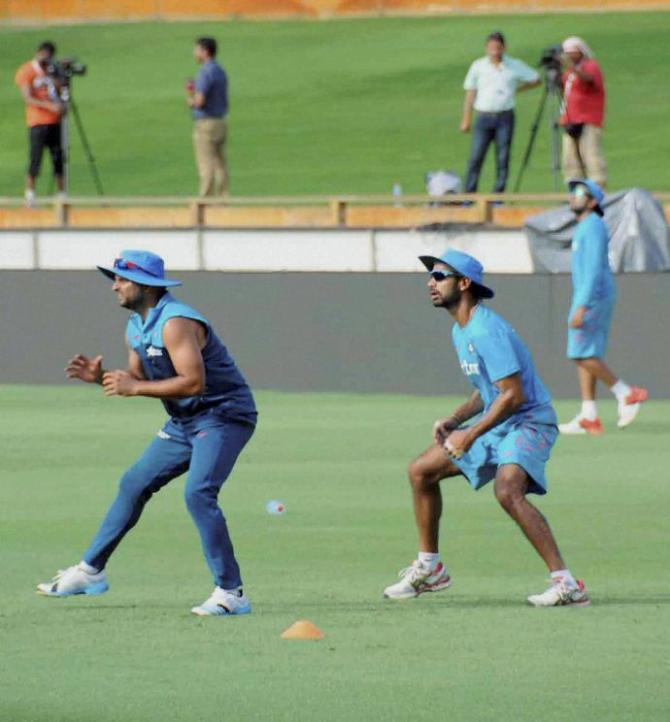 Suresh Raina and Shikhar Dhawan during a practice session in Perth. Photograph: PTI
The two groups of eight each, stood parallel to each other with a gap of around 10 metres. The two assistant coaches Bangar and R Sridhar stood in-front of their respective groups.
Normally it is a pick up and direct throw session but again they added some twist to it. The two coaches instead of hitting it straight to their respective groups were taking diagonal shots simultaneously with one fielder from each group trying the pick up and direct hit at the same time.
It was fun to watch as the players were having some funny arguments as to which team had a close aim at the stumps with video analyst Sandeep and throwdown expert Raghavendra acting as judges.
In the end, the team comprising Kohli and Co won and they did make it a point to rub it in on their 'rival team'. All in good spirit though.