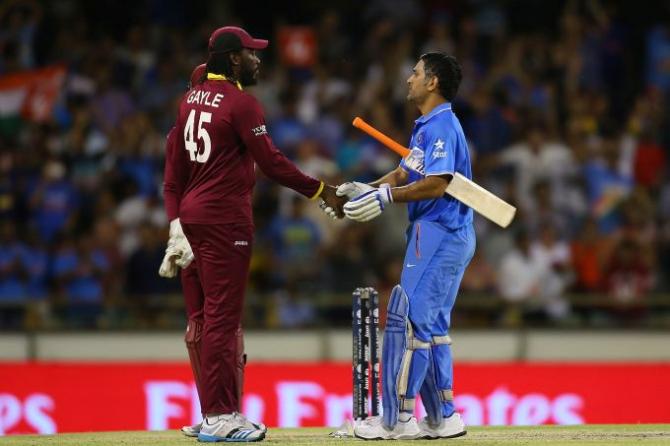 Chris Gayle of the West Indies congratulates MS Dhoni of India after winning the World Cup match in Perth. Photograph: Paul Kane/Getty Images
Defending champions India survived a scare before defeating a spirited West Indies by four wickets in a Pool B match to romp into the quarter-finals of the World Cup in Perth with four wins on the trot.
Chasing a modest target of 183, India was off to a poor start losing Rohit Sharma and Shikhar Dhawan in quick succession before skipper Mahendra Singh Dhoni's dished out a patient unbeaten 45 to guide them home in 39.1 overs and ensure their fourth consecutive win in the tournament.
However, it wasn't as commanding as the previous three wins as the batting was scrappy, the fielding shoddy with as many as four catches being dropped and the bowling lacking discipline at times with 16 wides during the West Indies innings.
By virtue of this victory, India stretched their winning run at the global event to eight matches stretching from 2011 edition's group league match against West Indies in Chennai.
The eight wins thus equals the record of Sourav Ganguly-led team's effort during the 2003 edition in South Africa.
India off to a poor start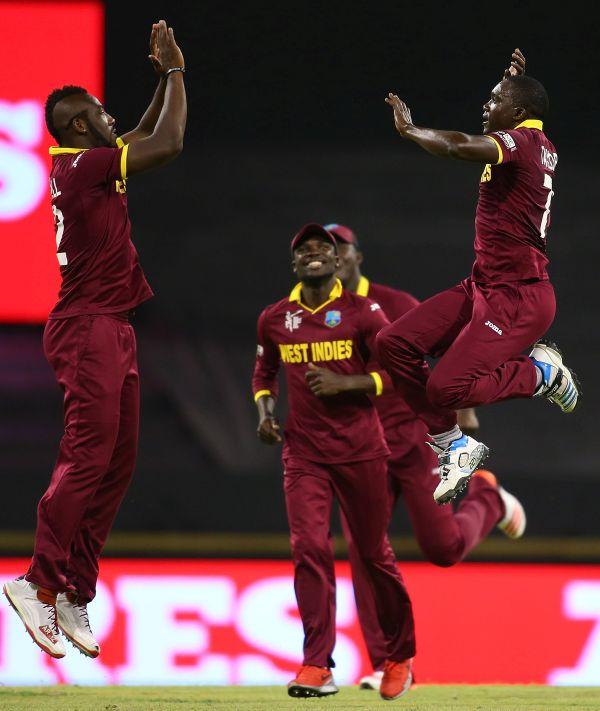 Andre Russell and Jerome Taylor of the West Indies celebrate the wicket of Rohit Sharma of India during the World Cup match. Photograph: Paul Kane/Getty Images
Dhoni, who had a poor run of form in recent times played an innings of substance that had three boundaries and a six off 56 deliveries. West Indies pacers' 19 wides also helped India's cause after a wobbly start got them off track.
The Indian batting was put to test for the first time in the tournament even though it was a smallish target. The pace and bounce of the WACA strip did play its part but more importantly, the shot selection of the batsmen was pretty poor.
Shikhar Dhawan was the first one to go as he edged one to second slips to Darren Sammy for 9.
Rohit Sharma (7) got fuller delivery from Taylor and the outside edge was taken by wicketkeeper Denesh Ramdin.
Virat Kohli (33) played some crisp on drives as well as a lovely cover drive adding 43 runs for the third wicket with Ajinkya Rahane (14).
Kohli, Rahane steady Indian innings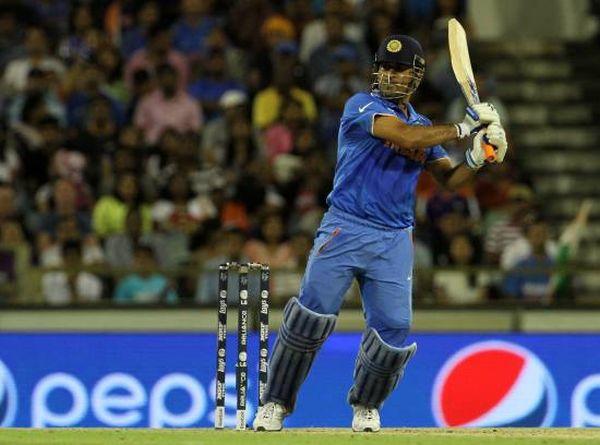 MS Dhoni hits one to the boundary. Photograph: Vipin Pawar/Solaris Images
Till the time Kohli was at the crease, he looked compact most of the times although there were a few good deliveries from both Taylor and Kemar Roach which had him in some sort of bother.
But it was a well disguised short ball from Andre Russell that brought about his end going for an ugly-looking pull-shot. He was off balance and also eyes were not on the ball as it went straight to the fielder at deep fine leg.
Kohli's departure at the end of 15th over created more pressure on Rahane, who was completely out of sorts as he even failed to cash in on free-hits.
He was finally out fishing a Roach delivery to Ramdin behind the stumps. He asked for a 'review' but umpire Nigel Llong's decision was upheld and his miserable stay of 34 balls ended.
Suresh Raina (22) and skipper Dhoni – the two most capped ODI players in this team got together and looked like getting things back on track when Raina flashed at a rising delivery from Dwayne Smith to give Ramdin his third catch of the day.
Ravindra Jadeja's discomfort against fast and rising deliveries is well known and it wasn't any better on the day as he also fell prey to the pull-shot being caught in the deep.
Dhoni, along with R Ashwin added invaluable 51 runs added for the seventh wicket sealed the match in favour of India.
Indian bowlers on fire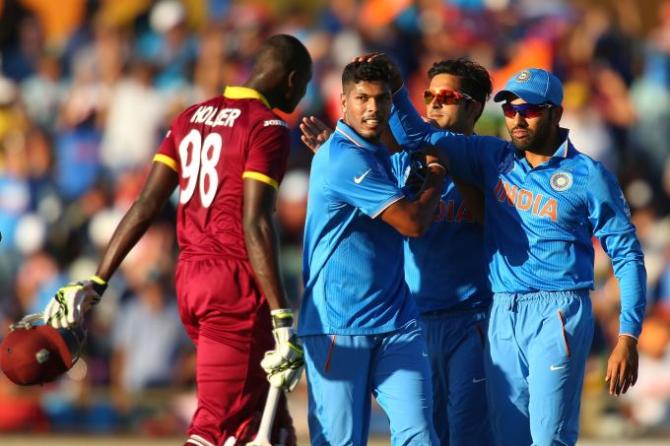 Umesh Yadav of India is congratulated by team mates after dismissing Jerome Taylor of the West Indies during the World Cup match in Perth. Photograph: Paul Kane/Getty Images
Earlier, India's bowlers continued their fine showing to bundle out the West Indies for a paltry 182 in a Group B league match at the World Cup, in Perth, on Friday.
Once West Indies captain Jason Holder elected to bat on a fast and bouncy WACA strip they always had the Caribbeans batsmen guessing, as they failed to gauge the bounce of the track, and were shot out in 44.2 overs.
Had Holder (57) not played his heart out with a gutsy 57 the West Indies may have finished with an embarrassing total.
Holder added 51 runs for the ninth wicket with Jerome Taylor (11) as they managed to cross the 175-run mark after being reduced to 124 for eight at one stage.
A fit-again Mohammed Shami (3-35 in 8 overs), returning to the side after missing the previous match against the UAE, troubled the batsman with both pace and bounce.
He bowled a deadly first-spell during which he took both Dwayne Smith (6) and Chris Gayle (21) out of the equation.
He was well-complemented well by the quartet of Umesh Yadav (2-42 in 10 overs), Mohit Sharma (1-35), Ravichandran Ashwin (1-38) and Ravindra Jadeja (2-27) as the West Indies looked no better than a minnow side during the entire duration of their innings.
Shami packs off Gayle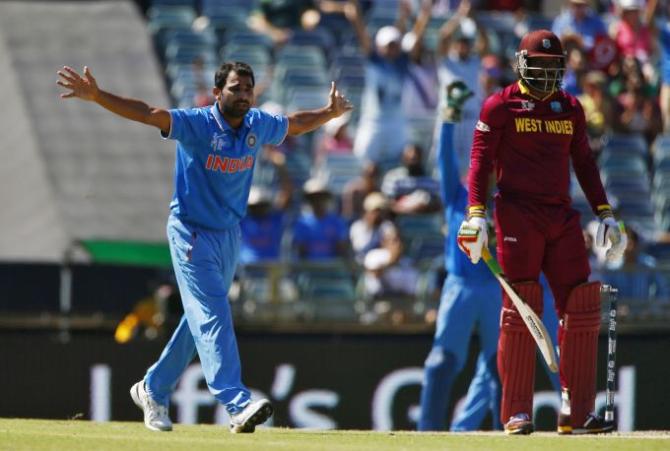 India's bowler Mohammed Shami (left) appeals unsuccessfully for the wicket of West Indies batsman Chris Gayle during their World Cup match in Perth. Photograph: David Gray/Reuters
The way Indian team sorted Gayle out was all about strategy and execution. Aided by the bounce, both Yadav and Shami mostly pitched it on good length as Gayle found it difficult to tee off in his customary 'stand and deliver' style.
The extra bounce saw a couple of slashes go towards third man but fielders couldn't complete the catches. The big-hitter played and missed a few. It took him 18 balls to hit his first four over over mid-off when Yadav bowled in the slot. Gayle also hit Shami over mid-on while pulling Yadav over deep mid-wicket for a six.
Having lost his opening partner Smith and Marlon Samuels (2), Gayle showed some urgency but struggled big time.
Dhoni immediately removed his deep fine leg fielder and positioned him at deep square leg. The move paid dividends as there was an intriguing battle going on between Gayle and Shami.
Shami bowled one short of length which kicked up and Gayle's top edged a pull shot went to Mohit, placed specifically for that catch, at deep square-leg.
Before Gayle became the third victim, Smith was done in by that extra bounce that Shami generated with practically no room to play the square cut. The resultant edge went to Dhoni as a regulation catch.
Samuels (2) was run-out when he misjudged a single after Gayle's mistimed pull-shot fell just short of a diving Mohit running forward from his mid-wicket position. By the time Gayle refused the single, Samuels had nearly come up to him and there was no way that he could have made it back.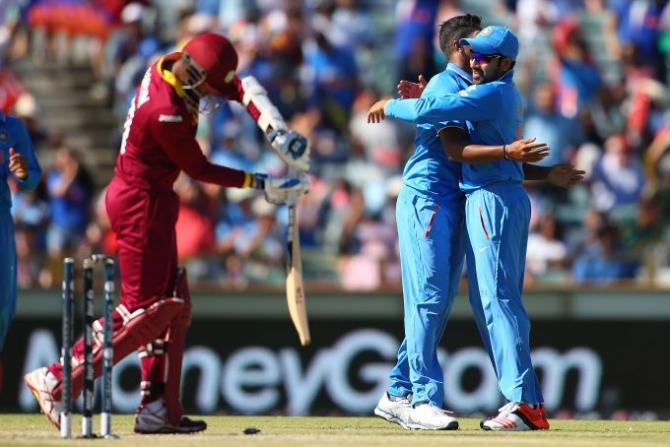 Umesh Yadav and Rohit Sharma of India celebrate the wicket of Denesh Ramdin of the West Indies of the West Indies during the World Cup match. Photograph: Paul Kane/Getty Images
Denesh Ramdin (0) was the fourth wicket to fall as Yadav bowled a fullish delivery and the wicketkeeper-batsman went for an expansive drive only to be played on.
With the score 35 for four at the start of the 10th over, there was no chance for a West Indies revival.
Slightly built left-hander Jonathan Carter (21) had a 32-run stand for the fifth wicket with Lendl Simmons (9) in which the former was the dominant partner.
But Simmons became Mohit's first victim when his hook shot landed straight in Yadav's throat at the deep fine leg boundary as the West Indies were 67 for five.
While facing Ashwin, Carter was repeatedly trying to play the slog sweep without taking the bounce into account. He misread the bounce and paid price for it as his top-edged sweep was easily taken by Shami at deep fine leg boundary to make 71 for six.