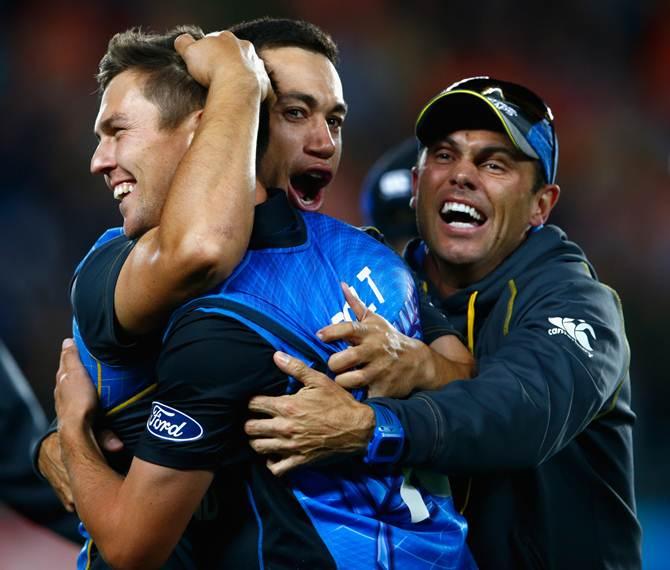 Ross Taylor and Chris Donaldson hug Trent Boult after New Zealand beat South Africa in the World cup semi-final at Eden Park, Auckland. Photograph: Phil Walter/Getty Images
New Zealand scored a sensational four-wicket victory over South Africa in a heart-stopping semi-final for their maiden entry into the cricket World Cup final on Tuesday, and victorious captain Brendon McCullum described it as the "greatest time" of their lives.
"South Africa gave as good as they got all day. It was a great advertisement for cricket. Everybody involved will remember this for the rest of their lives....(It is) the greatest time of our lives. We have enjoyed the experience. The crowds that have turned up, the brand of cricket we have tried to play," said McCullum, after the Kiwis clinched victory at the Eden Park in Auckland off the penultimate ball.
Contrary to the result, however, South Africa were cruising at one stage when AB De Villiers was on song after opting to bat, but rain halted their progress.
Asked what he was thinking at that time, the Kiwi skipper said, "Keep raining is what I thought when AB was going.
"The way we kept giving it in the field, the way we bowled, we did good. Even with the bat. We wanted to hang in till the end. What a great innings from Grant (Elliott). He came out of wilderness not long ago."
Chasing a stiff target of 298 runs in 43 overs under the Duckworth/Lewis rule in the rain-curtailed game, New Zealand rode on Elliott's match-winning unbeaten 84 to scamper home.
It was McCullum, though, who set the base for the chase with a quickfire 59 off 26 balls up the order.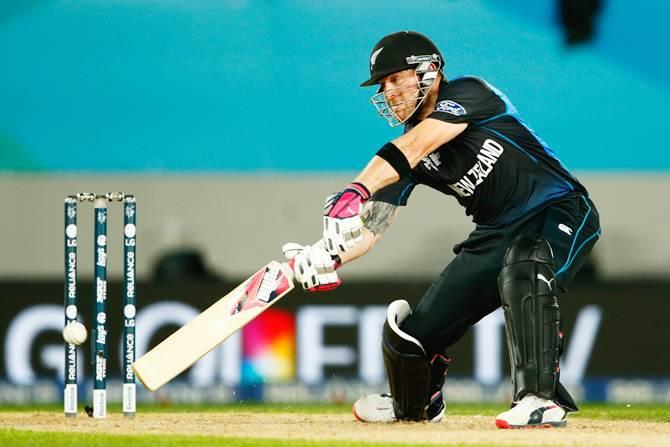 New Zealand's Brendon McCullum bats during the World Cup semi-final against South Africa at Eden Park, Auckland. Photograph: Phil Walter/Getty Images
Asked about his own fiery knock at the top, McCullum replied: "We had to generate some sort of run-rate early; that is what we tried to do. Credit to South Africa, the way they played tonight and throughout the tournament."
McCullum said his team is not thinking of any preferred opponent from India and Australia, in Sunday's final at Melbourne.
"Hope the crowds are all dreaming the way we are. Getting it (the World Cup) would be nice. We don't mind whom we face in the final. They are both quality sides, but we know if we play the way we want to we have a good chance. Really proud to represent New Zealand," he said.
De Villiers broke down after the defeat along with teammate Morne Morkel, but South Africa's captain said he has no regrets as his players played their heart out in the tournament.
"It was an amazing game of cricket. Probably the most electric crowd I have ever heard in my life. I guess the best team has come out on top. We gave it our best. No regrets. We left it all out there. It is hurting. It is going to take a while to recover. Worst of all is we don't play for ourselves.
"The bigger picture is for the people back home. We play for them. I hope they can still be proud of us. There have been great performances. I felt we had a wonderful thing going," De Villiers said.
Man-of-the-match Elliott, who showed nerves of steel to guide his side to a memorable victory, dedicated it to his countrymen.
"It's great. I don't think this win is for myself or the team, but everyone here. The supporters have been amazing. We wanted to take it as deep as we could," he said.
Talking about his 103-run partnership with Corey Anderson (58), Elliot said, "I think we timed the pace of the innings to perfection. Not as calm as I looked. When you have 45,000 fans screaming at you every ball... It has been an absolute pleasure playing in front of this crowd. We have had a good run."
Elliot, who finished the match a six off Dale Steyn, said the Kiwis will approach the title clash like a normal game.
"It is the first final we have been in as New Zealand. We are a very level team; we will approach it as any other game."
Asked what he was thinking before the winning shot, he said, "Nothing going in my mind when I hit the six. I don't even know where the ball went."