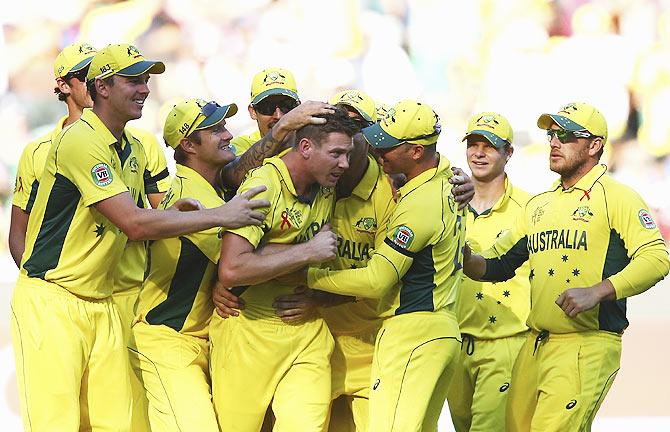 James Faulkner of Australia celebrates after taking a wicket during the 2015 ICC World Cup final against New Zealand at Melbourne Cricket Ground on Sunday. Photograph: Ryan Pierse/Getty Images
James Faulkner has earned his reputation as Australia's man for every occasion the hard way. Whether it's with bat or ball, the all-rounder has become the player Australia's team can always rely on to get them out of pickle.
- Faulkner is man-of-the-match; Starc player of the tournament
- Clarke dedicates World Cup triumph to 'little brother' Hughes
He was at it again on Sunday, capturing three crucial wickets to lead Australia to a seven-wicket victory in the World Cup final.
In a game full of outstanding performances from many of his teammates, Faulkner was chosen as the man of the match, a rare honour that puts him in the company of players like Viv Richards, Shane Warne, Ricky Ponting and Mahendra Singh Dhoni.
"It's a pretty amazing feeling, in front of 90,000 at the MCG," he said.
"We've had an amazing journey the last couple of years."
One of three left-arm fast bowlers in the Australian team, Faulkner has largely been overshadowed during the tournament by Mitchell Starc and Mitchell Johnson.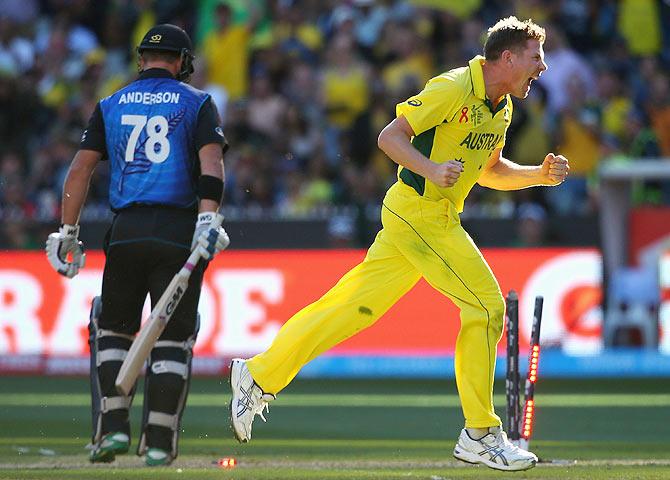 Australia's James Faulkner celebrates after bowling out New Zealand's Corey Anderson. Photograph: Quinn Rooney/Getty Images
Starc was named player of the tournament and set the tone for Sunday's final when he bowled the New Zealand captain Brendon McCullum in the first over of the day.
- Australia's champion Clarke bids adieu to ODIs
Johnson finished with three wickets but it was Faulkner's three that the man of the match selectors valued higher.
New Zealand had recovered from a terrible start to reach 150-3 after the 35th over with Grant Elliott and Ross Taylor both set and the Powerplay invoked.
The Australian captain asked Faulkner to bowl the first over of the Powerplay and he responded by getting rid of Taylor with his first ball, caught behind after being deceived by a well-disguised slower ball out of the back of the hand.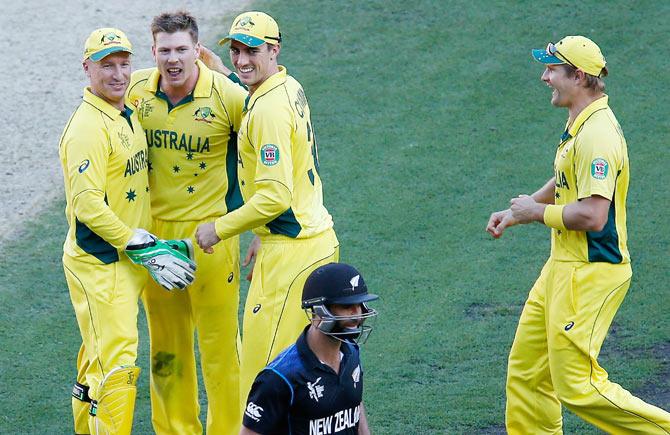 Australia's James Faulkner exchanges words with New Zealand's Grant Elliot after dismmissing him. Photograph: Darrian Traynor/Getty Images
Two balls later, he clean bowled Corey Anderson for a duck, this time with a fast yorker. In his next spell he got rid of Elliott for 83, ending New Zealand's hopes of posting a big total.
- 'I'm going to have a beer with every Aussie in the stadium'
"The skipper tosses you the ball and it works out like that sometimes," Faulkner said.
"Today it worked out well. We all brought our A-game today."
Despite his key role as the team's main all-rounder, Faulkner almost missed the World Cup.
Injured just before the tournament started, he missed Australia's first three matches and had to work his way back to full fitness before getting a recall.
"I'd be lying if I said there wasn't a moment when I didn't think I'd be here today," Faulkner said. "Thankfully the physio staff looked after me."